How does an investor reduce the risk and invest in Bitcoin? The clear benefits of a Bitcoin Fund
---
Now more than ever we get asked by friends and family how to invest in Bitcoin, particularly with the digital asset remaining well off November highs and now offering great value in many investor's eyes.
Those very same friends and family have been watching in awe at how the tech-savvy younger generation effortlessly buy Bitcoin with their smart phones; storing it in digital wallets with hip names and even hipper logos.
The bad news? While buying Bitcoin directly may be one (quick) way to start exploring the world of Bitcoin, it exposes investors and their portfolios to significant risk.
There is a strong argument that investors should be waiting for credible fund managers, such as Holon, to develop well-structured, assured funds that provide greener, safer and cheaper access to Bitcoin.
You may be perfectly happy with your exchange. But read on – A Bitcoin fund will help you avoid three common pain points investors' face on their journey to Bitcoin exposure.
Pain Point #1: Providing easy access
Gaining exposure to Bitcoin can be challenging. Investors face a dizzying array of digital asset exchanges, all with varying fee structures, user interfaces, and levels of complexity.
Finding an exchange that fits within your investment goals can be a long process and to do it right you'll need real time to research, sign-up, and deposit funds to trade.
It can be even more complex for financial advisors. If they are managing client funds, they would also be required to set up each client with an individual account to purchase Bitcoin. This of course is inefficient – anything but seamless – and acts as a high barrier to entry for prospective investors.
A credible Bitcoin fund however, provides investors with a time saving and hassle-free way to gain exposure to Bitcoin without the steep learning curve of using a digital asset exchange.
Financial advisors could also include a safe and credible Bitcoin fund as part of their model portfolio. This would automate the investment process for many advisors and seamlessly integrate Bitcoin into client portfolios, alongside their existing share holdings.
Pain Point #2: Solving security risks
When an investor purchases Bitcoin on a digital asset exchange, it is placed in an online wallet. They can access this wallet through their mobile phone or computer. A nice, simple set-up in theory, but as many people have come to realise, self-custody of Bitcoin can be a dangerous game to play.
Horror stories are emerging including the German programmer who lost access to $220 million dollars worth of Bitcoin after losing the password to a thumb drive. Or the CEO of Euro Pacific Capital, Peter Schiff, who claimed that " wallet no longer recognizes correct password". Or Wired Magazine which lost the key to US$100,000 in Bitcoin.
All too many digital currency owners — including the savviest ones — have seen their crypto money, through accident, bad luck or stupidity, disappear forever.
As long-term investors, Holon demands certainty. We don't believe self-custody is suitable for investors – especially those who lack experience with digital assets. There's too much at stake.
Financial advisors will also be forgiven for giving this a hard pass – storing clients' Bitcoin requires costly security measures and exposes you to high levels of financial risk through potential Bitcoin losses.
A credible Bitcoin fund removes the stress of security from the Bitcoin investment process. A credible fund will have proven custody solutions, reinforced by hundreds of millions of dollars' worth of asset insurance. That will go a long way to removing human error and represents a secure solution for investors and advisors to sleep well at night.
Advisors can ensure client funds are safe, without having to change their internal investment allocation process and risk management systems.
Pain Point #3: Smoothing administrative pain
Investors know all-too-well the bureaucratic annoyances of starting up a new account with a bank or exchange. First you must provide a slew of identifying documents, only to be rewarded with an avalanche of confirmation emails, and to add insult to injury, a phone message to finally grant you access.
A Bitcoin fund spares you from administrative pain; it allows you to use your current broker to get direct exposure to Bitcoin without the hassle of new sign ups and verifications.
So, if like many, you have been thinking about investing in Bitcoin but, also like so many, are put off by the steep learning curve, security concerns and administrative hassle of owning these digital assets, then a credible Bitcoin fund will prove to be a neat, streamlined solution for you as an investor.
These types of funds are on the way in Australia, and you can be sure that the Holon team is working on providing investors with the best solution that delivers the strong benefits to investors outlined above.
Watch this space. It's not just for risk-averse hipsters anymore.
........
This article has been prepared by Holon Global Asset Management Pty Ltd ACN 629 590 585 (Holon). Holon is a corporate authorised representative (CAR number 1276082) of Atlas Funds Management Pty Ltd ACN 612 499 528 (AFS licence number 491395). The information provided in this article is general in nature and does not constitute investment advice or personal financial product advice. This information has not taken into account your investment objectives, particular needs or financial situation. Before acting on any information contained in this article, each person should obtain independent taxation, financial and legal advice relating to this information and consider it carefully before making any decision on recommendations. Any opinions or forecasts reflect the judgment and assumptions of Holon on the basis of information at the date of publication and may later change without notice. Any projections contained in this communication are estimates only and may not be realised in the future. Returns from investments may fluctuate. Past performance is not a reliable indicator of future performance. All investments carry risks, including that the value of investments may vary and that your capital is not guaranteed. Whilst all care has been taken in preparation of this article, Holon gives no representation or warranty as to the reliability, completeness or accuracy of the information contained in this article. Holon accepts no liability for any inaccurate, incomplete or omitted information of any kind or any losses caused by using this information. To the maximum extent permitted by law, Holon will not be liable in any way for any loss or damage suffered by you through use or reliance on this information. Holon's liability for negligence, breach of contract or contravention of any law, which cannot be lawfully excluded, is limited. Holon Photon Fund: The responsible entity for the Holon Photon Fund (ARSN 633 803 497) (the Fund) is One Managed Investment Funds Limited (ACN 117 400 987) (AFSL 297042) (OMIFL). Holon is the investment manager for the Holon Photon Fund. The content of this article does not constitute an offer or solicitation to subscribe for units in the Funds or an offer to buy or sell any financial product. Accordingly, reliance should not be placed on this article as the basis for making an investment, financial or other decision. You should also consult a licensed financial adviser before making an investment decision in relation to the Fund. Any investment in OMIFL products need to be made in accordance with and after reading the Product Disclosure Statement (PDS), Additional Information Booklet (AIB) and Target Market Determination (TMD). Investors should consider the PDS, AIB and TMD before deciding whether to invest in the Fund or continue to hold units in the Fund. Applications for units in the Fund can only be made pursuant to the application form relevant to the Fund. The PDS, AIB and TMD can be obtained by visiting www.oneinvestment.com.au/photon.
---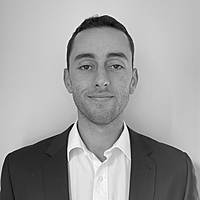 Investment Analyst
Holon Global Investments
Tristan holds a Bachelor of Laws (Honours) and Commerce from the Australian National University. He is passionate about financial markets and is interested by the impact that changing regulations can have on company valuations. Tristan has a...
Expertise
No areas of expertise