3P Learning: The return of the prodigal founder
---
When Steve Jobs returned to Apple in 1996, much-needed vision and strategy was injected into the ailing company, setting it on path to become the US$2.83 trillion-dollar juggernaut it is today. Upon his return, Jobs dismantled business silos responsible for stifling innovation, coined catchy marketing phrases such as, "think different", and led the creation of category killer products that Apple is known for today. 
Like the story at Apple, a lesser-known prodigal founder, Matthew Sandblom has returned to lead ASX-listed 3P Learning (ASX:3PL), following years of underperformance after his initial exit. With Sandblom now as Chairman and his right-hand man Jose Palmero as CEO, the duo is implementing strategies to simplify and grow 3PL, much like Jobs' resurrection of Apple. The following quote from Sandblom's letter to shareholders from the 2021 annual report summarises it well:

"Now that I'm back as chairman and the largest shareholder of 3PL (I was chairman prior to the IPO), growing the company and getting students engaged and excited by learning will again be my main areas of focus… My overall business philosophy is about achieving long-term profitable growth by producing products that really engage, excite and educate. My preference is for organic growth unless an acquisition can speed up either our time to market or access to a market. Our core mission is to be a market leader, in major English-speaking markets, in literacy and numeracy PreK-10".
The rise and fall of a fast-growing online business
In 2003, education entrepreneurs Matthew Sandblom, Shane Hill, and Tim Power founded 3P Learning. 3PL's main product was Mathletics, an online maths solution which dominated primary schools in Australia, UK and parts of EMEA. Under the founders' leadership, user licences and revenue was growing at double-digit rates, product innovation was agile, and company culture was built on inspiring children to learn by developing affordable products.
By the time 3PL listed on the ASX in 2014, the founders had departed. Under corporatised management, Mathletics user licences stagnated, and profitability declined. Blunders made include the distraction of acquisitions, technology platform challenges, and failed product and new market launches. Despite these own goals, Mathletics retained a strong market presence given a superior learning experience to that of competing products which in turn created a loyal customer base. The growth that was recorded came from 3PL's second product, literacy software Reading Eggs. This product was distributed on behalf of Blake Elearning, Sandblom's second flourishing edtech start-up.
3PL's fall from grace didn't go unnoticed. In 2021 USA-based IXL Learning Inc sparked a bidding war, with an offer to acquire 3PL for $1.35/share. Then two swift offers came from online learning titan BYJU, with the second offer at $1.50/share. With 3PL potentially falling into competitor's hands, Sandblom, with the aid of an activist 3PL shareholder, orchestrated a merger with Blake Elearning.
A global ed technology business riding the online education wave
The merger of 3P Learning with Blake Elearning has created a new online learning business with 6 million customers across Australia, USA and EMEA. Even more, Sandblom has put his money where his mouth is, by vending in Blake Elearning entirely for 3PL shares. This has made him 3PL's largest shareholder at 49% of the issued capital. Hero products that many readers would be familiar with include Mathletics, Mathseeds and Reading Eggs. Both Mathletics and Reading Eggs are recipients of multi-education awards and remain trusted learning programs across primary schools.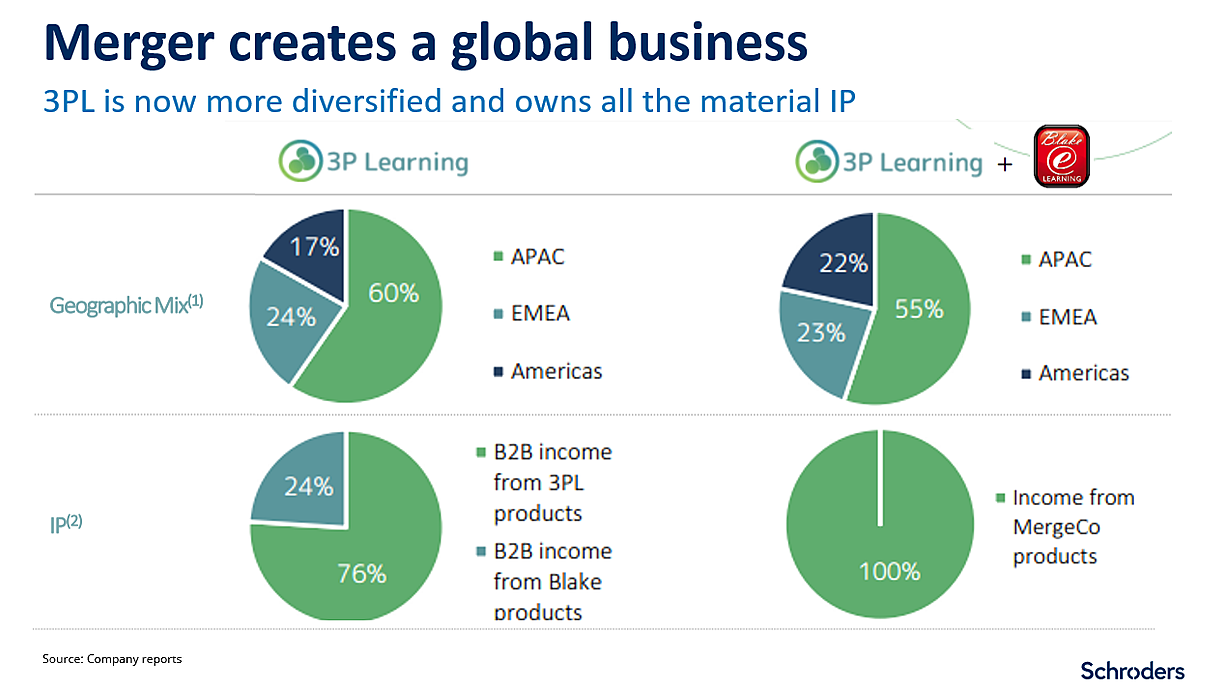 The merged group is now at the forefront of the fast-growing online education market, which is estimated to be US$144 billion. 3PL's share of this is minuscule at less than 1% market share. With the pandemic still causing disruptions, schools and parents are reliant on technology more than ever for education delivery. 
Even after children return to school, the pandemic should have an enduring impact on elevating online education in classrooms as teachers have recognised the efficiency benefits of digital tools.
Increased demand for online learning tools at home should also remain strong as parents look for ways to make up lost classroom time in 2020-21. According to Cluey, up to 42% of school students in Australia have used educational support material (apps and test preparation), and another 42% have used tutoring services in the past. 3PL is well-positioned to capitalise on both these trends given its low price points for schools at $12.00 per user per year and $109 per user per year for direct-to-consumer. With education expenditure accounting for 5% of GDP, growth in online learning could end up being a multi-decade trend.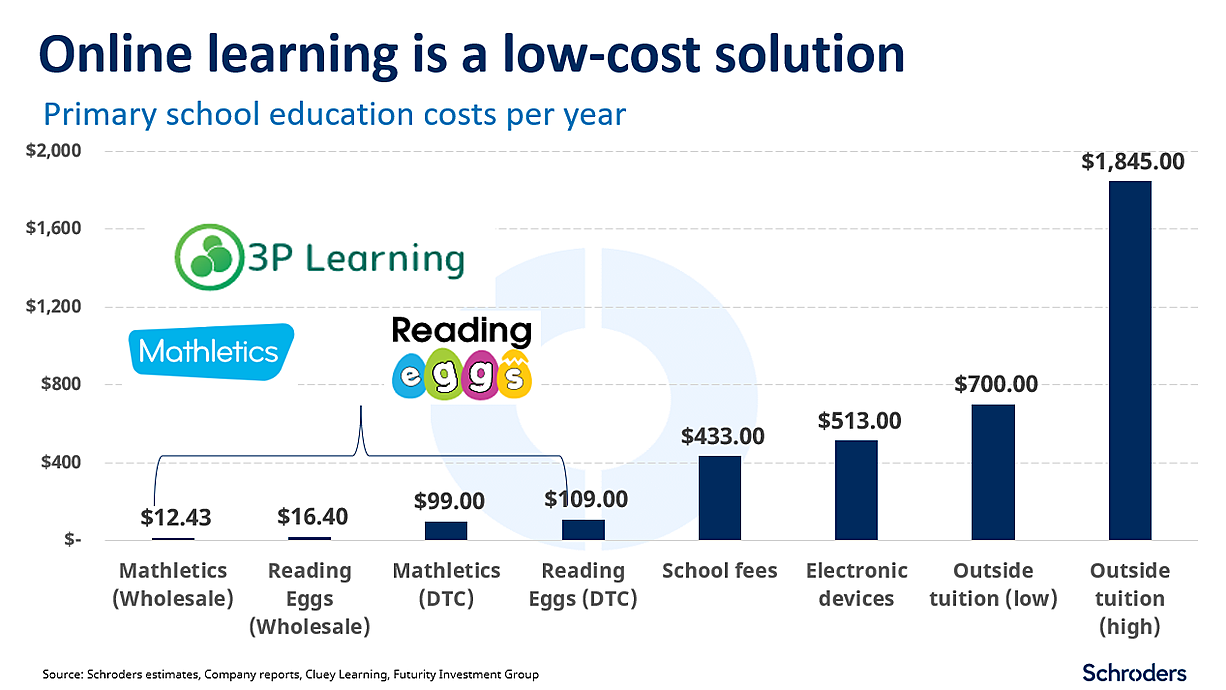 3P Learning's growth drivers
Since taking the helm, Sandblom and Palmero have ushered in major changes and restructuring, have realised synergies of $9m, simplified accounting, and even bought back co-founder Shane Hill to oversee a new product, Writing Legends. The group is attacking growth through three channels, 1) wholesale school deals, 2) direct to consumer via Apple and Google Play store and 3) the whole of country enterprise deals. Direct to consumer is the fastest-growing channel (+36% CAGR FY19-21), spurred by parents eager to progress their children's education, the ease of transacting on mobile devices, and high engagement levels from the gamification features of 3PL's apps. The direct-to-consumer channel is also less price-sensitive than the school channel, which has enabled Blake Elearning to charge a 10x premium to what 3P Learning was charging schools.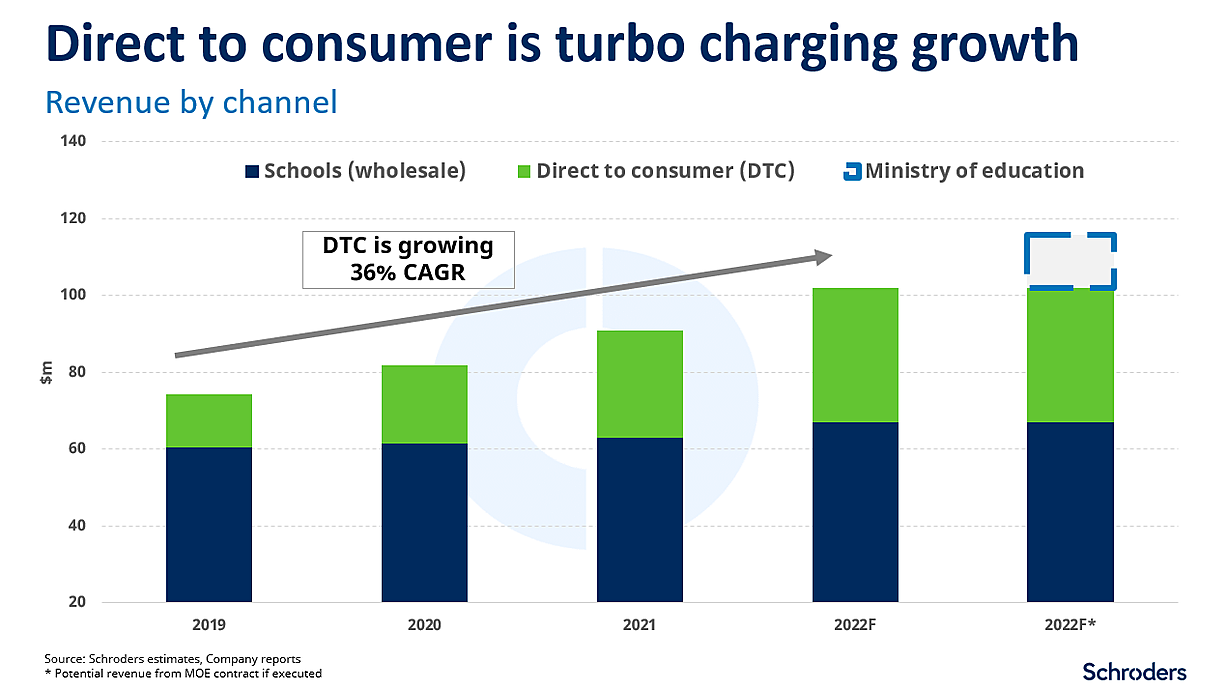 3PL is also in dialogue with several countries, including the Ministry of Education (MOE) in the Middle East for a whole of country deal which could add US$10m to revenue. These country deals are being underpinned by education philanthropy, particularly large commercial organisations which are embracing sustainability initiatives to look beyond profit. Closing a whole of countrywide deal would turbo charge revenue and profit given incrementally high margins.
What could 3P Learning be worth in a blue-sky scenario?
Today 3PL has an enterprise value of $420m ($1.65/share) and generates approx. $96m of revenue and proforma cash EBIT of $20m (FY22 adjusted for accounting changes). 3PL could hypothetically grow revenue to $130m-$150m in the medium term if the direct-to-consumer segment grows 10-15% CAGR, and the company lands a few countrywide deals. Assuming EBIT margin rises to 25%, that would imply an EV/EBIT multiple of 11x-13x in 2025, or an 8% growing cash on cash return at today's share price. 
If we applied a 20x EBIT valuation multiple (the lower end of the peer group) to this forecast EBIT range, 3PL's valuation could grow to $2.40/share to $2.80/share.
It's worth noting the ASX SaaS peer group trades on an average enterprise to sales multiple of 13.3x, while 3PL trades at the lower end of this range at 4.5x EV/Sales. Few of these companies make material cash profits, unlike 3PL. As Sandblom said in the annual report letter, it's only profitable growth that counts, a principle he applied when running a private business. If the market was to start valuing 3PL based on EV/sales range of 9-11x, 3PL's medium-term blue-sky valuation could be even higher at $4.23/share to $6.00/share.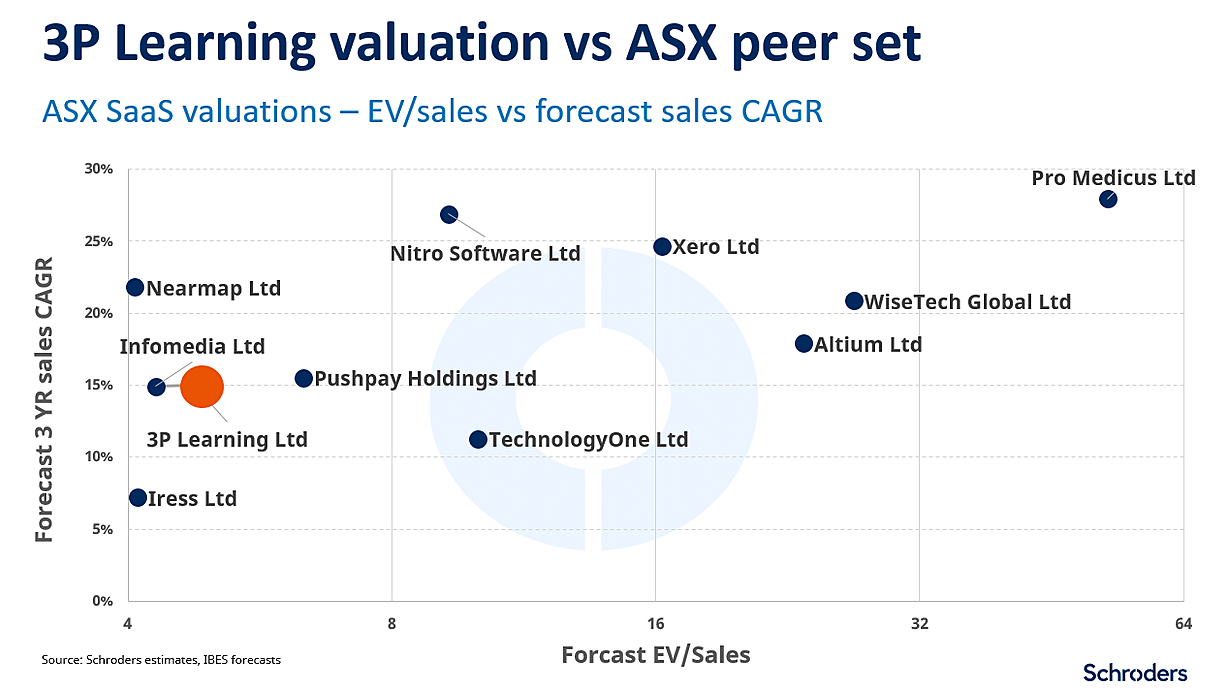 Has a prodigal founder ever returned to a tech stock before?
Sandblom brings with him a pedigree in building and growing education technology businesses, having done it successfully twice. When Jobs fought hard to recruit the Pepsi President John Sculley for the Apple CEO role, Jobs won Sculley over with the killer question: "Do you want to sell sugar water for the rest of your life, or do you want to come with me and change the world?" Very few companies can change the world, but Jobs was proven right.
Even if 3PL doesn't change the world, for 6 million students in more than 100 countries, 3PL will again make a big difference in improving literacy and numeracy levels. At a cost of less than $12 per student, per month, 3PL's products are good value for the consumer. If 3PL can continue to refresh its product suite and provide even better value for its subscribers, then we believe 3PL will create value for shareholders as well. It took the return of Jobs for Apple to realise its potential; the return of Sandblom presages 3PL emerging from the chasm to finally realise its full potential, as well.
3PL is currently held in the Schroder Equity Opportunities Fund and the Schroder Australian Equity Long Short Fund. 

Managed Fund
Schroder Equity Opportunities Fund - WC
Australian Shares
Learn more
The Schroders Australian Equity Funds are actively managed portfolios of Australian equities focused on investing companies with attractive valuations, characterised by sustainable earnings and competitive advantage. To learn more about Schroders please visit our website.
........
This document is issued by Schroder Investment Management Australia Limited (ABN 22 000 443 274, AFSL 226473) (Schroders). This document does not contain and should not be taken as containing any financial product advice or financial product recommendations. This document does not take into consideration any recipient's objectives, financial situation or needs. Before making any decision relating to a Schroders fund, you should obtain and read a copy of the product disclosure statement available at www.schroders.com.au or other relevant disclosure document for that fund and consider the appropriateness of the fund to your objectives, financial situation and needs. You can also refer to the target market determination for each Schroders fund at www.schroders.com.au. All investments carry risk, and the repayment of capital and performance in any of the funds named in this document are not guaranteed by Schroders or any company in the Schroders Group. The material contained in this document is not intended to provide, and should not be relied on for accounting, legal or tax advice. Schroders does not give any warranty as to the accuracy, reliability or completeness of information which is contained in this document. To the maximum extent permitted by law, Schroders, every company in the Schroders plc group, and their respective directors, officers, employees, consultants and agents exclude all liability (however arising) for any direct or indirect loss or damage that may be suffered by the recipient or any other person in connection with this document. Opinions, estimates and projections contained in this document reflect the opinions of the authors as at the date of this document and are subject to change without notice. "Forward-looking" information, such as forecasts or projections, are not guarantees of any future performance and there is no assurance that any forecast or projection will be realised. Past performance is not a reliable indicator of future performance. All references to securities, sectors, regions and/or countries are made for illustrative purposes only and are not to be construed as recommendations to buy, sell or hold.
---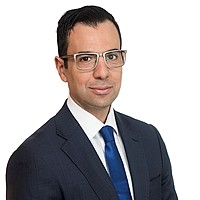 Portfolio Manager
Schroders
Ray David is a Portfolio Manager and a member of the Portfolio Construction Committee within Schroders Australian Equities Team. Sector responsibilities include media, technology services, software, and healthcare services. Coverage also extends...
Expertise