42 stocks to play the "Magnificent Seven" of EV metals
---
The current market correction has presented investors with an opportunity to establish core positions in profitable mining companies that have quality exposure to the long-term theme of electric vehicles (EV). In this wire, we share the results of our recent work in constructing an "investible universe" of liquid ASX-listed companies with exposure to the EV thematic.

For interested readers, we also attach a more complete research report below.
The key to thematic investment is always to locate those companies that represent investible exposure to the theme. Ideally, we would like to create a funnel that starts wide, to capture as many candidate firms as possible, and then narrow this down with a series of filters.
There are many ways to approach investment in the electric vehicle trend, but there are next to no downstream companies listed on the ASX. If you want the car makers, it is necessary to go to the USA, Europe, Japan, South Korea, or China. However, if we zero in on some of the key materials that are used to make electric vehicles then Australia is a rich hunting ground. 
These are the primary electric vehicle metals:
Lithium (Li)
Nickel (Ni)
Cobalt (Co)
Manganese (Mn)
Rare Earth Metals (REE)
These metals, along with graphite, play a key role in the global shift towards electric vehicles.

Investor interest in these is part of the wider trend of so-called critical minerals, that are widely used in high-technology applications ranging from: electric vehicles; to smart phones; defense systems; renewable energy; nuclear technology; and exotic scientific applications
There are around 50 such mineral commodities, as described in the attached research note.
Here we simply relate the results of our research to narrow down this list to just the five metal groups mentioned above. This process involved screening all 2,000+ public companies that you can buy on the ASX, to weed out those which are not relevant or illiquid.
Starting with a general search, by company description, and keywords from a consensus list of minerals considered critical to high technology by various world governments, we cut the candidates for consideration from 2,000 to about 300. Some are small, and many are too illiquid to trade for institutional investors. Applying further filters, we kept stocks that:
Have average 30-day market cap > $200M AUD
Have average 30-day trade > $500K AUD/day
Have average 30-day price above $0.10 AUD
Any stock that is kept must pass all these filters and have a business description containing any of the keywords of a mineral in the 2022 list of critical minerals. There are about 100 of such candidates. When filtered further to just the EV metals, we get the list below.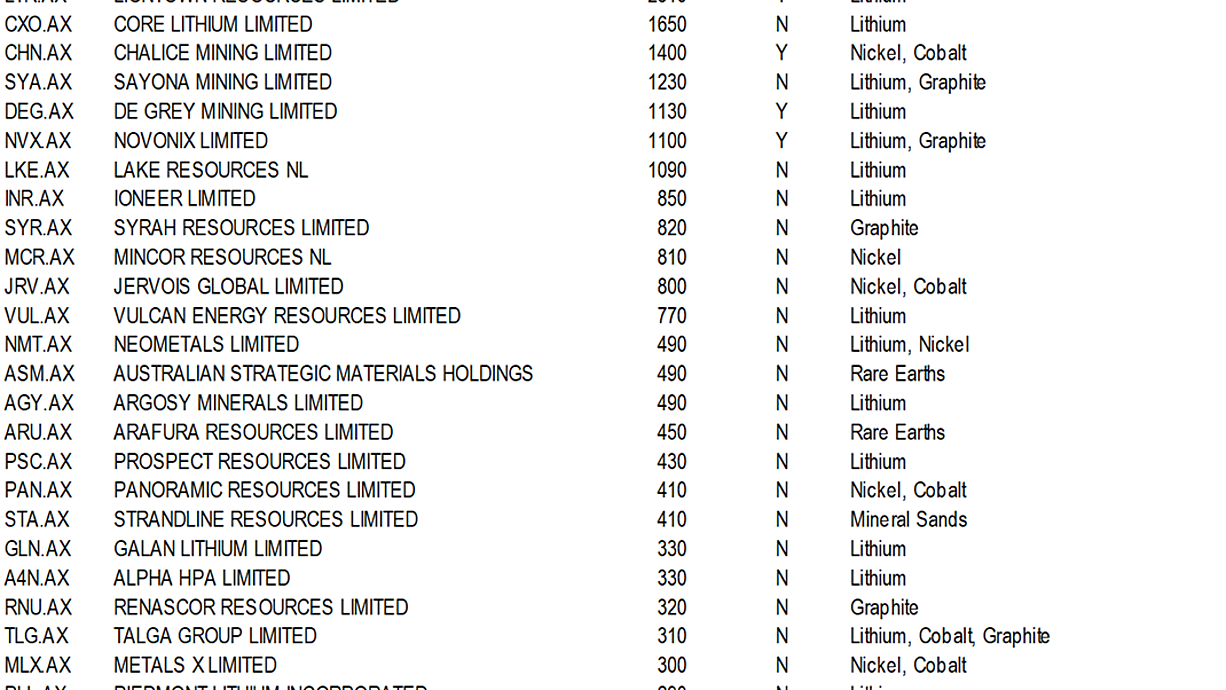 Note that this list was constructed on 4 July 2022, so the filters applied were current at that point in time. Market movements can carry stocks into or out of that list over time.
Each company is tagged with the keyword classification terms of interest. This does not mean the company only does that, or even that this is the dominant source of revenue. Such lists are where the research process starts in earnest, according to the investor goal.
In this wire, our main interest is to locate a core basket of the larger and more profitable names that will provide diversified exposure to all five of the target EV metals. Of course, graphite is also used in electric vehicle batteries, but we will leave that out of this analysis.
Using a combination of quantitative signals, that relate to firm profitability, via the trailing and forecast earnings multiples (PER and FwdPER), dividend yield, and a composite quantitative alpha signal, it becomes easier to zero in the more appropriate companies to look at. We also screen out smaller firms with market capitalization less than $1B AUD. 
The resulting short-list cuts the number of firms down from 42 to just nine.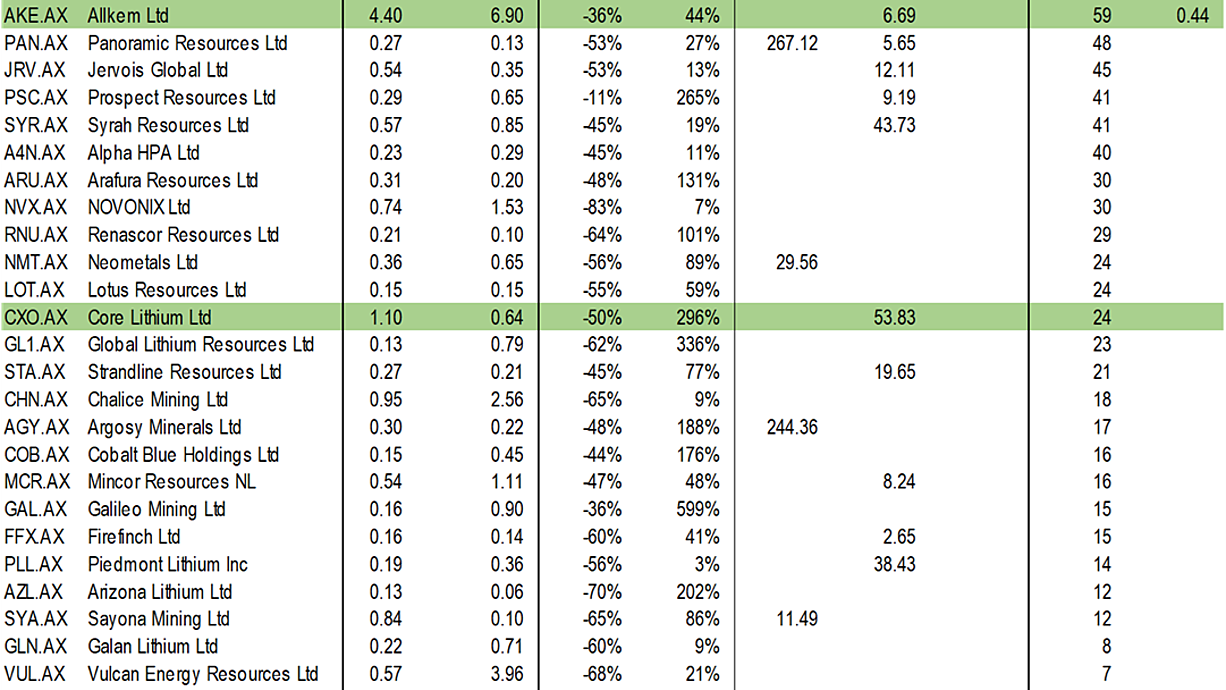 Depending on the investor goal, one might do a deeper dive on any of these candidates to find companies of interest. For a general audience, we suggest a simple basket that is diversified by mineral commodity and mining jurisdiction, with an emphasis on profitability.
South32 (ASX: S32) is across multiple mining jurisdictions in Australia and South Africa with a diversified commodity mix, a cheap valuation and an attractive yield. Nickel Industries appears cheap, but operates in Indonesia. The valuation is good, but we also like IGO Ltd for the quality of the onshore nickel and lithium exposure for onshore assets in Australia.

Mineral Resources (ASX: MIN) has some hard rock lithium but has high exposure to iron ore, which has near-term weakness. In contrast, choosing Allkem (ASX: AKE) adds brine sources of lithium in Argentina, and hard-rock mines in Canada and Australia. One could try and choose just one lithium exposure, but we think there is merit in diversifying due to the different stages and growth opportunities. Including Pilbara Minerals (ASX: PLS) in the basket adds further Australian hard-rock lithium, plus significant processing plant opportunity at Pilgan and Ngungaju. 

Finally, Lynas Rare Earths (ASX: LYC) and Iluka Resources (ASX: ILU) offer complementary Rare Earth Metals exposure. Lynas has the producing Mt Weld carbonatite deposit, with a heavy rare earth production and separation plant in development. Iluka is focused on mineral sands, which is important for the critical minerals Zirconium and Titanium, but will also produce rare earths from the minerals monazite and xenotime, which are associated in the same deposits.

This is our Magnificent Seven basket of ASX-listed EV-metals majors, which are currently profitable, have market capitalisation greater than $1B AUD, and pass our related liquidity screens. This bouquet of stocks are being marked down due to recession fears. Rather than pay bull market prices, long-term investors now have an excellent opportunity to build exposure to the burgeoning electric vehicles thematic.
Bull markets are a good time to make money feeling comfortable as part of a happy crowd.
Bear markets are a good time to make money by relieving the crowd from the discomfort of holding those stocks that are falling in a time of economic uncertainty.
To keep it simple:
The electric vehicle trend is here to stay, along with higher structural demand for lithium, nickel, cobalt, manganese and rare earths.
Rather than overthink the investment case, or get lost in market timing, it makes sense to think about building positions, at lower prices, through a staged investment strategy.
Always keeping some cash in reserve, and allocating appropriate amounts of capital across firms that are at different stages of their development is a prudent risk management tool.
Once you have identified a target short-list of names, one can buy these over time, as this bear market develops. The coming dividend season for BHP Group and Rio Tinto will likely provide some timely cash for redeployment into attractive long-term growth themes.
When the shooting stops, be prepared to take a position on the future of electric vehicles.
Photo Credit: Publicity photo of the cast of 1960 western The Magnificent Seven. From left to right: Yul Brynner, Steve McQueen, Horst Buchholz, Charles Bronson, Robert Vaughn, Brad Dexter, and James Coburn. Public domain, due to an oversight on copyright renewal.

Revision
Note that the last table has pricing in USD not AUD, as noticed by some readers.
Apologies for this oversight. 
It is not possible to edit the tables here but I have updated a revised note with pricing in AUD as at 4-Jul-2022 (the original research article date). Also, we included Firefinch, which has spun out its lithium assets into Leo Lithium.
The link below contains an updated report with these revisions.
Never miss an insight
Enjoy this wire? Hit the 'like' button to let us know. Stay up to date with my content by hitting the 'follow' button below and you'll be notified every time I post a wire. Not already a Livewire member? Sign up today to get free access to investment ideas and strategies from Australia's leading investors.
Never miss an insight
If you're not an existing Livewire subscriber you can sign up to get free access to investment ideas and strategies from Australia's leading investors.
And you can follow my profile to stay up to date with other wires as they're published – don't forget to give them a "like".
........
Jevons Global Pty Ltd is a Corporate Authorised Representative (AR 1250727) of BR Securities Australia Pty Ltd (ABN 92 168 734 530) which holds an Australian Financial Services License (AFSL 456663). GENERAL ADVICE WARNING Please note that any advice given by Jevons Global Pty Ltd (Authorised Representative #1250727) is GENERAL advice only, as the information or advice given does not take into account your particular objectives, financial situation or needs. You should, before acting on the advice, consider the appropriateness of the advice, having regard to your objectives, financial situation and needs. Jevons Global is authorised to provide financial services to WHOLESALE clients only. If our advice relates to the acquisition, or possible acquisition, of a particular financial product you should read any relevant Prospectus, Product Disclosure Statement or like instrument. Jevons Global may receive fees from issuers, the subject of the research notes we distribute. In addition, Directors, Authorised Representatives, employees and contractors may own shares or options in the securities mentioned in such notes. jevonsglobal.com