5 innovators rocking the hydrogen space
---
As the world moves away from fossil fuels, hydrogen is receiving a lot of attention from investors and governments.
Sometimes called the Swiss army knife of decarbonisation, hydrogen produces three times more energy than petrol on a weight-for-weight basis while producing no carbon dioxide when burnt.
But what are some hydrogen companies? What do they do? Here we take a look.
Plug Power
One of the most famous names in the hydrogen economy, Plug Power (Nasdaq: PLUG) primarily makes the fuel cells that turn hydrogen into energy.
Plug Power cells are used in niche transport areas, such as electric forklifts. But the niche is deep.
Plug Power's top customers include Amazon, Home Depot, and Walmart, all of which use electric forklifts in their warehouses. Plug Power has begun expanding along the value chain and is acquiring green hydrogen producers.
FuelCell Energy
As its name suggests, FuelCell Energy (Nasdaq: FCEL) makes fuel cells and energy. It makes and designs fuel cells that produce power on-site at corporate headquarters or remote locations. It also uses its own fuel cells to run power plants.
Most notably, FuelCell Energy runs the world's largest clean energy power plant in South Korea, which uses hydrogen to power 135,000 homes.
Its fuel cells are now being used for carbon capture and storage. It has partnered with ExxonMobil to use its fuel cells to remove carbon from its exhausts.
Nel ASA
Nel ASA (Oslo: NEL) is a Norwegian company with fingers in many hydrogen pies. It is one of the oldest companies in the world that produces hydrogen from water, running large electrolyser plants in Norway. The hydrogen it produces has historically been used to make ammonia.
Nel ASA runs the world's largest factory that makes hydrogen refuelling stations, which top up the tanks of hydrogen-powered buses and cars.
The company has also been working with Tesla competitor Nikola to produce the electrolysers at its refuelling stations, widening out hydrogen infrastructure.
Bloom Energy Group
Bloom Energy Group (NYSE: BE) has a bread-and-butter business making a 15 tonne steel box called a solid-oxide fuel cell, which turns natural gas or hydrogen into electricity.
Solid oxide is widely regarded as a more efficient type of fuel cell and is used on-site by Silicon Valley giants to ensure they have electricity 24/7 to run their data centres.
Apple and PayPal are among Bloom's biggest customers. Bloom has begun expanding in hydrogen and is now using its steel boxes in electrolysis, turning water into hydrogen and oxygen to make green hydrogen. It is hoped that hydrogen will one day replace natural gas.
Doosan Fuel Cell
Doosan Fuel Cell (Korea: 336260), an arm of the Korean conglomerate Doosan, has been in the news for building hydrogen-powered drones that can fly for much longer than battery-powered competitors.
Doosan Fuel Cell is one of the world's largest hydrogen fuel cell makers. Its fuel cells have mostly been used on power plants.
However, the company recently announced that it would be working with Ceres Power, the British hydrogen giant, to create solid-oxide fuel cells for homes and businesses as well. 
In this Livewire interview, I discuss the power of hydrogen within the decarbonisation space and why it's a megatrend that's here to stay:
Investment Theme
The "Swiss Army knife" of decarbonisation
Invest in Hydrogen
For simple access to the hydrogen economy, investors can gain exposure to the theme via the ETFS Hydrogen ETF (ASX: HGEN). HGEN holds a portfolio of 30 hydrogen stocks from developed markets, Taiwan and Korea.


---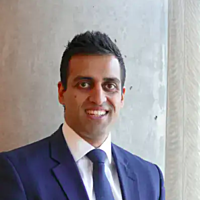 ETF Specialist & Head of Distribution
ETF Securities
Kanish Chugh is responsible for distribution covering sales and marketing strategy for institutional, intermediary and retail clients. He joined ETF Securities in 2015 and has previous experience with Fidelity International, BlackRock and...
Expertise