5G set to contribute to World GDP growth
---
Fifth generation cellular network technology is the next step in the evolution of digital communications. Faster transfer of data, lower latency, reduced congestion and increased connectivity are just some of the improvements 5G will bring. According to GSMA, in 2018, mobile technologies and services generated US$3.9 trillion of economic value which equates to around 4.6% of GDP (see Figure 1). GSMA estimates that the economic contribution of mobile technology will increase by almost US$850 billion by 2023 and 5G will contribute US$2.2 trillion to World GDP by 2034. We believe 5G will not only facilitate the population's voracious appetite for data, it will accelerate our consumption and pave the way for seamless connectivity and improve productivity worldwide.

Figure 1. Economic contribution of mobile services will likely increase $850 billion by 2023
Source: RWC Partners, GSMA Intelligence as of 28 June 2019.
Implementation set for 2020
The United States and South Korea launched 5G commercially at the end of 2018 with 16 more countries launching during 2019. The Chinese government has awarded 5G spectrum licenses to all three telecommunications companies in order for them to conduct trials before commercial roll-out in late 2019. However, the majority of 5G deployments will happen after 2020 and will be dependent on 3rd Generation Partnership Project (3GPP) standards. Huawei is an essential and integrated part of 5G as the company holds a substantial amount of 5G patents. Equipment vendors generally adopt a cross-licensing model which makes it very difficult to exclude Huawei from 5G network participation. The company has filed 1,975 5G patents, more than Qualcomm and Intel put together (as seen in Figure 2).
Figure 2. Number of 5G Patents Registered by Companies
Source: RWC Partners, European Telecommunications Standards Institute – 2019.
5G technology brings three new technical features:
Enhanced mobile broadband (eMBB), ultra-reliable low latency (uRLL) and massive machine type communications (mMTC) which are to be rolled out in two phases over the next few years:
Release 15, which focuses on eMBB; and

Release 16, which concentrates on Ultra Reliable low-latency communication uRLLC and Metals and Minerals Trading Corporation mMTC, including Internet of Things IoT.

Release 15 will concentrate on existing applications whose process can be improved by utilising the higher capacity and cheaper data rates, while Release 16 will focus on enhanced IoT including industrial and automotive connectivity.
As the technology rolls out, it will enable applications such as:
Virtual and augmented reality;
Ultra-high speed video;

High density internet of things;

Autonomous driving; and

Smart cities

China showing the greatest level of investment
According to Credit Suisse estimates, global wireless capital expenditures are expected to be around US$500 billion between 2018 and 2020. However, this is dependent on the level of coverage that operators choose to have. Most mobile networks were built starting from places of affluence before expanding regionally. Many 5G applications will have significantly different requirements and coverage will likely be a function of monetisation opportunities in specific countries and regions as seen in Figure 3, with China showing the greatest level of investment.
Figure 3. Total Capital Expenditures for 4G and 5G
Source: RWC Partners, Morgan Stanley Estimates – 4G up to 2018, 5G 2018 and Beyond (estimates).
Furthermore, additional and higher frequency spectrum requires more sophisticated designs in radio frequency components, including antennae, amplifiers, filters, switches and basebands. 5G base stations are far more efficient than 4G. While 4G base stations just use antennae, 5G base stations combine a remote radio unit (RRU) with an antenna to form an active antenna unit (AAU). 5G network architecture also requires middlehaul in addition fronthaul and backhaul which results in more demand for optical modules.
Internet of things
With the power of 5G technology, the IoT phenomenon will likely grow exponentially. GSMA estimates that most of the value of IoT from now through to 2025 will come from applications, platforms and services which will increase by roughly US$600 billion. 5G is the first wireless technology with high throughput, low latency and high reliability to replace wireline connectivity in factories. Consequently, industrial IoT will also likely see robust growth as manufacturers move towards a leaner cost structure, digitalisation and flexibility in processes and production through methods such as condition-based monitoring. ABI Research estimates that by 2025 there will be around 90 million condition-based monitoring connections. Over time, enhanced IoT will lead to the evolution of smart cities which we believe will likely enhance productivity (as shown in Figure 4).
Figure 4. Smart City
Source: RWC Partners, Industrial Safety Review 2018.
Exploring 5G investment opportunities − Win Semiconductors
Win Semiconductors is the largest gallium arsenide (GaAs) foundry with 60% global market share. GaAs has superior electronic properties over silicon which makes it the best power amplifier for use in radio frequency devices such as smartphones, WiFi routers and industrial IoT components. Risks to the thesis include a continuation of trade tensions between the United States and China.
Figure 5. Estimated New Sources of Revenue for Win Semiconductors
Source: RWC Partners, Morgan Stanley – 2019E-2021E.
The investment cycle for 5G base stations has already started with sub-6 GHz applications, while mmWave (28 GHz) will be more from 2022 and beyond. The company's infrastructure business may profit from mmWave implementation as the company offers GaN technology for high power amplifiers which is more efficient and provides better performance. Additionally, radio frequency content could rise up to 50% from the 5G smartphone in addition to double the amount of filters and switches. The stock trades at 21.4x 2020 earnings on our estimates and has a 5-year earnings per share CAGR of 17% on our estimates.
Emerging markets are inherently dynamic and there is an ongoing developmental shift which we are constantly looking to exploit. 
We firmly believe that much of the opportunity in emerging markets is underappreciated or gets overlooked by other managers due to their index orientation and capacity. 
Our index agnostic mindset, nimble structure and deep experience investing across all levels of emerging and frontier markets; stands us in good stead to extract value and generate meaningful alpha from the entire opportunity set.
Access the next generation of growth
Get our latest emerging and frontier markets insights as soon as they are published on Livewire by hitting the 'follow' button below. 

Access to the RWC emerging and frontier markets strategy is available to Australian investors via Channel Capital.
Never miss an update
Enjoy this wire? Hit the 'like' button to let us know. Stay up to date with my current content by
following me
below and you'll be notified every time I post a wire
Welcome to Livewire, Australia's most trusted source of investment insights and analysis.
---
To continue reading this wire and get unlimited access to Livewire, join for free now and become a more informed and confident investor.
John joined RWC Partners in March 2015 from Everest Capital to co-manage the Emerging and Frontier Markets team with James Johnstone. He has 23 years of experience in global investment management, commodity, debt and equity research analysis.
........
The statements and opinions expressed in this article are those of the author as of the date of publication, and do not necessarily represent the view of RWC Partners Limited. This article does not constitute investment advice and the information shown above is for illustrative purposes only and should not be construed as a recommendation or advice to buy or sell any security. No investment strategy or risk management technique can guarantee returns or eliminate risks in any market environment.
---

Never miss an update
Get the latest insights from me in your inbox when they're published.
---
---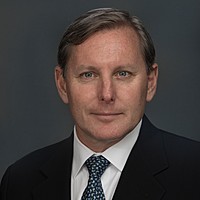 Co-Head of Emerging & Frontier Markets
redwheel
John joined RWC Partners in March 2015 from Everest Capital to co-manage the Emerging and Frontier Markets team with James Johnstone. He has 23 years of experience in global investment management, commodity, debt and equity research analysis.
Expertise