A global micro-cap with vision
---
The global auto industry is currently evolving at a rapid pace and during such periods of structural change, equity markets present genuine disruptors and genuine pretenders.
Differentiating between the two is our job as active managers.
Autonomous vehicles are at the forefront of auto innovation, but we don't think investors need to risk their capital punting on the "could be" winners in the race to full autonomy.
Instead, the global micro-cap space (which includes businesses with market caps of up to US$1 billion) provides opportunities to gain exposure to established tech distributors that are driving innovation in the auto sector.
Enabling machines to 'see'
It sounds like the sort of story you'd hear from a tiny speculative tech company, however Seeing Machines Limited (LON: SEE) is the industry leader in vision-based monitoring technology.
Seeing Machines' driver monitoring technology is currently used extensively in the auto and aviation industries. Our research indicates clients currently using Seeing Machines Technology include General Motors, Daimler, Caterpillar, Emirates, Qantas, Progress Rail, Coach USA and Transport for London.
Vehicle models in which Seeing Machines' technology can be found in include Mercedes EQ Series (Electric Vehicle), Mercedes S-Class, Ford F150, Cadillacs, Escalades, and Mustang Mach-E.
In Aviation, Qantas 787 training simulators as well the Royal Australian Airforce's HAWK simulators use the tech.
So, what's under the bonnet?
Seeing Machines' Fovio Driver Monitoring Platform employs computer vision algorithms to track movement of a driver's face and eyes. It's automatic, unobtrusive, and intelligently aware.
The algorithms can accurately and in real-time, measure a driver's visual attention to their environment, assess their degree of drowsiness, and ultimately detect if the driver has passed a threshold of risk. The technology precisely analyses head pose, eyelid movements and eye gaze under a full spectrum of lighting conditions, including through sunglasses.
This data is then processed to interpret driver attention, focus, drowsiness, and impairment levels. Risk mitigation is then enacted through intelligent alerting of the driver as well as adjusting a vehicle's wider control systems.
Conditionally autonomous vehicles and advanced safety functions, such as collision avoidance systems, require a reliable measurement of a driver's level of "engagement". But Seeing Machines' technology is different – it's designed to allow vehicle systems to hand over control intelligently and safely, or take back control from the driver.
Although the company is continually innovating, Seeing Machines' technology is underpinned by more than two decades of scientific research into human behaviour in real-time.
Regulatory tailwinds
The global industry standard for vehicle safety – the European New Car Assistance Program (NCAP) has mandated that vehicles must include vision tracking technology – the sort of technology that Seeing Machines is a market leader in – to receive a 5-star NCAP rating.
We think competition in the auto sector will force more and more manufacturers to gain higher safety ratings through implementing the sort of technology platforms offered by Seeing Machines.
Further, driver monitoring system (DMS) applications that combat drunk and distracted driving are being supported by legislators globally.
A white paper on the legislative history of drunk driving, released by the Centre for Alcohol Policy in the United States, outlines support from law enforcement and increased adoption of safety technologies by original equipment manufacturers as key forces to ending drunk driving.
A robust financial outlook
Seeing Machines' financial performance is at an inflection point.
2021 marked the long-anticipated commencement of automotive royalty revenues as over 120,000 new vehicles hit the roads with Seeing Machines' driver monitoring systems embedded.
These royalty revenues are expected to increase sharply over the next 2-3 years as production of the vehicles carrying Seeing Machine's DMS technology ramps up. The royalty revenue carries margin of around 90%. Our research indicates the average revenue earned per license is ~A$10. So, with 100m cars produced each year, you can see how this rapidly expands.
The company is well funded with over A$47m net cash and the current trajectory indicates profitability is in sight.
Overall, the growth potential in this space is enormous. There are around 100 million cars manufactured across the world each year and our industry analysis indicates that by 2028, 90% of cars will have tendered for driver monitoring systems.
Finally, M&A activity in the automotive supplier market has been heating up. Qualcomm and Magna are currently in a bidding war for Swedish automotive technology company, Veoneer. Qualcomm's offer implies a US$4.6 billion valuation.
Seeing Machines could similarly find itself in the cross hairs of a lucrative takeover as tech giants seek to make inroads into the autonomous driving technology space through established businesses with leading proprietary technology.  
Gain exposure to global microcaps
Portfolio Manager of the Spheria Global Microcap Fund, Gino Rossi, recently wrote about the benefits of blending global microcaps with large caps in investment portfolios. You can read the Livewire article here. 
You can also discover more on the Spheria Asset Management website.
........
THIS COMMUNICATION HAS BEEN PREPARED BY SPHERIA ASSET MANAGEMENT PTY LIMITED ABN 42 611 081 326 ('SPHERIA'), CORPORATE AUTHORISED REPRESENTATIVE 1240979 OF PINNACLE INVESTMENT MANAGEMENT LIMITED (AFSL 322140). SPHERIA AND PINNACLE FUND SERVICES LIMITED BELIEVE THE INFORMATION CONTAINED IN THIS COMMUNICATION IS RELIABLE, HOWEVER, NO WARRANTY IS GIVEN AS TO ITS ACCURACY AND PERSONS RELYING ON THIS INFORMATION DO SO AT THEIR OWN RISK. TO THE EXTENT PERMITTED BY LAW, SPHERIA AND PINNACLE FUND SERVICES LIMITED DISCLAIM ALL LIABILITY TO ANY PERSON RELYING ON THE INFORMATION IN RESPECT OF ANY LOSS OR DAMAGE (INCLUDING CONSEQUENTIAL LOSS OR DAMAGE) HOWEVER CAUSED, WHICH MAY BE SUFFERED OR ARISE DIRECTLY OR INDIRECTLY IN RESPECT OF SUCH INFORMATION CONTAINED IN THIS COMMUNICATION. THIS COMMUNICATION IS FOR GENERAL INFORMATION ONLY. THE INFORMATION IS NOT INTENDED AS A SECURITIES RECOMMENDATION OR STATEMENT OF OPINION INTENDED TO INFLUENCE A PERSON OR PERSONS IN MAKING A DECISION IN RELATION TO INVESTMENT. IT HAS BEEN PREPARED WITHOUT TAKING ACCOUNT OF ANY PERSON'S OBJECTIVES, FINANCIAL SITUATION OR NEEDS. ANY PERSON CONSIDERING ACTION ON THE BASIS OF THIS COMMUNICATION MUST SEEK INDIVIDUAL ADVICE RELEVANT TO THEIR PARTICULAR CIRCUMSTANCES AND INVESTMENT OBJECTIVES. ANY OPINIONS OR FORECASTS REFLECT THE JUDGMENT AND ASSUMPTIONS OF SPHERIA ON THE BASIS OF INFORMATION AT THE DATE OF PUBLICATION AND MAY LATER CHANGE WITHOUT NOTICE. ANY PROJECTIONS ARE ESTIMATES ONLY AND ARE CONTINGENT UPON MATTERS OUTSIDE THE CONTROL OF SPHERIA AND THEREFORE MAY NOT BE REALISED IN THE FUTURE. PAST PERFORMANCE IS NOT A RELIABLE INDICATOR OF FUTURE PERFORMANCE. THE INFORMATION CONTAINED IN THIS COMMUNICATION IS NOT TO BE DISCLOSED IN WHOLE OR PART OR USED BY ANY OTHER PARTY WITHOUT THE PRIOR WRITTEN CONSENT OF SPHERIA.
---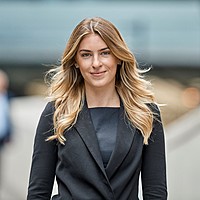 Investment and ESG Analyst
Spheria
Aimee joined Spheria in 2019 as an analyst for the Spheria Global Microcap Fund. Previously she worked as an analyst at Bank of America Merrill Lynch. Aimee holds a Bachelor of Commerce from The University of Sydney.
Expertise