A green light for electric vehicles
---
The transition to a clean energy future is gathering pace and requires trillions of dollars of investment in the decade ahead. Bloomberg NEF estimates that US$500 billion was spent in 2020, up 9% in 2019 despite COVID-19. We believe that this will be one of the defining investment themes of our lives/careers.
Global Investment in Energy Transition by Sector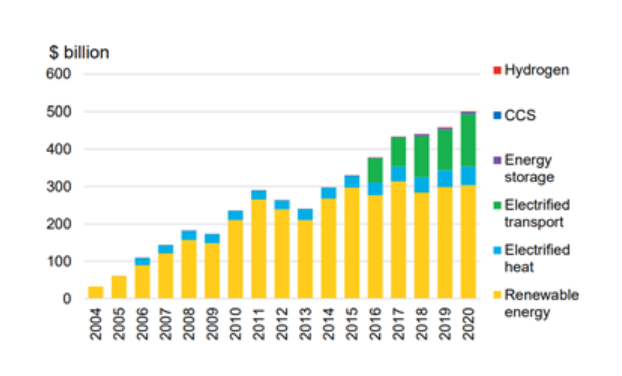 Source: BloombergNEF
Renewable energy investment has been growing globally for many years. More recently, global attention has turned to electrified transport, focusing on electric vehicles (EV) in particular. Declining EV production costs, government purchase incentives and regulatory caps on carbon emissions are driving the increase in adoption.
China had led the demand for the past decade, with government support and stimulus supporting uptake. In a surprising twist, in part driven by COVID-19, China was overtaken by Europe in the last quarter of 2020 for total number of vehicles sold. We see the expansion of EV demand to a global scale as providing significant confidence that the EV transition is now firmly underway.
Electrifying our modes of transport will require huge amounts of raw materials. Beneficiaries of the theme include; Aluminium for weight reductions, copper and rare earths in the electric motors and lithium, graphite and nickel in the battery. We are seeing these additional sources of raw commodity demand being reflected in pricing and capital allocation decisions.
Europe Overtakes China in The EV Race – At Least For 4Q20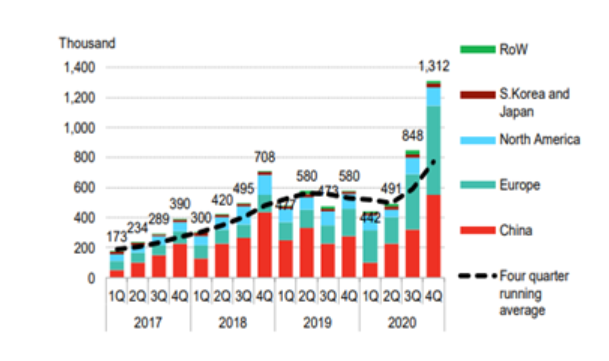 Source: BloombergNEF
On the battery front – China currently dominates the supply chain, with roughly 80% of cathode, anode and battery cell manufacturing occurring within the country in 2020 1 (Benchmark Minerals, 2018). The penetration of Giga factories (Factories capable of producing more than 1 GWh of batteries a year) is heavily weighted to China as well, with Benchmark Minerals forecasting this commanding position to continue over the next decade.

Source: Benchmark Minerals
As the penetration of EV increases, the production of key battery materials will need to be established in the US and Europe. Both security of supply and environmental concerns on the carbon intensity of production will drive this. Recently Volkswagen announced they are going to construct six-vehicle battery pack giga-factories in Europe, requiring Euro 30 billion of investment over 9 years, indicating the race is well and truly on.
We believe that the Carbon Border Adjustment Mechanism will accelerate the need for local manufacturing. From mine gate to final product, we see an "electronic product passport" containing mandatory information on the carbon footprint of every component in the supply chain becoming the norm. The battery alone could represent ~30% of carbon emissions from EV lifecycle emissions (The ICCT,2018) and thus is a critical source of potential emissions reduction in the future. We see the cost of Carbon in the EU to rise from current levels, further pressuring the supply chain to de-carbonise.
Australia will play an increasing role in EV battery material supply and the energy transition more broadly – largely due to our privileged endowment of critical minerals. Paradice Investment Management has recently been facilitating this transition through considerable capital investment. We are directly influencing the speed of EV and renewable energy adoption with some examples of investments made below.
Lithium
A key ingredient to the battery cathode, the European Commission 2 (A Foresight study, 2020) forecasts that lithium requirements have the potential to grow by more than ten-fold by 2030 and over 40-fold by 2050. Paradice has been a cornerstone investor in two companies partly funding their expansion plans and hold Lithium exposure across our portfolios.
Graphite
Graphite is the main element in the anode and production is currently dominated by China in a highly pollutive and carbon-intensive process. We are a major investor in two graphite producers and funded their ambitions to establish low carbon anode material available outside of China.
Rare Earths
Rare earths are a group of elements with specific properties allowing the production of permanent magnets which convert mechanical energy into electrical energy. These magnets are of great importance in both electric vehicles and wind turbines and hence will help facilitate the energy transition. We have supported two rare earth producers as they look to supply an ever-increasing market demand.
Hydro Power
Solar and wind power has rapidly expanded in Australia. Firming capacity is required to stabilise the grid as coal generators are closed. Hydro and battery storage are two solutions that will help achieve our state and national goals. We are a cornerstone investor in a new pumped hydro development that will greatly help Queensland achieve its target of 50% renewables by 2030.
Australia is in an enviable position to capitalise on what will be a multi-decade transition. At Paradice, we are making the most of it.
Clients and performance come first
The Paradice difference comes down to accountability, alignment, experience and performance. Click the 'FOLLOW' button below for more of our insights.
Sources:
1. Hall, D and Lutsey, N, (2018) Effects of battery manufacturing on electric vehicle life-cycle greenhouse gas emissions', The International Council on Clean Transportation.
2. Bobba, S, Carrara, S, Huisman, J, Mathieux, F, Pavel, C., (2020), 'Critical raw materials for strategic technologies and sectors in the EU', European Commission.
---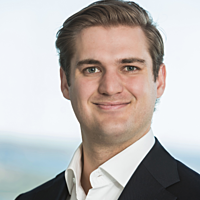 Head of ESG/ Analyst
Paradice Investment Management
Nick joined Paradice in September 2020 after spending 5 years at Ausbil Investment Management. At Ausbil Nick was an Australian ESG & Equities Analyst, assisting in the development of a number of funds including the winner of the 2020 Lonsec...
Expertise
No areas of expertise