A soft commodity providing cold, hard opportunity
---
Agricultural assets provide a tangible entry point for investors looking to add further portfolio diversity alongside more traditional sectors such as financials, commodities and listed property. 
Beyond the more volatile "soft commodity" futures in coffee, cocoa, sugar, corn and wheat, Australian investors can also buy shares in ASX-listed companies in the space. These span a broad range of agricultural sub-sectors – water rights being one sector that has grabbed local headlines in recent years, and usually for the wrong reasons.
Fish farming is another area that has been in the media spotlight amid growing environmental concerns, particularly the Tasmanian salmon industry.
In the following article, we discuss how the wider perception of the "aquaculture" industry compares to the reality on the ground. We also reveal an Australian company positioned to benefit from rising global demand for salmon as part of the dietary protein mix, while also meeting stringent environmental, social and governance criteria.
On the wrong side of the ESG equation?
The Tasmanian salmon industry has over recent years come under intense community scrutiny over its environmental conduct with allegations of environmental destruction of once-pristine waterways. Media outlets such as the ABC has reported on the effects of salmon aquaculture on the local marine environment, including the creation of dead zones where marine flora and fauna are eliminated.
This has damaged the reputation of locally farmed salmon products and increased community opposition to further lease expansions. At the same time, the global spotlight is now on the conduct of offshore salmon farmers, which has led to the wider perception that the industry now sits on the wrong side of the ESG equation.
There is no doubt that aquaculture can have negative environmental impacts. But it is also worth noting its relative environmental footprint against competing animal proteins. This recognises that there is a growing global demand for animal proteins and that the current protein production mix cannot be scaled in an environmentally feasible way.
Bigger footprints a rising challenge
Salmon consumption has grown sizably in Australia averaging between 5% to 6% per capita growth over the past two decades. This is largely due to wider awareness of the health benefits and general palate changes. Given that Australian salmon production is mainly geared towards domestic consumption, the accompanying growth has led to increased farming footprints and the environmental issues that come with it.
Salmon pens produce waste which is a combination of fecal matter and excess feed. This waste increases the concentration of nitrogen and carbon in the water and seabed. This degrades the surrounding environment with detrimental effects on marine fauna. Essentially, the contamination creates "dead zones." This has been observed in other salmon producing nations including Scotland and Norway as well as locally in western Tasmania's Macquarie Harbour.
The awareness of these issues has resulted in both media scrutiny and increased regulatory intervention. As well as a diminished social license hindering community acceptance of the industry, such scrutiny increases the risk of brand damage. Further, the environmental protection agencies have stepped in and reduced the total permissible biomass in Macquarie Harbour from 16,000 tonnes pa to 9,500 tonnes pa. This obviously reduces the potential revenue opportunities and increases unit production costs.
Not flopping around
Tassal (ASX: TGR) has been actively managing these environmental issues. These have included
The introduction of automated, acoustic-based feeding systems which regulate feed output and reduce the amount of excess feed.
Location on new pens more open waters with better flow - reducing waste concentration around the pen sites and avoiding benthic deterioration.
Successful breeding initiatives in partnership with CSIRO in producing fish that are more tolerant of warmer water temperatures. This reduces the amount of feed required as well as increasing the potential number of suitable sites to again reduce waste concentration.
Likewise there are also concerns around the sustainability of the fish feed. But the company and the industry have also been tackling these issues.
The industry has seen a sustained reduction of fishmeal and fish oil's share of salmon feed which is largely sourced from stretched Peruvian fisheries. While the dependency on fish oil and fish meal has reduced materially compared to history there is recognition that the forage fish populations will continue to be challenged as a result of increased demand as well as climate change. Tassal and the industry have been exploring emerging alternatives such as microalgae and omega-3 rich canola oil.
Soy protein is also a consistent component of fish feed and it is increasingly important the industry ensure that the sourcing of non-fish based feed ingredients are from sustainable and lower carbon sources. Tassal for example sources their soy feed from local producers and not from operators engaged in deforestation of vulnerable geographies such as the Amazon rainforest.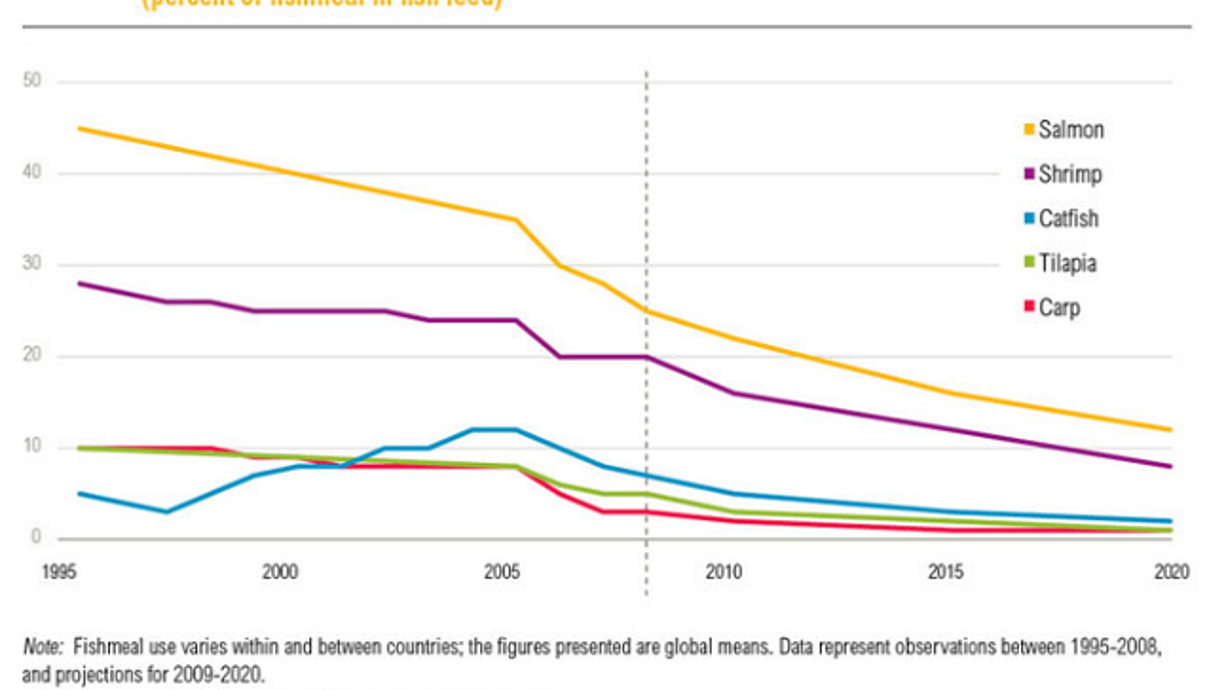 Balancing the scales

While the industry clearly has some environmental challenges to deal with, it is also important to recognize its relative environmental impact compared to the production of other animal proteins. In short, aquaculture has significantly lower CO2 emissions, significantly lower water consumption and virtually no land use.
The "farmgate" lifecycle GHG emissions per kilogram of edible meat of salmon are estimated to be around 2.9kg which is less taxing compared to nearly all land-based animal proteins except poultry. Farmed salmon also had one of the lowest feed conversion ratios (FCR) at 1.15-times (kg of feed to produce kg of bodyweight).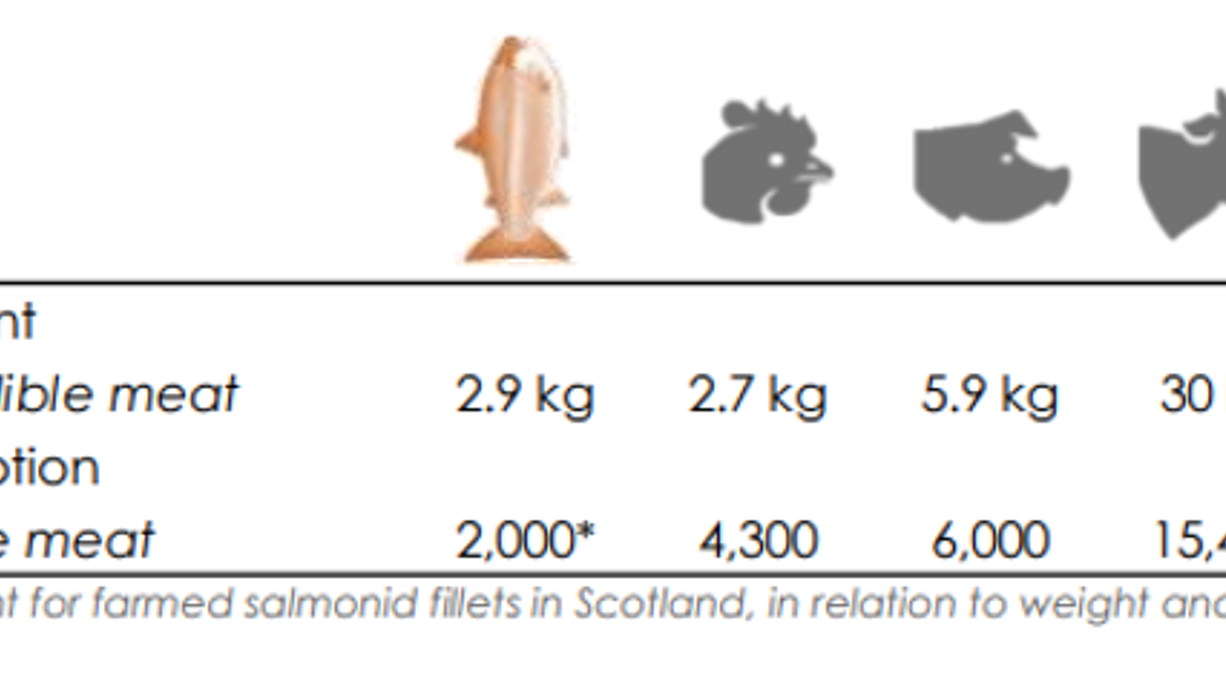 This is particularly important given the expectation of ongoing strong growth in demand for animal protein. According to the United Nations, the global population is projected to trend towards 9.7 billion by 2050, an additional 3 billion people of additional protein demand. Also as the current developing economies become more affluent, it is likely that consumption of meat will increase given the observed correlation between meat consumption and income levels, as shown in Chart 2.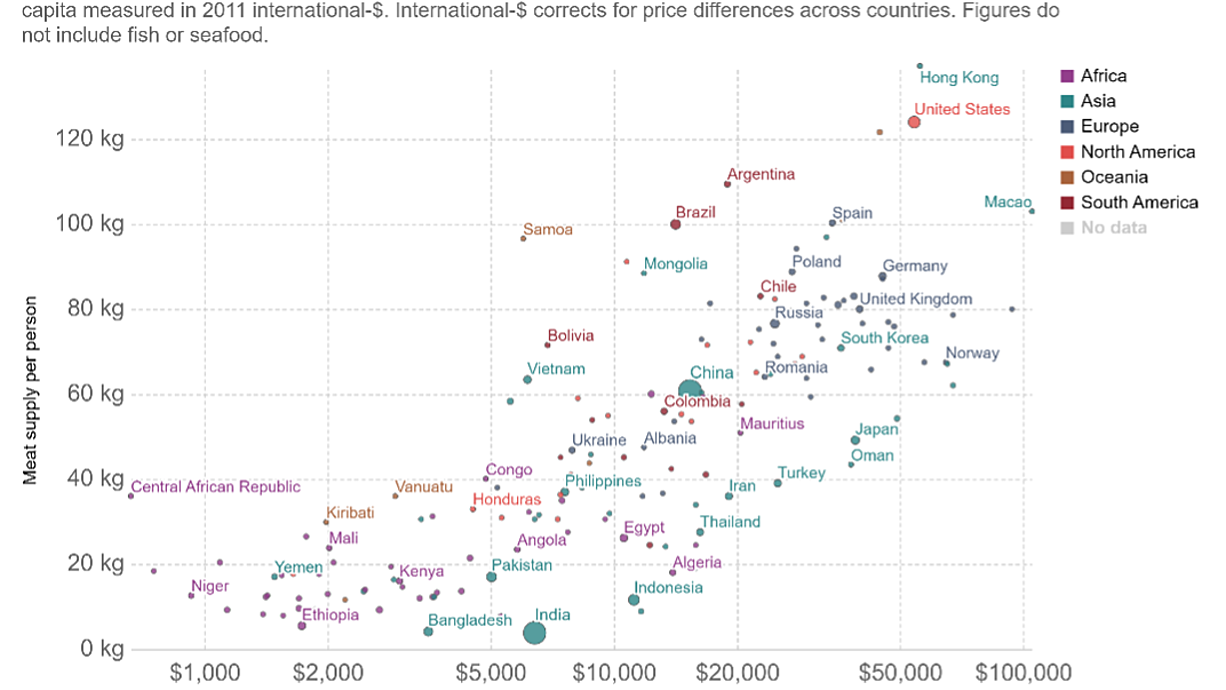 From the chart below we can also see that the bulk of the world's population has a materially lower animal consumption profile than most western countries. We expect this gap will continue to converge as the income of developing nations rises.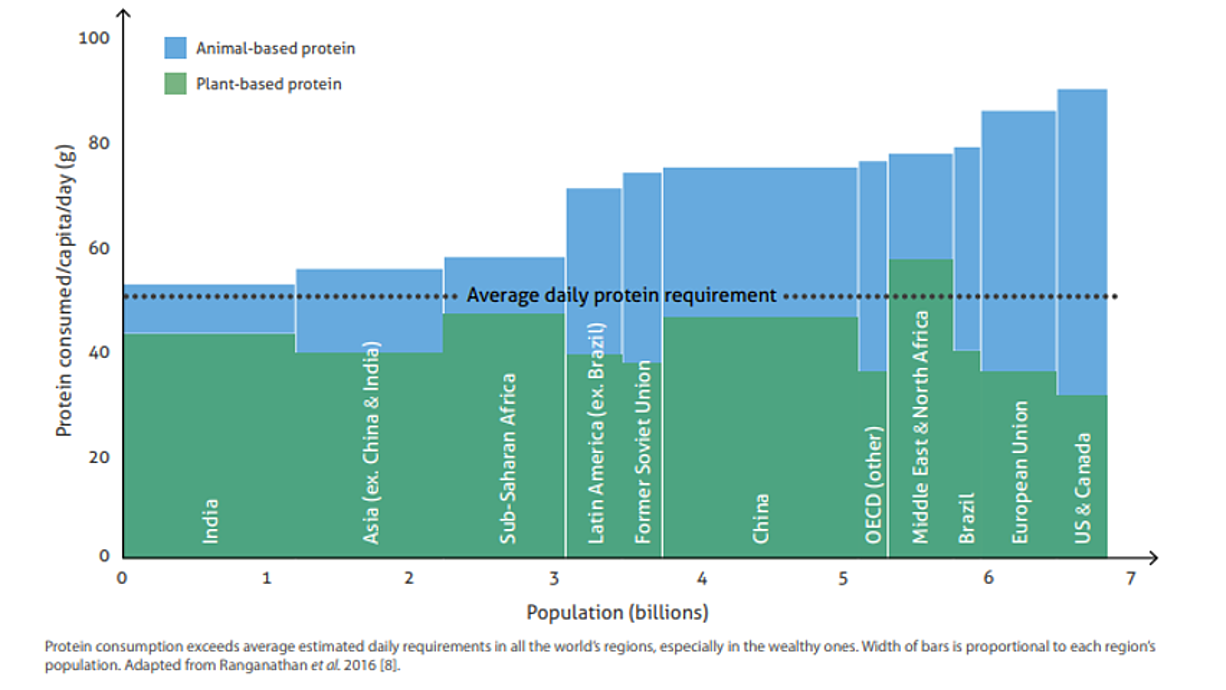 Animal agriculture is estimated to contribute to 14.5% of current GHG emissions. The adoption of an animal protein-rich, "western" diet by this growing class of consumers would see emissions increase and jeopardize current initiatives to reduce carbon emissions.
Land based protein also commandeers another valuable resource – land. It is estimated by the FAO that ~38% of all habitable land is utilized to feed and accommodate land based protein. A greater shift towards plant based protein or aquaculture would alleviate stress on habitable land and the general encroachment onto forest biomes to sustain current agricultural requirements.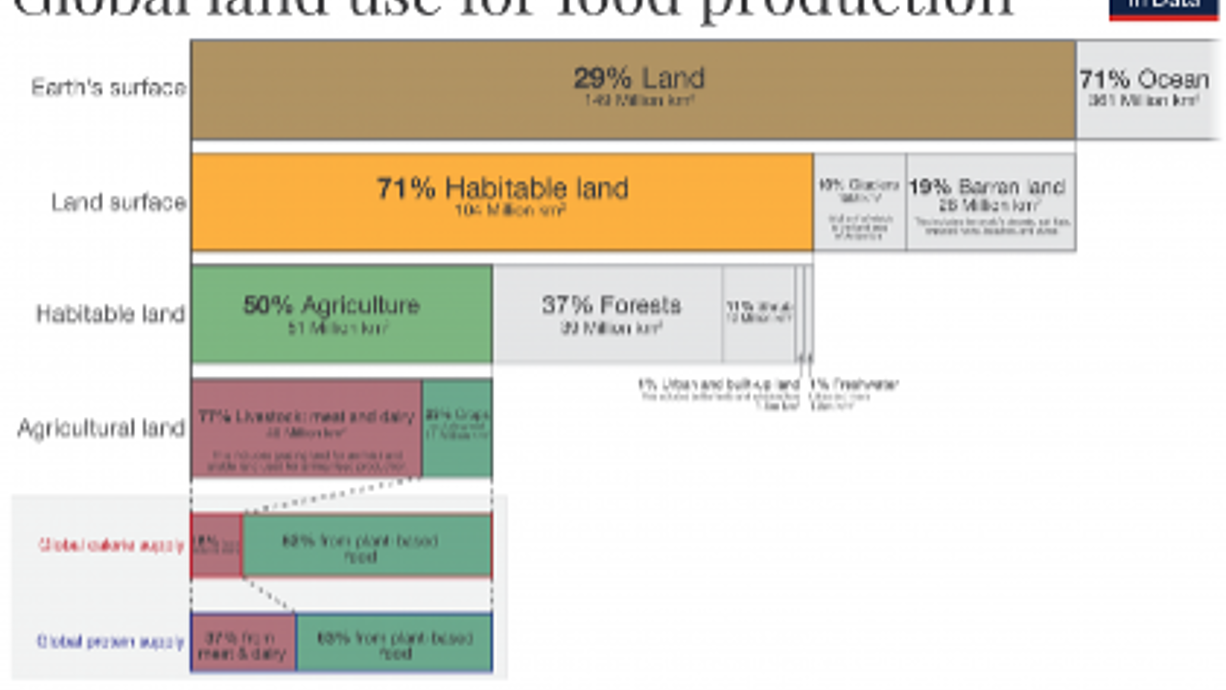 Net net - positive
While salmon farming is not without its own unique environmental challenges, the industry is proactively managing these issues and minimising the impacts. Further, as set out above, there are environmental considerations to be made in regard to the relatively low environmental impacts compared to other animal proteins. In our view, as a comparatively environmentally-friendly protein, the industry well placed to continue to grow salmon's share of the protein market.
Learn more
Click the 'follow' button below to be the first to read our latest value investing insights, including where we are finding the most compelling opportunities on the ASX.
........
Livewire gives readers access to information and educational content provided by financial services professionals and companies ("Livewire Contributors"). Livewire does not operate under an Australian financial services licence and relies on the exemption available under section 911A(2)(eb) of the Corporations Act 2001 (Cth) in respect of any advice given. Any advice on this site is general in nature and does not take into consideration your objectives, financial situation or needs. Before making a decision please consider these and any relevant Product Disclosure Statement. Livewire has commercial relationships with some Livewire Contributors.
---
Equity Analyst
Tyndall AM
Vincent has 5 years' experience in equity analysis and a further 2 years in the Insurance industry. Vincent has sector responsibilities for the A-REIT and Agriculture sectors. Vincent holds a BA in economics/commerce from UNSW and CFA Charterholder.
Expertise