A stock that has outperformed Amazon by breaking all the rules
---
Constellation Software is a Canadian domiciled collection of Vertical Market Software (VMS) companies operating across a variety of industries. VMS companies provide products that are tailored and specific to a single industry (i.e. vertical) and are typically focused on billing, administrative, and operational systems. While often servicing a relatively small niche, VMS software is usually mission critical to clients and not easily replaced, providing a predictable annuity stream of licence, maintenance and other recurring fees.
Constellation's track record of creating economic value for shareholders belongs in the equity hall of fame with revenue and earnings per share having compounded at 26% and 35% per annum for the past decade respectively (Constellations' share price has even outpaced that of Amazon over this period). This performance is especially interesting when you consider that the company has proven to be the exception to several usually reliable heuristics commonly employed by investors:
Heuristic 1: Acquisitions usually destroy value. 
Since the company was founded in 1995 Constellation has acquired over 250 companies resulting in a wealth of experience to draw on when evaluating potential targets. Constellation maintains a proprietary database with base rates for organic revenue growth, typical margins, and potential market share improvements in specific niche markets. This gives the business a sustainable informational edge when bidding for targets. Of all the acquisitions made since the inception of the company, only five are currently below the target return on capital hurdle rate, while just three have had goodwill impairment charges.
Heuristic 2: Acquired businesses must be integrated to extract maximum synergies.
Constellation has a unique operational model that emphasizes small, decentralized business units that operate autonomously. The philosophy is that the benefits from being small and nimble outweigh the benefits from scale/shared costs. This empowers the managers within the business and has consistently delivered superior operational performance.
Heuristic 3: Returns on capital decline as companies and their investments increase in size.
Despite the number and value of acquisitions made steadily increasing year over year, Constellation has consistently generated returns on capital over 20% (see figures below). As the company has grown, it has been necessary to delegate some acquisition responsibility down through the business while simultaneously increasing the size of the M&A team, but the underlying method for identifying acquisitions remains for the most part unchanged. 
Constellation maintains a database of over 30,000 potential acquisition targets with each target assigned to a Constellation employee who is expected to stay in contact several times a year. Constellation's reputation for buying and holding forever, track record for improving businesses under their ownership, and the degree of autonomy that they offer management teams means that they are often the preferred choice for vendors, particularly compared to private equity alternatives.
Heuristic 4: Stock options are a reasonable means of aligning management's interests with shareholders.
Constellation doesn't believe in offering stock options. Instead executives are required to take 75% of their after-tax bonus and buy Constellation common shares on the open market, which are then held in escrow for an average of four years. Employees collectively now own ~20% of the business.
Portfolio Positioning
The Fairlight Global Small & Mid Cap Fund first established a position in Constellation Software during the market sell-off in December last year. At the time, the stock was trading at its lowest earnings multiple in three years with the market concerned about a softening in reported organic growth and the sustainability of the acquisition model given the increasing size of the company.
It is our belief that the slow-down in organic growth will prove to be temporary in nature and can be partially explained by a couple of recently acquired businesses where unprofitable contracts were exited. And while we don't deny that there isn't an unlimited supply of attractive VMS companies for sale at reasonable prices, our analysis suggests Constellation still has a more than sufficient runway of opportunities to continue to grow over the medium term.
---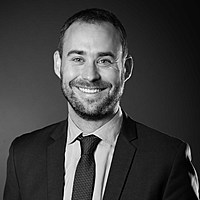 Portfolio Manager
Fairlight Asset Management
Ian is partner and portfolio manager of the Fairlight Asset Management Global Small and Mid Cap Fund.
Expertise