Amazon: Always focus on the customer
---
Amazon has placed the customer at the core of everything it does which has ensured its culture of innovation has not diminished over its 20 year life and its extraordinary track record of growth has continued unabated.
We made a long trek to Seattle to the home of the world's most valuable company, Amazon, where we were treated to a series of insightful presentations from a number of senior executives who run the operations of Amazon Web Services (AWS).
From invention to innovation
AWS was founded 15 years ago to help find solutions to some of the business problems that Amazon.com was trying to solve. The culture of AWS is intensely entrepreneurial with the customer at its core.
Amazon has gone to great lengths to define, refine and continuously improve on its corporate culture which it firmly views as the key driving force behind the company's almost unparalleled ability to deliver innovation. Here it is worth noting that Amazon carefully define innovation as change that improves customer outcomes. Invention is not innovative if there is no incremental customer benefit. A lot of start-up companies can get stuck in invention mode and never deliver anything truly innovative that solves a customer problem.
Amazon have carefully structured all facets of their business to deliver constant innovation. Traditional hierarchical organisational structures have been eschewed in favour of more distributed structures that place decision making much closer to the customer. This makes sense when considering Amazon's claim that 95% of all of its product inventions have their genesis in customer feedback. In the same vein, Amazon have adopted an application development architecture based on microservices to optimise the pace and efficiency of invention as it found traditional monolithic approaches made change complex and risky. This approach encourages experimentation, lowers the cost of failure and helps minimise the creation of 'application development debt'.
 
Solving customer problems
One of the maxims that guides the organisation, "put the customer first, invent and be patient" neatly encapsulates the company's complete dedication to solving customer problems. The term 'patience' is quite revealing and surprisingly unexpected for a vast listed global business. In markets driven by a hunger for short-term results it was quite refreshing to witness a company speak of their commitment to patience as a key organisational virtue. What does 'patience' mean in practical terms? According to AWS it means being comfortable being 'wrong' for a long time. It means delivering innovation to solve customer problems that may be ahead of its time.
The physical infrastructure that powers the organisation is awe inspiring. The high-powered, low latency, high availability computing and storage infrastructure was originally created to facilitate rapid experimentation by AWS's army of application developers to deliver innovation at unprecedented levels. It made sense that if such capabilities were valuable to AWS's internal customers, then others external to the organisation would be looking to do the same. This spawned the global goliath that is Amazon Web Services. AWS now provides multiple services to both internal (AWS and Amazon. com retail operations) and external customers with operations in 20 geographical regions across more than 60 availability zones each hosting multiple sites.
Perhaps even more impressive than the physical infrastructure is the sprawling logistical capability that ensures each one of the AWS sites around the world is serviced and supplied with all the necessary hardware and software to keep the immense global network of data centres operating at optimal levels. As the business has scaled AWS has progressively injected more of its own intellectual property into the hardware it procures from third parties. From sourcing primarily from large original equipment manufacturers (OEM) AWS evolved towards an original design and manufacture (ODM) approach that uses third party hardware designs to build products that meet AWS's detailed specifications. Today, AWS uses contract manufacturing for most of its hardware supply with products assembled based on AWS product designs and specifications. The shift from OEM to ODM delivered AWS a 40% cost improvement and the transition to contract manufacturing a further 27% saving on raw materials. Optimisation of the supply chain has also delivered benefits with respect to time – lead times on product supply have reduced from 6 weeks to 1 by the end of this year. The benefits of massive scale! 
The future of retailing
AWS is a significant supplier of technology solutions to retailers around the world (including Amazon.com). Our discussion provided some revealing insights into the structural shifts taking place in the retail industry and how AWS can help retailers adapt. A key message from our discussion was that much like everything else at AWS, it all comes back to the customer. Technology in and of itself is not a retail panacea but a means to reach, understand and serve the customer better. The best retailers have recognised the challenge of creating a deeper understanding of their customer and are embracing investments that help personalise and improve the customer experience. According to AWS, by far the largest area of investment in this quest to get closer to the customer is data analytics and machine learning. With the help of companies like AWS, retailers are finding new ways to capture data and better ways of analysing it. Some prominent examples include video analytics (tracks behaviour and turns it into data), stress analysis of video and voice (customer experience) and digital voice capabilities based on machine learning processes that create dialogue with the customer and recognise sentiment cues. Technology can be an invaluable tool for retailers, but they must always be clear on the purpose of the investment – to improve the customer experience.
We learned a lot from our visit to Amazon Web Services, none more so than a focus on the customer is critical for any business. It seems obvious but all too often we see examples of investments that fail to solve customer problems. Amazon has placed the customer at the core of everything it does which has ensured its culture of innovation has not diminished over its 20 year life and its extraordinary track record of growth has continued unabated. Lots of lessons here for our emerging companies back home. 
Access the innovative world of Emerging Companies
The microcap universe is one of the most dynamic, inefficient and under-researched. The Ausbil Microcap Fund has returned in excess of 23% p.a. since its inception in 2010. To find out more, click the 'contact' button below.
Disclaimer
The information contained in the article is given by Ausbil Investment Management (ABN 2676316473) (AFSL 229722) (Ausbil) and has been prepared for informational and discussion purposes only and does not constitute an offer to sell or solicitation of an offer to purchase any security or financial product or service. Any such offer or solicitation shall be made only pursuant to a Product Disclosure Statement or other offer document (collectively Offer Document) relating to an Ausbil financial product or service. A copy of the relevant Offer Document may be obtained by calling Ausbil on +612 9259 0200 or by visiting (VIEW LINK). You should consider the Offer Documents in deciding whether to acquire, or continue to hold, any financial product. Neither this article nor the provision of any Ausbil Offer Document is, and must not be regarded as personal advice or a recommendation or opinion in regards to an Ausbil financial product or service or securities of any other entity including Amazon Web Services (AWS) or that an investment in an Ausbil financial product or securities of any other entity including Amazon Web Services (AWS) is suitable for you or any other person. This article and the information it contains is for general use only and does not take into account your personal investment objectives, financial situation and particular needs. Ausbil strongly recommends that you consider the appropriateness of the information and obtain independent financial, legal and taxation advice before deciding whether to invest in an Ausbil financial product or service or in the securities of any other entity including Amazon Web Services (AWS). The information provided by Ausbil has been done so in good faith and has been derived from sources believed to be accurate at the time of completion. While every care has been taken in preparing this information. Ausbil make no representation or warranty as to the accuracy or completeness of the information provided in this article, except as required by law, or takes any responsibility for any loss or damage suffered as a result or any omission, inadequacy or inaccuracy. Changes in circumstances after the date of publication may impact on the accuracy of the information. Ausbil accepts no responsibility for investment decisions or any other actions taken by any person on the basis of the information included. Past performance is not a reliable indicator of future performance. Ausbil does not guarantee the performance of any Fund or the securities of any other entity including Amazon Web Services (AWS), the repayment of capital or any particular rate of return. The performance of any Fund depends on the performance of its underlying investments which can fall as well as rise and can result in both capital gains and losses. By viewing this article, you agree to be bound by these limitations, terms and conditions set out in the paragraphs above. Unless otherwise specified, any information contained in this publication is current as at the date of this article and is prepared by Ausbil Investment Management Limited (ABN 26 076 316 473 AFSL 229722) (Ausbil). Ausbil is the issuer of the Ausbil MicroCap Fund (ARSN 130 664 872) (Fund). This article contains general information only and the information provided is factual only and does not constitute financial product advice. It does not take account of your individual objectives, financial situation or needs. Before acting on it, you should seek independent financial and tax advice about its appropriateness to your objectives, financial situation and needs. Securities and sectors mentioned in this monthly report are presented to illustrate companies and sectors in which the Fund has invested and should not be considered a recommendation to purchase, sell or hold any particular security. Holdings are subject to change daily. The value of an investment and the income from it can fall as well as rise and you may not get back the amount originally invested. Past performance is not a reliable indicator of future performance. Unless otherwise stated, performance figures are calculated net of fees and assume distributions are reinvested. Due to rounding the figures in the holdings, breakdowns may not add up to 100%. No guarantee or warranty is made as to the accuracy, adequacy or reliability of any statements, estimates, opinions or other information contained herein (any of which may change without notice) and should not be relied upon as a representation express or implied as to any future or current matter. You should consider the Product Disclosure Statement which is available at (VIEW LINK) before acquiring or investing in the fund. 
---

Follow Mason Willoughby-Thomas's wires
---
---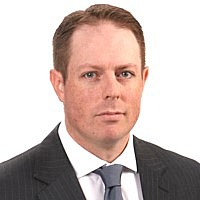 Portfolio Manager, Ausbil MicroCap Fund
Ausbil
Mason has over 15 years of financial services experience with companies including Australian Ethical Investment, ING Investment Management, ABN AMRO and AMP Capital Investors. For the past 5 years, he has been focused on small and microcap companies.
Expertise