The AFR called me on Friday for some thoughts on the AMP debacle - and let's be clear, last week was nothing short of a debacle for AMP. I gave my opinion that, according to the Responsible Investment Association Australasia (RIAA), 44% of institutional investors say they incorporate ESG in Australia now, it's remarkable how little has been expressed by them before the event or even after. Thus far it's been limited to "this was already known" or "this was even worse than we thought".
As luck would have it, I was in Woolworths (ironic venue, given our history of shorting the stock) on Saturday afternoon and ran into a friend from a long-only fund. Turns out they are quite long AMP! Cue awkward silence. Pointing out he'd read the AFR article, he asked what would I do if I was long the stock?
Now Morphic has no position in AMP – long or short – so this wire is just a short summary of what I'd think may be way forward for the board/shareholders from an ESG angle.
At the highest level, something is broken in AMP 
The AFR did an excellent piece over the weekend that looked at the nearly 20-year history of poor acquisitions; a turnstile CEO approach; and now the banking Royal Commission.
I note that Morgan Stanley in their note this morning argues that the vertical integration model isn't broken and that AMP can continue in its current form and that this is the optimal outcome. I'd say it's stock price performance over the last decade – which was a less regulated world than what will be going forward - would suggest otherwise.
Also, going forward, which financial planner or person overseeing the Approved Product List is going to dare recommend an AMP Fund? Even if it's the best product, the risks of looking tainted are so high now, that cross-sell opportunities are going to be limited. Compliance costs are going to rise further and undoubtedly more management consultants will be brought in for recommendations. I also don't believe that owning "manufacturing" is as important today with the ability to buy in fund manufacturing and white label it at costs barely above passive fee pricing, as the industry is under huge fee pressure
TIME TO THINK RADICAL - BREAK THE CULTURE
Fund Managers and analysts are generally a sceptical bunch. The job requires one to have an awareness of the "bullshit meter" when dealing with CEO's who are trying to convince you why their stock is the next big thing, which often leads them to overpromise and under-deliver.
As such, fundies generally have a poor opinion of their Human Resources and marketing departments. "Culture", "branding" "Thought leadership" usually get sniggered at. We specialise in numbers, not this airy-fairy rubbish.
But what I think is broken at AMP is its culture.  
Something in the culture in AMP is seeing the company keep ending up in similar positions, irrespective of the CEO or Chairman that happens to be there.
Culture is an odd thing. It's hard to quantify, but it exists. It also exists independently of the people in the organisation and it nearly always lives on beyond any one individual. I used to work at BT Investment Management. The culture that Kerr Neilson worked in the 1980's and 1990's, one that prided itself on aggressive and almost confrontational, lived on long past his departure.
I link here to an excellent article by a behavioural economist looking at the interplay of culture and rules.  Rules are important as they help to define what the norms of a group should be.  Quoting from the article:
"If we ask why [mobile phone] tariffs were once simpler and zero-hours contracts rare, and why chief executives only recently began to pay each other millions of pounds a year, the answer is in earlier days reputable companies did not think it appropriate to do these things. So the best answer is not to attack a few topical symptoms of excess, but to restore a culture that recognises corporations are above all social organisations."
Just read that again: 'did not think it appropriate'. What a superb description of organizational culture: doing what is appropriate, and not doing what is not appropriate.
Do we need a rule that says we shouldn't pull the emergency brake willy-nilly? Perhaps — but the people waiting for the bus were not neatly queueing because a rule told them so…
Just like for the good people of London, guidance on how to act as a member of an organization is largely encompassed in its culture — implicitly or explicitly. Culture facilitates herd behaviour: we see how others behave, and copy what they do, especially in situations where we are unsure. Others copy us again, and so on.
I think the above neatly summarise the problems at AMP and the banking sector in Australia currently. Because I suspect the reaction will be to put more rules in. More rules about client advice; more rules on platforms; more committees to oversee platforms; etc. These are attacking the symptoms.
TIME TO THINK RADICAL – BREAK THE BUSINESS
I personally do not think the culture can be changed by a new CEO or codified by rules. So how do new cultures emerge? Obviously, new businesses form their own social norms through time, but I believe demergers also create new cultures. It's a fresh start and with that comes new perspective.
 If I look at Rinker, which demerged from CSR in the early 2000's, friends that worked there before and after the demerger talked about how Karl Watson, despite not being the CEO, drove cultural change to a return on capital focus. Rinker was eventually acquired by Cemex at a price that was multiples higher than what CSR shareholders were given the script for (a US housing cycle clearly helped!).
I think the only way forward for AMP is to break the business and let new cultures emerge from the ashes. Some businesses will thrive, some will wither. And who knows, some of them may even be put back together in the future.
But what I do know, is the current one hasn't delivered for shareholders and if something good can come from this bad week, it is hopefully a fresh approach.
For further insights from the team at Morphic Asset Management, please visit our website.
---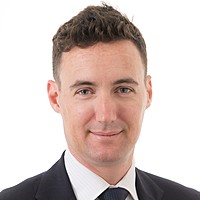 Co Head Global Equities (ex-Asia)
Ellerston Capital
Chad co-founded Morphic Asset Management in 2012. As a stock picker Chad is also a generalist but has strong regional knowledge of Europe and the Americas. He has also been awarded the CFA Charter.
Expertise