We note that currencies are in a relatively ugly contest in the current global environment and at present, the Aussie is looking fairly attractive. Spectrum sees a positive skew to the AUD for the next six months of say 74c to 79c compared to the current 75c. China's slow-down in economic growth looks to be reversing aided by monetary and fiscal policy as well as the recent expansion of bank loan books. Combined, these should help support demand for Australia's largest export; iron ore. If the past relationship between iron ore and AUD holds, this will support the AUD – see graph below. A higher AUD will cause a drag on the local economy as exports become more expensive and imports cheaper. This will increase the odds of a rate cut by the RBA. In turn, this could reduce the relative attractiveness of the AUD. The recent and near-term strength of AUD could easily be wiped out over the next year. Please note, the AUD/USD is not a key focus of Spectrum.
---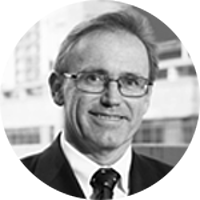 Spectrum Asset Management
Damien has around 25 years of experience in global credit markets. He has worked in Sydney, London, Hong Kong and Singapore. Much of Damien's experience was gained from working with Credit Suisse both in Singapore and Sydney where he was Head of ...
Expertise