From time to time equity markets are enveloped by short-term irrationality and aspirational future cash flows. There are some investors embracing this fantasy world, others choose to keep their feet on the ground.
I've likened this situation to The Matrix, the film in which people were offered the choice between taking a blue pill or a red pill. The blue pill effectively plugged them into this sort of fantasy machine-led world. The red pill would reveal the truth and what's occurring in the real world.
Today we have blue pill investors and red pill investors. The question is which investor do you want managing your money?
Blue pill investors
These investors at the forefront of market irrationality have been driven by various forces, including;
Historically low rates – you can't get yield on bonds, you can't get yield on cash in the bank.
A belief that central banks will remain all powerful and they'd keep buying bonds forever, and keep interest rates incredibly low.
The rise of passive machine-led investing, which see's capital blindly flow into the biggest stocks in an index, regardless of fundamentals and valuations.
In this context, market disruption, trends and stories become even more of a drawcard. Growth stocks are all very exciting, especially in small and microcaps, because there's been few other options or limited alternatives.
In this environment, the market went, what I call upside-down – it inverted. With rates being extraordinarily low, blue pill investors chased hyperbolic returns.
Case in point – the graph below. It summarises the ASX small and microcap universe of stocks between 50 million and 3 billion in market cap. It shows what would've happened if you bought a portfolio equally weighted of stocks that had negative operating cash flow from September of 2019.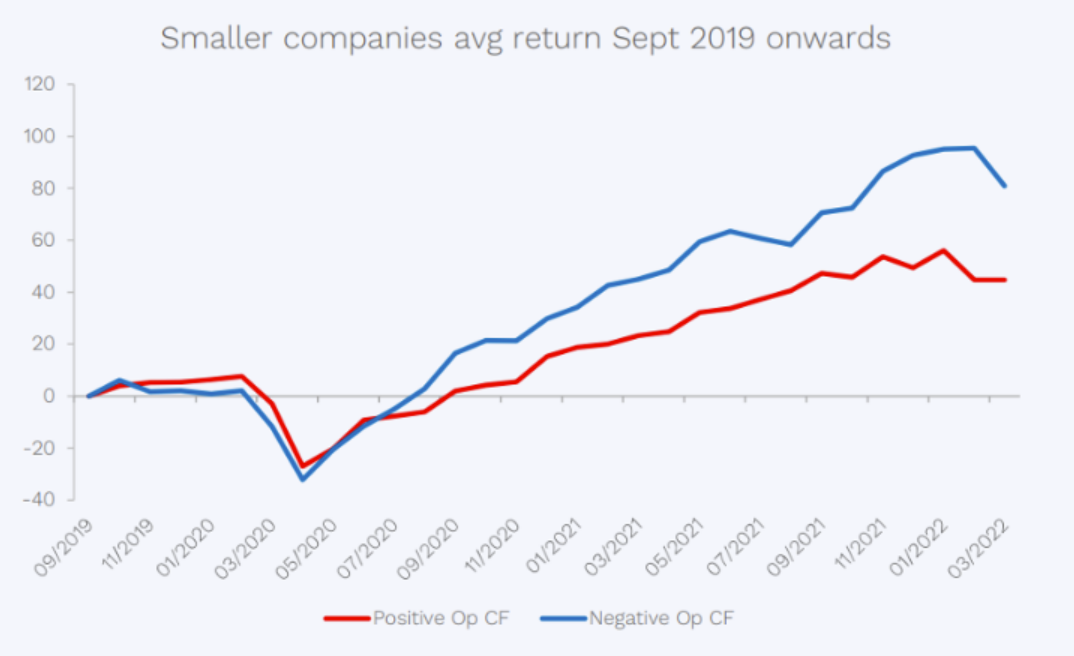 You can see that perversely, negative operating cash flow companies (blue line) materially outperformed positive operating cashflow companies on average over that period of time.

This is the blue pill fantasy world that we've experienced in recent years.
But as history tells us, it won't last forever. The stock market can be irrational short term, but in the long run, we have found that that the laws of economics, a little like gravity are hard to escape. We think the market is actually very rational in allocating capital over time.
Red pill investors
Also in the above chart, you can see the curve does come down towards the end of the period. We are starting to see negative cash flow operating companies pulling back as rates tick up and people wake up to the fact that inflation is likely here to stay.
A rising interest rate environment also sees the cost of capital rise and a "risk off" environment emerge. This is what happens in the real world.
While blue pill investors have dominated markets in recent years, red pill investors realised that for a long period of time, capital has been very cheap and the way capital has been allocated (by both companies themselves and investors) has perhaps been a little bit loose. They stuck to fundamentals and never forgot that valuations matter. All the while, as blue pill investors dominated markets, red pill investors were presented with an abundance of opportunity.
Now a critical juncture is emerging. Rising interest rates have a flow on effect that means cash burning companies are actually becoming more costly to hold. With interest rates on the rise this does tend to lead people back to the notion that cash is actually worth more today than tomorrow.
At Spheria, as disciplined red pill investors in small and microcap companies, we've always focused on sustainable free cashflow and we look at numbers through the cycle.
Long term investors would have seen all types of stocks go through cycles. We like the idea of trying to smooth out aggressively over-earning companies and not punishing companies that are temporarily under-performing on a short-term basis which is the reason we look at a 'through the cycle' cash flows and earnings.
Furthermore, we like to buy stocks that are lowly geared. Why? With rates rising, the cost of debt is increasing, and this puts pressure on the earnings of these companies with massive amounts of debt in the balance sheet. Additionally, we are trying to buy stocks at a discounted valuation. So, we try to value the stock on a mid-cycle basis and pick these stocks up at a decent discount.
And the final point is that we do keep a mind open for inflection points and changes in a company's strategy or management teams.
A red pill stock idea
Michael Hill (ASX: MHJ) is one of our key portfolio holdings and we think a great illustration of long term red pill thinking.
It is a specialty jewelry retailer with operations in Australia, New Zealand, and Canada, with a 40-year-plus track record. It is also a company that has been completely ignored in recent years by blue pill thinkers who favoured hot tech companies and concept stocks.
However, the graph below demonstrates some of the reason why we think it is a compelling opportunity for red pill investors.

By looking at cash flow conversion (left graph) you can see how much of the earnings reported on an accounting basis actually transfer into cashflow. 88% on average is a very good reconciliation, so we know there's a good cash generative business here.

Additionally, we look at return on capital metrics (right graph). If earnings are growing on a fairly fixed cost base, and a fairly fixed capital base, there's little doubt that your earnings and returns will actually improve over time.
Current CEO, Daniel Bracken was hired several years ago. Since joining Michael Hill, Daniel has invested in technology, changed the pricing strategy, introduced a loyalty program and has been driving increasing website sales. These changes have diversified the revenue stream and have led to dramatically improved results.
So much so that even the first half numbers just reported showed incredibly good returns and earnings growth, despite something like 20% of their trading days being lost due to COVID lockdowns in Australia.
Investing for the long term
Spheria believes that a focus on fundamentals and valuations will lead to long term outperformance for investors who are patient. For those caught up in irrational exuberance, they could very well find themselves caught in a capital landslide. Ultimately, we live in the real world. And ultimately for investors, there's no escape from reality.
Managed Fund
Spheria Australian Smaller Companies Fund
Australian Shares
Managed Fund
Spheria Australian Microcap
Australian Shares
Never miss an update
Enjoy this wire? Hit the 'like' button to let us know. Stay up to date with my current content by
following me
below and you'll be notified every time I post a wire
Welcome to Livewire, Australia's most trusted source of investment insights and analysis.
---
To continue reading this wire and get unlimited access to Livewire, join for free now and become a more informed and confident investor.
---
---
Marcus Burns is a portfolio manager at Spheria Asset Management and is a co-founder of the firm. He has managed Australian, European and global equity portfolios out of Australia and London through volatile market cycles for over 20 years. Marcus has an established track record of generating strong investment portfolio returns for investors. Prior to co-founding Spheria in April 2016, he worked alongside Matthew Booker (Spheria co-founder) at Schroders for three years. They managed Australian small and micro-cap portfolios, generating double digit returns above benchmark.
........
This communication is prepared by Spheria Asset Management Pty Limited ABN 42 611 081 326 AFSL 1240979 as the investment manager of the Spheria Emerging Companies Limited ABN 84 621 402 588 ('SEC', 'Company') and Spheria Australian Microcap Fund (ARSN 611 819 651), Spheria Australian Smaller Companies Fund (ARSN 117 083 762), Spheria Global Microcap Fund (ARSN 627 330 287) and Spheria Opportunities Fund (ARSN 144 032 431) ('the Funds'). Pinnacle Fund Services Limited ABN 29 082 494 362 AFSL 238371 ('PFSL') is the product issuer of the Fund. PFSL is not licensed to provide financial product advice. PFSL is a wholly-owned subsidiary of the Pinnacle Investment Management Group Limited ('Pinnacle') ABN 22 100 325 184. The Product Disclosure Statement ('PDS') of the Fund is available at spheria.com.au. Any potential investor should consider the PDS before deciding whether to acquire, or continue to hold units in, the Fund. This communication is for general information only. It is not intended as a securities recommendation or statement of opinion intended to influence a person or persons in making a decision in relation to investment. It has been prepared without taking account of any person's objectives, financial situation or needs. Any persons relying on this information should obtain professional advice before doing so. Past performance is for illustrative purposes only and is not indicative of future performance. Whilst Spheria, PFSL and Pinnacle believe the information contained in this communication is reliable, no warranty is given as to its accuracy, reliability or completeness and persons relying on this information do so at their own risk. Subject to any liability which cannot be excluded under the relevant laws, Spheria, PFSL and Pinnacle disclaim all liability to any person relying on the information contained in this communication in respect of any loss or damage (including consequential loss or damage), however caused, which may be suffered or arise directly or indirectly in respect of such information. This disclaimer extends to any entity that may distribute this communication. Any opinions and forecasts reflect the judgment and assumptions of Spheria and its representatives on the basis of information available as at the date of publication and may later change without notice. Any projections contained in this presentation are estimates only and may not be realised in the future. Unauthorised use, copying, distribution, replication, posting, transmitting, publication, display, or reproduction in whole or in part of the information contained in this communication is prohibited without obtaining prior written permission from Spheria. Pinnacle and its associates may have interests in financial products and may receive fees from companies referred to during this communication. This may contain the trade names or trademarks of various third parties, and if so, any such use is solely for illustrative purposes only. All product and company names are trademarks™ or registered® trademarks of their respective holders. Use of them does not imply any affiliation with, endorsement by, or association of any kind between them and Spheria.
---
Marcus Burns is a portfolio manager at Spheria Asset Management and is a co-founder of the firm. He has managed Australian, European and global equity portfolios out of Australia and London through volatile market cycles for over 20 years. Marcus...
Expertise
Marcus Burns is a portfolio manager at Spheria Asset Management and is a co-founder of the firm. He has managed Australian, European and global equity portfolios out of Australia and London through volatile market cycles for over 20 years. Marcus...
Expertise