Animoca Brands: a diversified bet on web 3.0
---
Animoca Brands ("Animoca") is a venture capital like firm with a broad portfolio exposed to web 3.0 dynamics and in particular: blockchain gaming and decentralisation applications. Recently delisted by the ASX, the shares have exploded higher in the private markets, recently valued at over A$5bn. Part of the reason there is an opportunity here, is because there is limited official information. Our analysis relies on industry research, proprietary information and some deductive assumptions.
The industry
Web 3.0 can be defined as the decentralisation of the Internet with the use of public blockchains. We believe that the broader gaming demographic indicates a skewing towards this decentralized view of ownership, predicating a widespread adoption of non-fungible tokens (NFTs).
As a broad measure of adoption, the cumulative volume of NFTs traded increased from <US$10m prior to FY20 to upwards of US$13bn in 3Q21. We expect a prompt adoption of such technology into the industry over the next few years. We note that Visa has recently named a head of cryptocurrency.
Cumulative volume of NFTs traded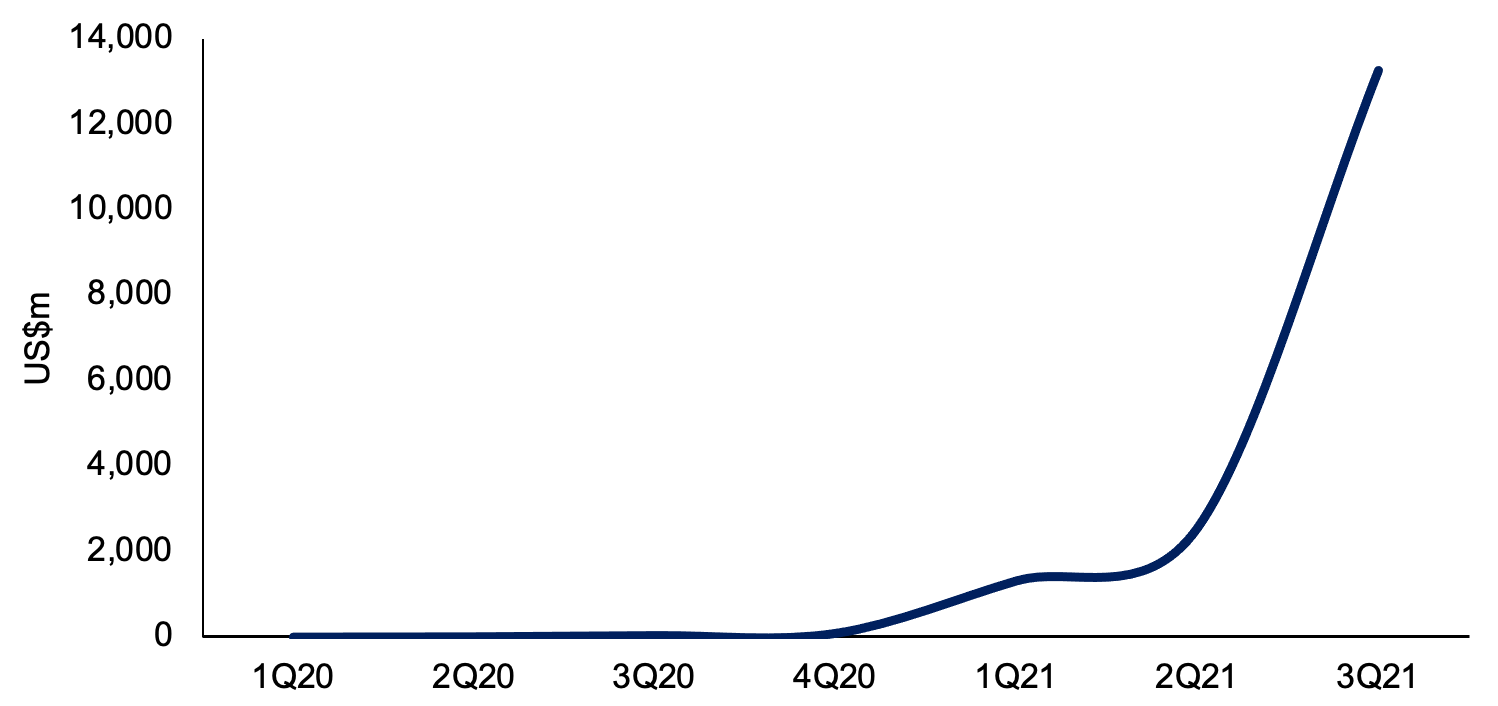 The true value of the underlying technology remains opaque due to the media's focus on price movements of individual tokens. Such misperception provides an opportunity to capitalise on a fast-growing industry, currently mispriced due to use of traditional fundamental valuation metrics.
The broader cryptocurrency and digital asset market contain a variety of sectors, each with different growth profiles, and each at different life cycle stages. As a more comprehensive measure of growth, the following multiples represent increases from June 2021 to November 2021 in the turnover on Animoca's invested platforms. VP Capital believes the broader industry's strong historical growth provides a robust foundation for forward growth in Animoca's revenue.
Growth in turnover for major blockchain platforms
June - November 2021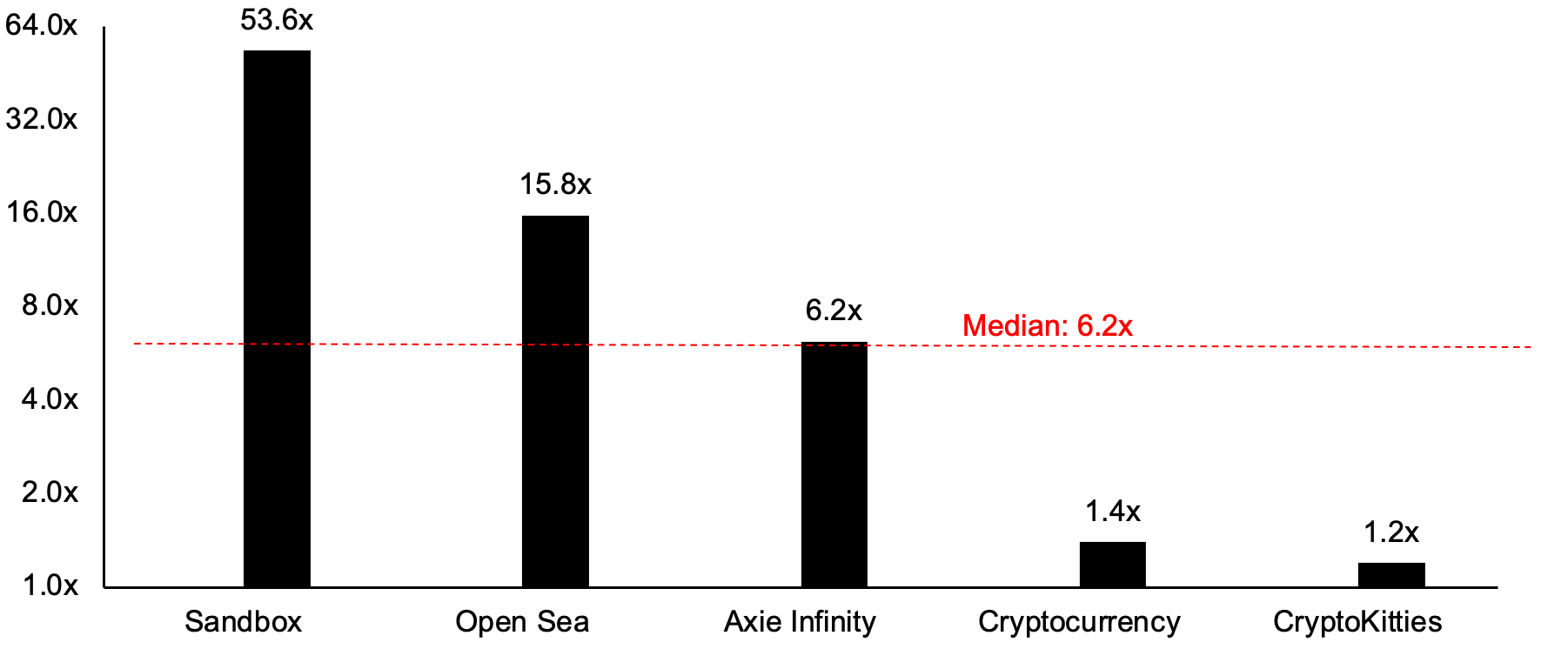 Coin-USD prices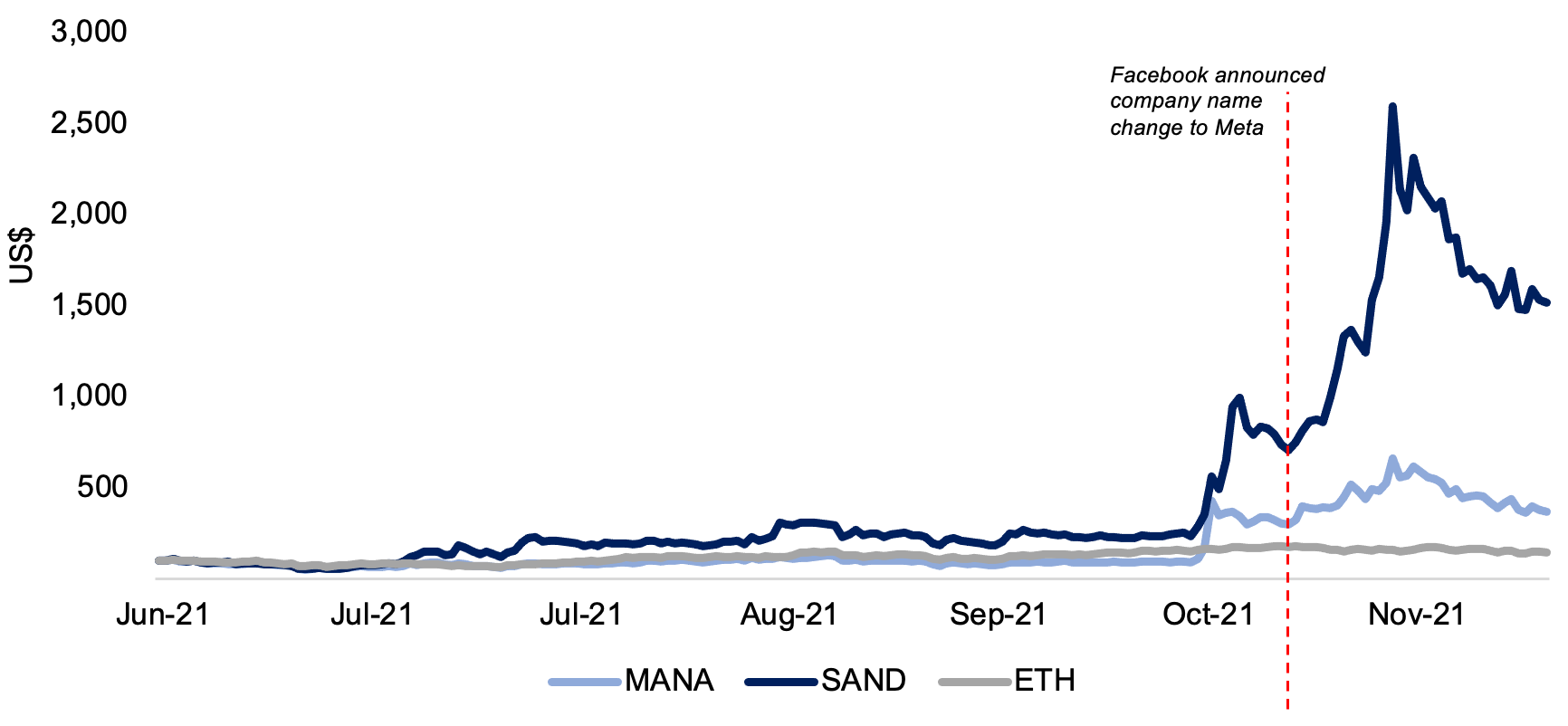 Business model
Animoca has two divisions: owned and developed and venture capital.
Owned and developed
Since seed funding in 2011, Animoca has primarily acted as a software developer, specialising in mobile games. These games are highly accessible and designed for mass market appeal.
2.  Venture capital
Equity Investments: Since 2018, Animoca increased its investment in blockchain-based technology across a range of sectors. The portfolio includes some of the highest rated and fastest growing projects in the ecosystem. Animoca typically invests at the game developer level, resulting in equity interest.
Tokens: Animoca, directly and indirectly, owns cryptocurrency tokens that are publicly traded. For example, the developer of Sandbox, Pixowl, is entitled to 20% of the SAND tokens over time. As Animoca owns a majority of Pixowl's equity, it is entitled to the SAND token on a consolidated basis.
Animoca's early focus on the hypergrowth blockchain gaming industry has yielded exponential revenue growth since the industry's mass adoption in 2019. The company's reported unaudited revenue of A$882m, for the 9 months ending September 2021. We attribute this growth to their early-stage investment in tier 1 assets, focus on the blockchain gaming industry, and the forward-looking, focused, and passionate management team.
Revenue
Assets
Animoca has a variety of fast-growing and profitable investments.
Axie Infinity: An NFT-based video game developed by Sky Mavis which allows players to collect, breed, raise, battle and trade creatures known as "axies". Animoca was an early-stage investor in Axie's developer, Sky Mavis, through a US$1.5m raise in 2019, giving it a substantial stake in a company that has recently raised US$150m from investors in 2021 at a US$3bn valuation.

The Sandbox: A metaverse that allows users to craft their own universe through resource exploration. Animoca acquired Sandbox's developer, Pixowl, in 2018 and it owns approximately 20% of the token SAND's supply, worth approximately US$1.3bn (subject to market fluctuations).

OpenSea: An online marketplace for NFTs. Traded volumes have risen exponentially to >US$10bn in 3Q21. Animoca became a strategic investor during a $2.1m capital raise in 2019. OpenSea has recently raised at substantially higher valuations, with US$100m raised at valuations of US$1.5bn in July 2021 and US$10bn in November 2021.
Risks
Emergence of cryptocurrency winter
It is likely that gaming, NFT and blockchain application volumes are correlated to Bitcoin and Ethereum prices, among other coins. Therefore, a sustained drop in price and volumes traded of these cryptocurrencies will likely see a reduction in the usage of Animoca's applications.
Management focus
While we believe Yat Siu to be a visionary leader in this space, there is a risk that the growing ownership of venture capital investments, along with managing an in-house game developer, will stretch management's time.
Competition
Given the growth in the broader blockchain market, we don't view this risk to be probable. That said, the more popular applications (such as Sandbox) are subject to emerging competitors offering a differentiated product.
Opportunity
We believe there is a material variance between the current share price and the operating performance of the company and broader industry.
The current market capitalisation represents only 20% of the NTA (which it must be recognised includes volatile digital assets, A$22bn as at end of November 2021).
This disconnect, excludes more than 100 venture capital investments, at the equity level, in gaming developers.
Animoca trades on c.2x sales, albeit the P&L is unaudited, opaque and likely in need of adjustments. This is likely to resolve over time as audited accounts are produced, and as Animoca explores a potential listing in Asia or North America.
It's likely, in our view, that Animoca also trades on a low EBITDA and P/E multiple (we estimate single digit on a forward looking basis).
Investors have a chance to back a company with low traditional valuation metrics that is strongly positioned in a fast-growing industry.
Animoca Brands A$4.10 as at 17/12/2021
Learn more
Click here to learn more about VP Capital. 
Never miss an update
Enjoy this wire? Hit the 'like' button to let us know. Stay up to date with my current content by
following me
below and you'll be notified every time I post a wire
Welcome to Livewire, Australia's most trusted source of investment insights and analysis.
---
To continue reading this wire and get unlimited access to Livewire, join for free now and become a more informed and confident investor.
---
---
Tom is a co-founder of VP Capital and brings over 10 years' experience in the investment banking sector from Goldman Sachs, UBS and ANZ, where he worked on over A$10bn of transactions. Tom is currently a Portfolio Manager of VP Capital Fund I.
........
Any information or representation not contained in this document cannot be relied upon as having been authorised by us. The issue of this document is authorised solely by us and none of our associates or related parties or the Trustee are responsible for any statement or information contained in this document. Statements in this document are made only as of the date of this document unless otherwise stated. VP Capital is not responsible for providing updated information to any investors. The information contained in this document is general information only and does not take into account your individual objectives, financial situation or needs. You should review this document carefully and assess whether the information is appropriate for you and talk to a financial adviser before making an investment decision. The information contained in this document has not been audited or independently verified by any person. As such, we make no representation or warranty, express or implied, as to the accuracy, currency, significance, origin, reasonableness, reliability, adequacy or completeness of the information contained in the document nor the correctness or reasonableness of any assumption contained in the document. Further, any estimates, projections, targets, forecasts or forward-looking statements contained in the document (Forecasts) involve significant elements of subjective judgement, assumptions and analysis which may or may not prove to be correct. Any Forecasts are illustrative only and outline one only of a number of possible outcomes for the future performance of the Fund. Indications of, and guidance on, future earnings and financial position and performance are forecasts and are not guarantees of future performance and involve known and unknown risks, uncertainties and other factors, many of which are outside our control. Actual results, performance or achievements may vary materially from any Forecasts and the assumptions on which the Forecasts are based. Investors are cautioned not to place undue reliance on any Forecasts. We assume no obligation to update such Forecasts.
---
Tom is a co-founder of VP Capital and brings over 10 years' experience in the investment banking sector from Goldman Sachs, UBS and ANZ, where he worked on over A$10bn of transactions. Tom is currently a Portfolio Manager of VP Capital Fund I.
Tom is a co-founder of VP Capital and brings over 10 years' experience in the investment banking sector from Goldman Sachs, UBS and ANZ, where he worked on over A$10bn of transactions. Tom is currently a Portfolio Manager of VP Capital Fund I.