Are the changes in the tech sector structural or temporary?
---
An onslaught of panic-selling has been brought on by the COVID-19 pandemic, followed by an aggressive recovery that was predominantly led by technology-focused companies. Almost anything that could be transitioned online was businesses that led the charge in adapting to the new socially distanced way of living thrived. Years of technological development and adoption was crammed into months as we saw a variety of temporary and structural shifts to society and the economy. This article will discuss if we believe these changes were temporary or were structural shifts. We also attempt and uncover which segments of the technology market will continue to benefit in a post-pandemic world.
Changes that won't stick around
The video communications space was a massive beneficiary of the COVID-19 pandemic. As meetings around the world moved online, we saw a variety of competitors in the space, most notably Zoom Video Communications (Nasdaq: ZM), Microsoft Teams (Nasdaq: MSFT) and Skype for Business (owned by Microsoft). Zoom, in particular, saw its share price boom as the coronavirus swept across the globe, increasing ~730% from the start of the year to its high in October. The transition to solely online meetings has not been permanent however and the value of Zoom's shares has suffered as a result. As positive vaccine developments occurred in the final quarter of 2020, Zoom has seen the value of its stock decline by ~45%. While many small interstate business meetings will now be conducted online instead of in-person, we think that the reopening of the economy will see Zoom struggling to recapture its pandemic heights.
Another sector that seems to have benefitted from the temporary shift to isolated living is telehealth. Teladoc Health Inc (NYSE: TDOC) is a multi-national telemedicine and virtual healthcare company. For the 2020 calendar year, its share price increased ~250% . Business boomed throughout the pandemic with people preferring to consult a doctor online rather than risk exposure to COVID-19 in public. After reporting disappointing half-yearly then quarterly results, some analysts have downgraded expected growth rates and called into question the businesses ability to continue its momentum as society reopens. Shares in Teladoc Health have fallen more than 50% since February 12 and it remains to be seen if it and the telehealth sector more broadly can regain its momentum.
Structural changes for the long-term
COVID-19 decimated brick and mortar retailers as stores were closed and customers were forced to stay at home. Online retailers flourished as traditional vendors rushed to develop online sales channels. Online retail trade reached all-time highs, with 1.36 million Australians shopping online for the first time in 2020. We believe the forced introduction of the world of online retail has opened eyes to the convenience of sitting at home and having goods delivered straight to your front door.
It is evident from seasonally adjusted online retail data that the move to web-based trade has held pandemic highs, even as the economy has reopened. We continue to favour businesses that expanded into the online market in 2020, servicing their existing customer base and picking up new customers along the way. Adairs Limited (ASX: ADH) is an example of one such company.
Another sector we believe has taken advantage of the pandemic and will be able to maintain pandemic performance is video games. With most game developers, publishers and operators able to work from home, the quality and development of games was not hindered during the pandemic. As the population remained housebound in 2020, online gaming saw record numbers of participants - Australia's gaming industry grew to $3.4 billion in 2020, a 6% year-on-year jump. Globally, game sales increased 20% to $180 billion, making video games a larger industry than global film and North American sports combined. The Australian Government has introduced a $1.2 billion plan to boost domestic video game development in their latest budget, aiming to capitalise on recent growth in the industry.
While levels of overall gameplay will inevitably decline as restrictions relax and people begin to eat out and return to the office, Michael Patcher (Wedbush Securities) believes people who starting 'gaming' during COVID will be long term customers. In the United States, companies like Activision Blizzard (Nasdaq: ATVI) have seen the value of their stock rise ~60% from the start of 2020 to present* where it continues to hold 10% from highs.
*18 May 2020
Never miss an insight
Enjoy this wire? Hit the 'like' button to let us know. Stay up to date with my content by hitting the 'follow' button below and you'll be notified every time I post a wire. Not already a Livewire member? Sign up today to get free access to investment ideas and strategies from Australia's leading investors.
........
This information is prepared by Frame Funds Management Pty Ltd (ACN 608 862 442) (Frame Funds, we or us) is a Corporate Authorised Representative (CAR No. 123 9068) of Primary Securities Limited (ACN 089 812 812 635) and is intended only for "wholesale clients" within the meaning of sections 761G and 761GA of the Corporations Act 2001 (Cth). This material is not intended to constitute advertising or advice (including legal, tax or investment advice) of any kind. These materials are not to be distributed to any person who does not qualify as a wholesale client and must not be copied, reproduced, published, disclosed or passed to any other person at any time without the prior written consent of Frame Funds. Primary Securities Ltd (ACN 089 812 635 635, AFSL 224 107) is the Trustee of, and issuer of units in, the Frame Futures Fund (Fund). In deciding whether to acquire, or to continue to hold, units in the Fund please read the current Information Memorandum available from Frame Funds. Past performance of the Fund is not a reliable indicator of future performance. The value of an investment in the Fund may rise or fall. Returns are not guaranteed by any person. Total returns are calculated before tax and after ongoing management costs. In preparing this information, we have not considered your investment objectives, financial situation or personal circumstances and therefore the Fund may not be suitable for you. Neither Frame Funds, Primary Securities Ltd, nor any of their respective related parties, directors or employees, make any representation or warranty as to the accuracy, completeness, reasonableness or reliability of the information contained in this publication or accept liability or responsibility for any losses, whether direct, indirect or consequential, relating to, or arising from, the use or reliance on any part of this material. Any rates of return, forecasts or estimates contained in this publication are not guaranteed. The content of this publication is current as at the date of its publication and is subject to change at any time. It does not reflect any events or changes in circumstances occurring after the date of publication.
---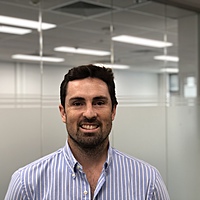 Founder & Portfolio Manager
Frame Funds Management
Hue Frame is the founder of Frame Funds Management and Portfolio Manager for the Frame Futures Fund and Co-Portfolio of the Frame Long Short Australian Equity Fund.
Expertise