10 fragile stocks heading into reporting season
---
Context is everything; without it, information is just a meaningless collection of dots. Never were this more true for equity investors than heading into reporting season. In this note we identify ten stocks especially vulnerable to negative announcements in the current context.
The narrative since end of March runs like this: companies have been pulling their guidance, unable to provide any surety around earnings, revenues or cashflows in a pandemic riven world.
What has transpired in terms of investors behavior has been an adrenalin fueled rally, where, devoid of any fundamental anchor, investors have embraced speculation, risk, and trend following, at the expense of valuation ratios, quality, growth, or earnings revisions. This behavioural trait is global and ubiquitous amongst equity investors.
Resonant explicitly quantifies this behavior and its impact on stock prices in the Adrenalin Index. The Adrenalin Index, which has rallied significantly since the start of the year, is a combination of long and short positions on every stock in the S&P/ASX 200, weighted by their sensitivity to this prevailing narrative. It is yet another example where Resonant's portfolio managers augment their judgement with complex and varied data constructs for each company, in what we call our "Quantamental" investment process.
The Adrenalin index is both sector neutral (GICS Level I) and dollar neutral – equal amounts of capital invested on the long and short side – so is reasonably impervious to fluctuations in the headline index. Note the Adrenalin Index is a losing trade: since 2011, $100 invested in this portfolio would now be worth a touch under $60. This is unsurprising: in equity markets, ignore fundamentals at your peril. (see Figure 1 below)
Figure 1: Adrenalin Index since 2011 (source Resonant Asset Management, based on raw data inputs from Refinitiv Datastream, S&P)
However, the tick-up in recent months however has been significant, and tells us a great deal about the aggregate mindset of the market at present. This is particularly true of the months of April and May in particular, at the peak of the lockdown (See Figure 2 below):
Figure 2: Adrenalin Index 2020 YTD (source Resonant Asset Management, based on raw data inputs from Refinitiv Datastream, S&P)
This key context heading into reporting season is a unique insight into potential additional fragility of stocks that have experienced an outsized share price benefit from the run-up in the Adrenalin Index. Like a fine priceless vase on the mantlepiece, even the slightest force in the wrong direction can destroy substantial value.
In addition, this is not to say that these are necessarily poor investments – in many cases, we like these stocks on a long term basis – but we estimate these names display additional downside risk to negative announcement or event in the short term. (See Figure 3 below)

Figure 3: Top ten long positions in the Adrenalin Index, and hence greatest fragility heading into reporting season 
How are we managing this additional risk ? Where we like the name on a longer term basis, we are merely trimming the position to reflect our updated short term view on the risk of the stock to limit our downside exposure should a negative event transpire over subsequent months.
Never miss an update
Stay up to date with my content by hitting the 'follow' button below and you'll be notified every time I post a wire. Not already a Livewire member? Sign up today to get free access to investment ideas and strategies from Australia's leading investors.
........
IMPORTANT NOTICE: This note is published by Resonant Asset Management Pty Ltd ABN 41 619 513 076, AFSL No 511759 (Resonant). Please read the following before making any investment decision regarding any financial product mentioned within this note: Disclosure: Resonant may receive a fee to provide consulting advice and recommendations to the Client, including the contents of this note. Resonant's fees are not linked to the financial product rating(s) outcome or the inclusion of financial products in model portfolios, or in approved product lists. Resonant may hold the financial product(s) referred to in this note. Resonant's representatives and/or their associates may hold any financial product referred to in this note. Warnings: The Information within this note does not constitute personal financial advice. In preparing this note, Resonant has not taken into account your particular goals and objectives, anticipated resources, current situation or attitudes. You should therefore consider the appropriateness of the material in light of your own objectives, financial situation or needs, before taking any action. You should also obtain a copy of the PDS of all products referenced before making any decisions. The data, information and research commentary within this note may be derived from information obtained from other parties which cannot be verified by Resonant and therefore is not guaranteed to be complete or accurate, and Resonant accepts no liability for errors or omissions. Resonant does not guarantee the performance of any fund, stock or the return of an investor's capital. Past performance is not a reliable indicator of future performance. Disclaimer: All information within this note is intended for the Client and its authorised representatives only. The contents of this note is not intended for use by retail clients or members of the public and should not be relied upon by any other person. Resonant provides consulting advice in the construction of model portfolios and investment advice, which may be tailored to the Client's requirements. However, these model portfolios and the investment advice remain the responsibility of the Client and may include financial product(s) that have been added at the Client's request. In addition, depending upon the frequency with which changes are updated, they may not always reflect Resonant's current recommendations. No representation, warranty or undertaking is given or made in relation to the accuracy or completeness of the information presented within this note, which may include public information not verified by Resonant. Recommendations are reasonably held at the time of completion (refer to the date of this email) but subject to change without notice. Except for any liability which cannot be excluded, Resonant, its directors, officers, employees and agents disclaim all liability for any error or inaccuracy in, misstatement or omission from, this note or any loss or damage suffered by the reader or any other person as a consequence of relying upon it.
---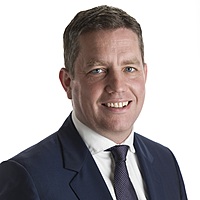 Co-Portfolio Manager
Resonant Asset Management
Nick has over 20 years of experience in markets, including 7 years at Citigroup as Head of Australian Quant Research, and 2 years at the CFS GAM Australian Core equities fund. He is CIO and co-PM of Resonant's multi-asset SMA's with direct stocks.
Expertise