Australia in ETFs is like Japan in the rugby World Cup
---
John Swolfs is a man who understands the ever-changing global ETF landscape better than most. He is the CEO of Inside ETFs, Miami, the largest annual gathering of ETF players in the world – the 'World Cup' of the ETF industry. Every year around 2000 people attend Inside ETFs conferences held across the world. Given the Rugby World Cup is currently underway bringing the oldest rugby playing nations like Australia to the energetic newcomer in rugby, Japan, it made me think about what Australia, an energetic relative newcomer in ETFs, could learn from the oldest ETF playing nation, the US.
After meeting John at the Miami Inside ETF conference earlier this year, I decided to tap into his exceptional 'ear to the ground' knowledge in order to bring Livewire readers a unique take on the key issues, topics and themes dominating the global ETF industry.
Q: John, last week you hosted the Inside ETF conference in Hong Kong. Interesting time to be in Hong Kong talking ETFs. What's the key takeaway from that conference that may be relevant for the Australian market?
A: Chris, we hosted our 3rd Annual Inside ETFs Asia conference last week and a few things jumped out at me. First and foremost is the continued reluctance from the big banks to embrace ETFs and their continued focus on higher cost investment products.

Just like in all markets, Australia could benefit greatly from a more developed ETF ecosystem, including diversity of provider, exchanges, products available and wider adoption by all investors. I will say I think Australia is better positioned for ETF adoption much like the US and Canada where everyone is playing with the same rules on the same field. Unlike Europe and Asia which are quite fractured markets.
Q: Switching gears to the US market, there have been two big things going on there this year. Firstly, the regulator, the SEC, approved the first active ETFs. Can you give us an update there and whether the initial excitement is resulting in any action?
A: Great question and exciting to see the US market moving forward, this is an area where the US market has been behind other markets including Australia. With the recent approval of non-transparent active ETFs, the ETF industry should take another bite out of the mutual fund pie. While these products have not yet hit the market, ETF investors have shown a growing appetite for active ETFs especially when it comes to fixed income and bond investing. The real excitement for me is the potential to see new entrants into the ETF marketplace. That is always a good thing.
With any new development it is good to see some of the largest players like iShares, Fidelity and others exploring the space and working diligently to build products that deliver real value and real solutions for investors.

But with any new development or technology comes questions and apprehension on the part of investors. To me this is an area where we, as a conference provider, will have to step up and lead the charge on education and making sure advisers are up to speed. Luckily for us, ETF education is at the heart of what we do and has been since the start. We will be covering the topic in great detail this January at our Inside ETFs conference in the US.
Q: Following up, and given the 'stop for now' the local regulator, ASIC, has put on new non-transparent active ETF issuance in Australia, what is the view in the US about the solution that the SEC has now approved for active ETFs in the US. Is it a silver bullet?
A: Chris, I am not sure there is a silver bullet or a one size fits all solution when it comes to active fund management and the ETF product wrapper. To me this sits more with the in-country regulatory bodies and their understanding of their unique market structure and rules. What I will say is that ETF issuers have typically built products that are relevant, put investors first and offered new solutions.

The ETF issuers and service providers in the US might be more excited than investors are at this time and point about active ETFs. The reason I say is we have been exploring the idea for years to finally get an approval which opens the door to so much potential, but the investor base is only starting their journey. That has me excited and in time will have investors looking at active ETFs in a big way.
Q: The second big US news in ETF land this year is the changes to the 'ETF Rule'. Why is this such a big deal and what does it mean for the industry? Could there be any impact on other markets outside the US?
A: This is a huge deal as it levels the playing field and puts rules in place that allow all ETF providers and potential new providers the ability to enter the market in a clear and defined way. It lowers the barriers to entry and reduces cost, all of which are a good thing. No longer do ETF issuers have to apply to the SEC for an exemption to the current rules in order to list an ETF, but they can now do it under a delegated authority from the SEC, much like mutual fund issuers (unlisted funds) are allowed to do.

While there are clear benefits, what the overall impact will be remains to be seen. Getting an ETF launched is only half the battle. You still need to build in distribution to gather assets. There will be more competition via more ETFs and that means more work for ETF investors to understand what they are buying.
As far as the impact outside the US, you would hope all other markets follow a bit of the SECs lead and move towards a level playing field between listed and unlisted funds in terms of the product approval process. This will reduce costs, stimulate innovation and allow good products to get to market sooner, all of which are good for end investors.
Q: John, putting the ETF investors' hat on. The inside ETF conference attendees are largely financial advisers, brokers and direct investors. What are the biggest issues on attendees minds at the moment with regards to ETFs?
A: For me I see two things. One is market uncertainty and the belief that we will have a correction. Some argue that this is where active managers earn their stripes and you will not want to just 'blindly' own the market via an index ETF. The counter argument is that active managers have not demonstrated that they are great at minimising downside capture nor timing the markets and thus do not necessarily protect investors and thus you can do just as well (especially after fees) to own an index ETF in a market downturn.
The second is how can ETFs be used to "better scale my business or investment strategies". ETFs do allow for scale and ease of use for advisers when building model portfolios for their clients, but I am talking more about launching their own investment strategy as an ETF. With the new ETF rule (which makes it easier to issue an ETF), many advisers, brokers and ETF strategists are considering launching their own investment strategy as an ETF. Many strategists and advisers are coming to the realisation that it might be easier to wrap their investment strategy into an ETF than trying to build their business through bespoke portfolios for individual clients.
Q: That Inside ETF conference in the US has the ETF ecosystem all in one place - from exchanges to market makers, issuers, index providers and most importantly ETF investors. What does Australia need to do to start getting the whole ETF ecosystem together?
A: The easy answer would be for us to launch an Inside ETFs conference in Australia but we very much know that there is more to it than that. You actually need to start with the investor and not the ETF. What I mean by that is build events that focus on helping advisers and institutional investors be better at what they do. If you do that, the rest of the ecosystem will follow.

Each year we survey over 1000 ETF investors in the US and spend less time speaking with issuers and index providers when we create content and build out the conference sessions. This allows the event to stay relevant to the investor which in turn makes it desirable for the ETF ecosystem to be at the event.
Q: Finally, in keeping with the World Cup theme, if you had to pick one winning ETF for 2020, what would it be?
A: I am not sure I have one ETF I would buy and tell everyone they need to buy. Perhaps investors should look to China. I know, I know… Trade wars, ghost cities and the Hong Kong protests, but if you look beyond that, the 'one belt one road initiative' of exporting their expertise when it comes to building infrastructure is unmatched. As an example, they recently helped build and launch a railway system in Kenya. Having just returned from Hong Kong, you get a real feel for Asia playing a bigger part of the future of the global economy and capital markets. This is a huge theme for me going forward and one of the beauties of ETFs is they allow you to invest in this kind of theme at the click of a button.
........
This communication was prepared by Pinnacle Investment Management Limited (ABN 66 109 659 109 AFSL 322140) ('Pinnacle'). Past performance is for illustrative purposes only and is not indicative of future performance. Unless otherwise specified, all amounts are in Australian Dollars (AUD). This communication is for general information only and was prepared for multiple distribution. Whilst Pinnacle believe the information contained in this communication is reliable, no warranty is given as to its accuracy, reliability or completeness and persons relying on this information do so at their own risk. Subject to any liability which cannot be excluded under the relevant laws, Pinnacle disclaim all liability to any person relying on the information contained in this communication in respect of any loss or damage (including consequential loss or damage), however caused, which may be suffered or arise directly or indirectly in respect of such information. The information is not intended as a securities recommendation or statement of opinion intended to influence a person or persons in making a decision in relation to investment. The information in this communication has been prepared without taking account of any person's objectives, financial situation or needs. Any persons relying on this information should obtain professional advice before doing so. The issuer is not licensed to provide financial product advice. Please consult your financial adviser before making a decision. Any opinions and forecasts reflect the judgment and assumptions of Pinnacle and its representatives on the basis of information at the date of publication and may later change without notice. Any projections contained in this presentation are estimates only and may not be realised in the future. The information is not intended as a securities recommendation or statement of opinion intended to influence a person or persons in making a decision in relation to investment. Unauthorised use, copying, distribution, replication, posting, transmitting, publication, display, or reproduction in whole or in part of the information contained in this communication is prohibited without obtaining prior written permission from Pinnacle. Pinnacle and its associates may have interests in financial products and may receive fees from companies referred to during this communication.
---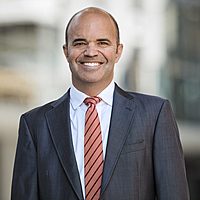 Director
Pinnacle Investment Management Limited
Chris is part of the Pinnacle executive management team and responsible for driving the listed products business. Pinnacle's mission is to establish, grow and sustain a diverse and complementary stable of world-class, specialist investment managers
Expertise