Australian ETF Review – Raise the bat!
---
The Australian ETF industry now exceeds $100 billion in funds under management (FUM), topping the milestone figure for the first time just three months after the end of a record-breaking 2020. The milestone was met after a very strong month for growth, driven by a combination of asset price appreciation, a large unlisted fund conversion and solid net flows. Read on for more details, including best performers, asset flow categories and more.
Australian ETP Market Cap: August 2001 – March 2021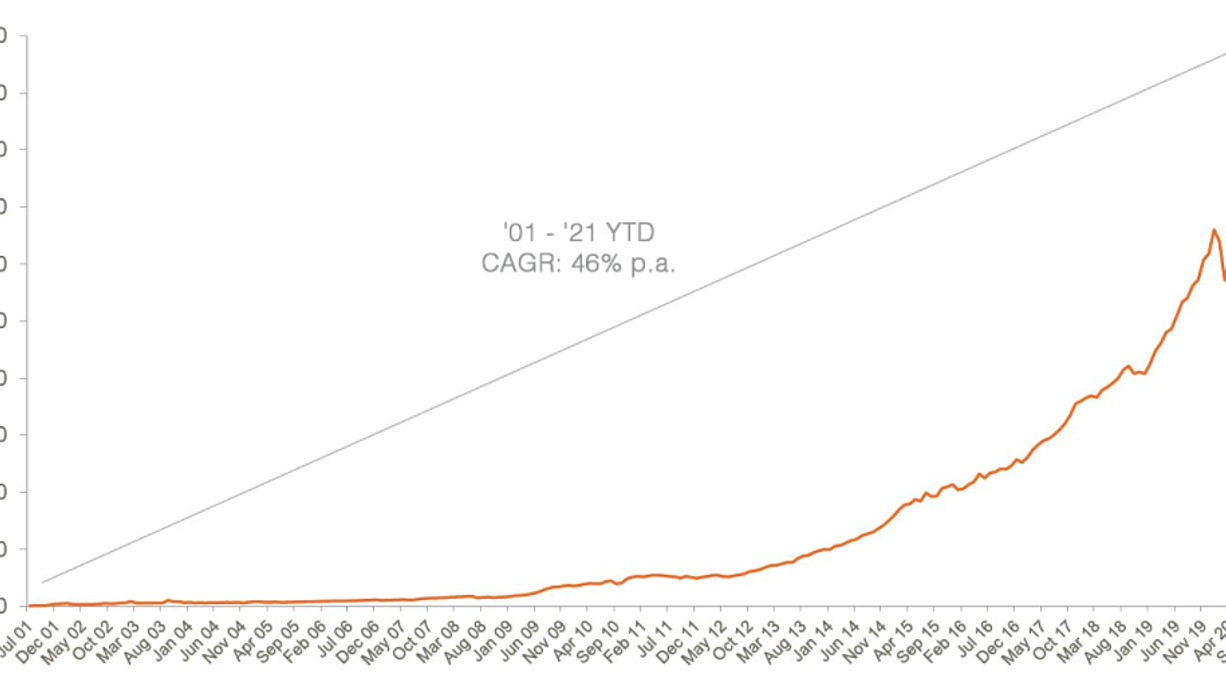 CAGR: Compound Annual Growth Rate. Source: ASX, Chi-X, BetaShares.
Market cap
ASX Exchange Traded Product market cap: $102.9B – all time end of month high, breaking through the $100B milestone
Market cap change for month: 5.7%, $5.6B
Market cap growth for the last 12 months: 80%, + $45.7B – all time high, fastest yearly growth on record
Now standing at an all-time high of $102.9B, the industry has added ~$8 billion in the first quarter of 2021. The industry's market cap grew by a rapid 5.7%, bringing industry growth over the last 12 months to 80%, which represents absolute growth of $46B over this period. This represents the most rapid growth over a 12 month period in the industry's history (includes large conversion of Magellan's Global Fund in November 2020).
New money
Net new money for month (units outstanding by % value): +$1.3B
Products
265 Exchange Traded Products trading on the ASX and Chi-X.
Seven new products launched, including BetaShares Climate Change Innovation ETF (ASX: ERTH)
Trading value
ASX ETF trading value declined slightly by 5% vs. the previous month.
Trading value remained high, declining slightly (5%) month on month, but remaining above the $7B mark
Performance
From a performance perspective, we saw for the second month in a row continued outperformance from value-oriented exposures. The best performing fund was a Palladium exposure, along with strong gains in U.S. oriented exposures. The value-tilted BetaShares Global Income Leaders ETF (ASX: INCM) performed well (~10% for the month), as did our Geared U.S. Equity Fund.
Top 5 category inflows (by $) – March 2021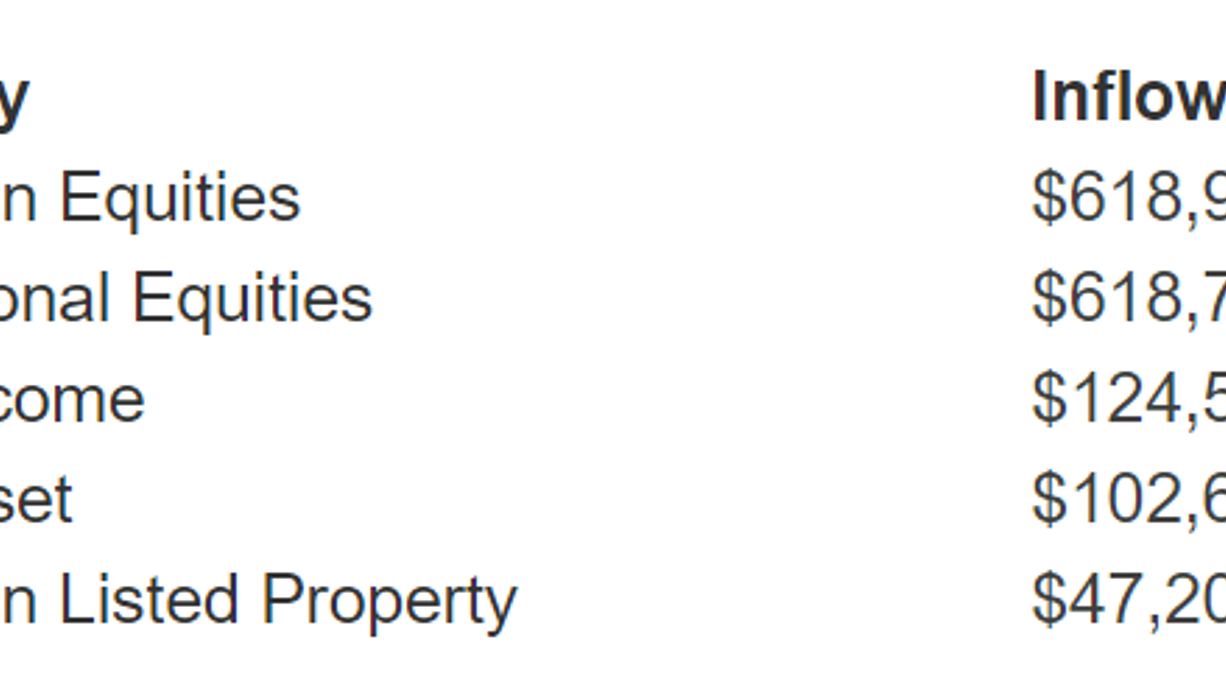 As they have for the year to date, equities once again led the way for inflows. This month we saw an even split of interest in Australian Equities ($618m of flows) and Global Equities ($618m).
Top 5 category outflows (by $) – March 2021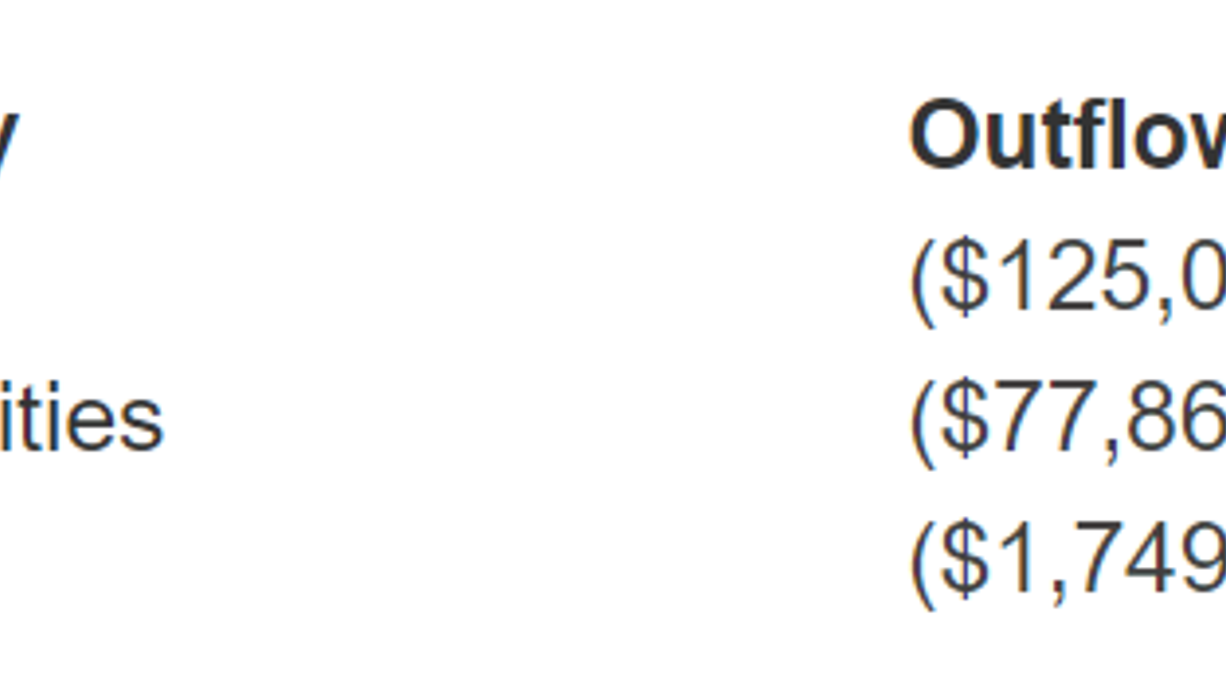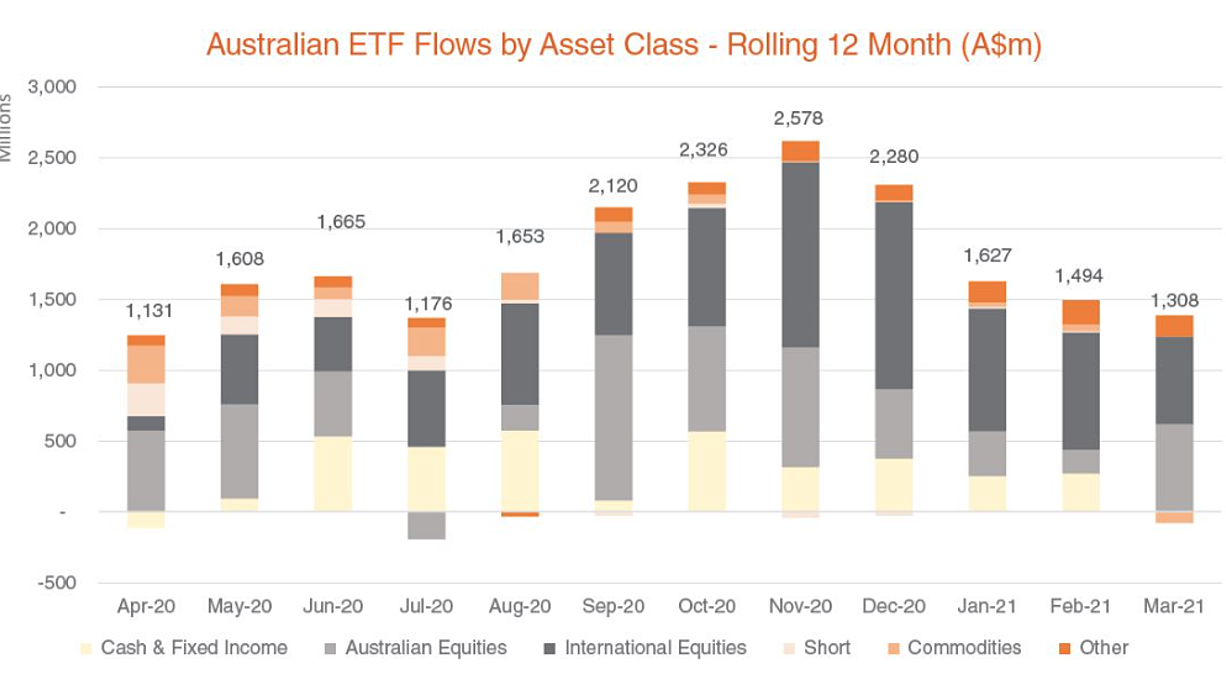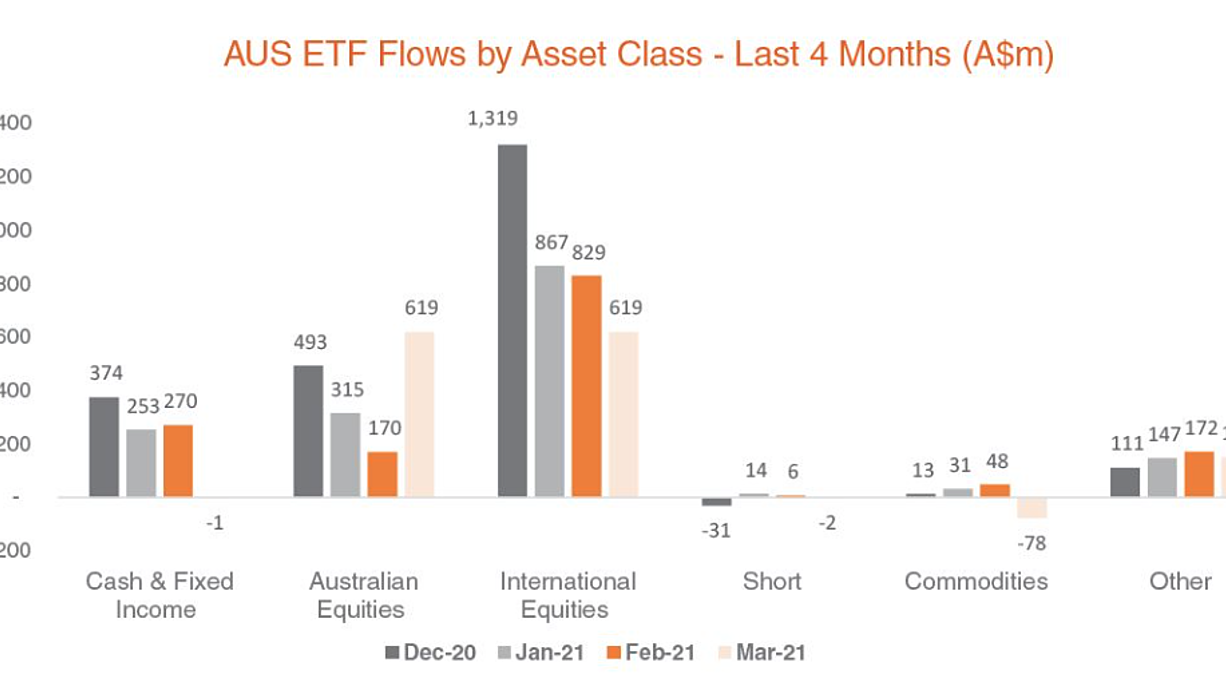 Source: Bloomberg, BetaShares.
Top sub-category inflows (by $) – March 2021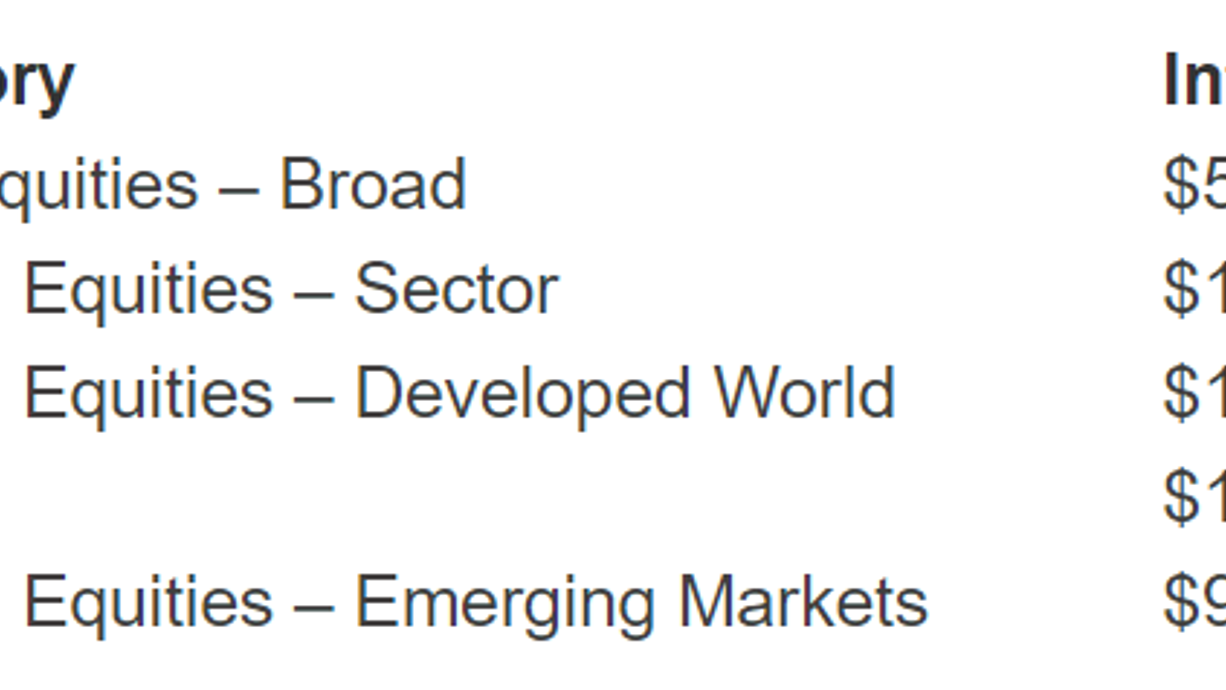 Top sub-category outflows (by $) – March 2021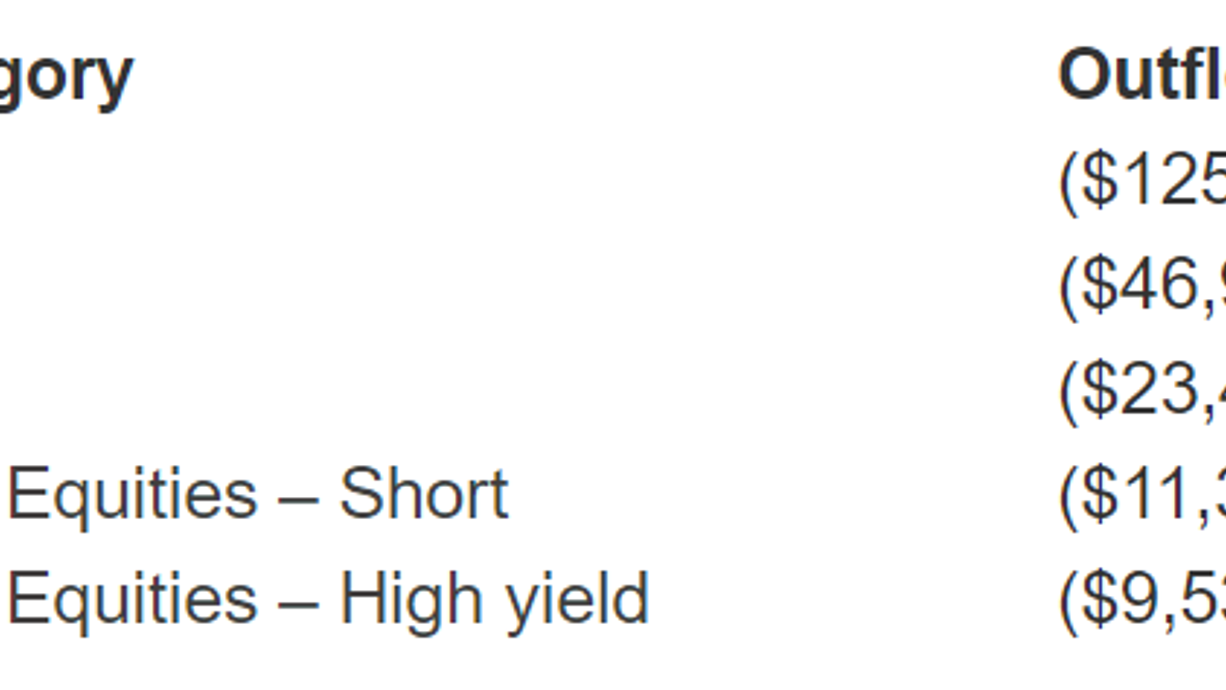 Outflows came from cash and precious metals exposures (silver and gold), which saw negative performance in the month of March.

With the $100B milestone passed, we take the opportunity to revise our forecast for the industry's growth for the remainder of 2021: we believe the industry will grow a further 25% over the rest of the year amid strong investor demand to end the year at ~$125B.
Learn more
ETFs are one of the fastest-growing investment vehicles in the Australian market. For BetaShares latest insights please visit our website and make sure you click follow below.
........
BetaShares Capital Limited (AFSL: 341181) ("BetaShares") prepared this material. It is general information only and does not constitute personal financial advice. It is not a recommendation to make any investment or adopt any investment strategy. Anyone considering investing in BetaShares funds should obtain a copy of the relevant PDS from www.betashares.com.au, consider the risks and obtain personal financial and tax advice. Past performance is not indicative of future performance. Future outcomes are inherently uncertain. Actual outcomes may differ materially from those in any opinions, estimates or other forward-looking statements provided.
---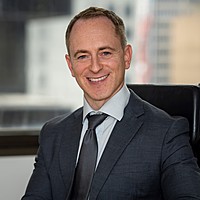 Co-Founder, Head of Strategy & Marketing
BetaShares
Ilan was a founding team member of BetaShares and is responsible for corporate & product strategy. Previously, Ilan worked for The Boston Consulting Group (BCG), one of the leading global strategy consulting firms.
Expertise