Bank of America survey reveals fundies are choosing cash over equities
---
Welcome to Charts and Caffeine - Livewire's pre-market open news and analysis wrap. We'll get you across the overnight session and share our best insights to get you better set for the investing day ahead.

MARKETS WRAP
S&P 500: + 0.13%
NASDAQ: -0:43%
CBOE VIX: 23.36 (+1.43%)
FTSE 100: +0.41
STOXX 50: +0.21%
USD INDEX: 0.69527 (-0.02%)
US 10YR: 2.807% (+0,93%)
GOLD: US$1,719.01 (-0.37%)
WTI CRUDE: 96.18 (-0.26%)
CALENDAR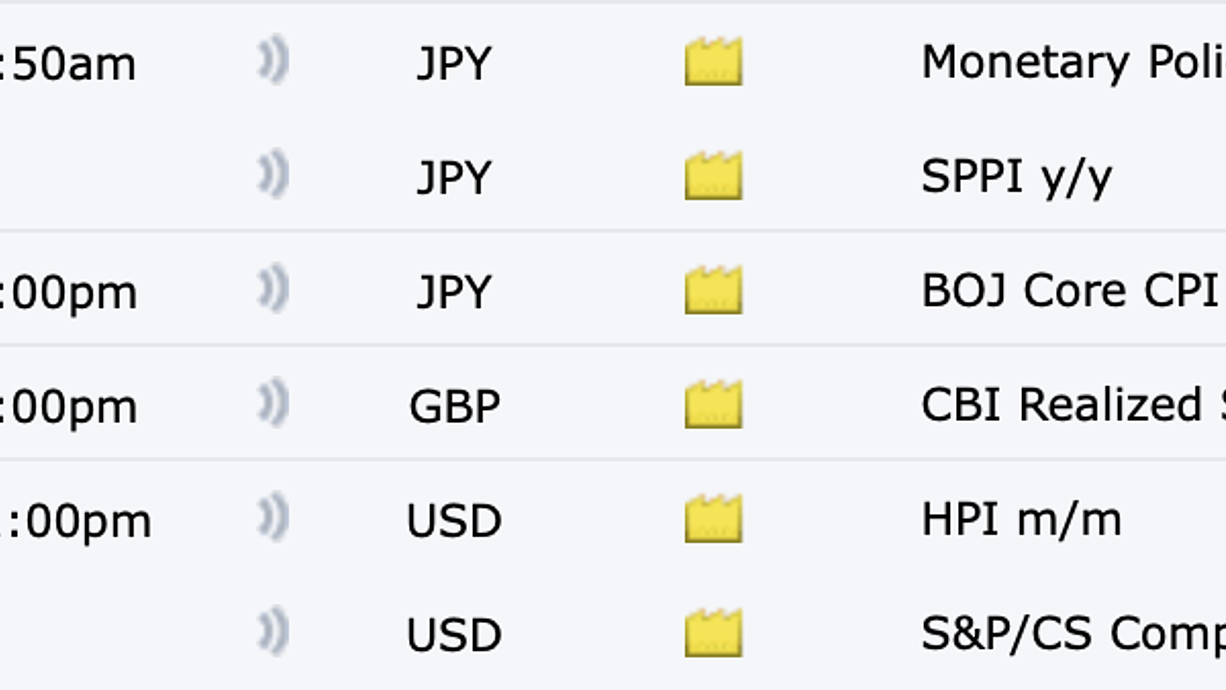 The Charts
Last week my colleague Ally Selby published a great piece on the signs that might suggest we've reached the bottom of the cycle, some analytical and others empirical. You can find that piece here.  
It's certainly a hot button topic so I thought I'd throw in a couple of charts in the same vein which I found quite striking.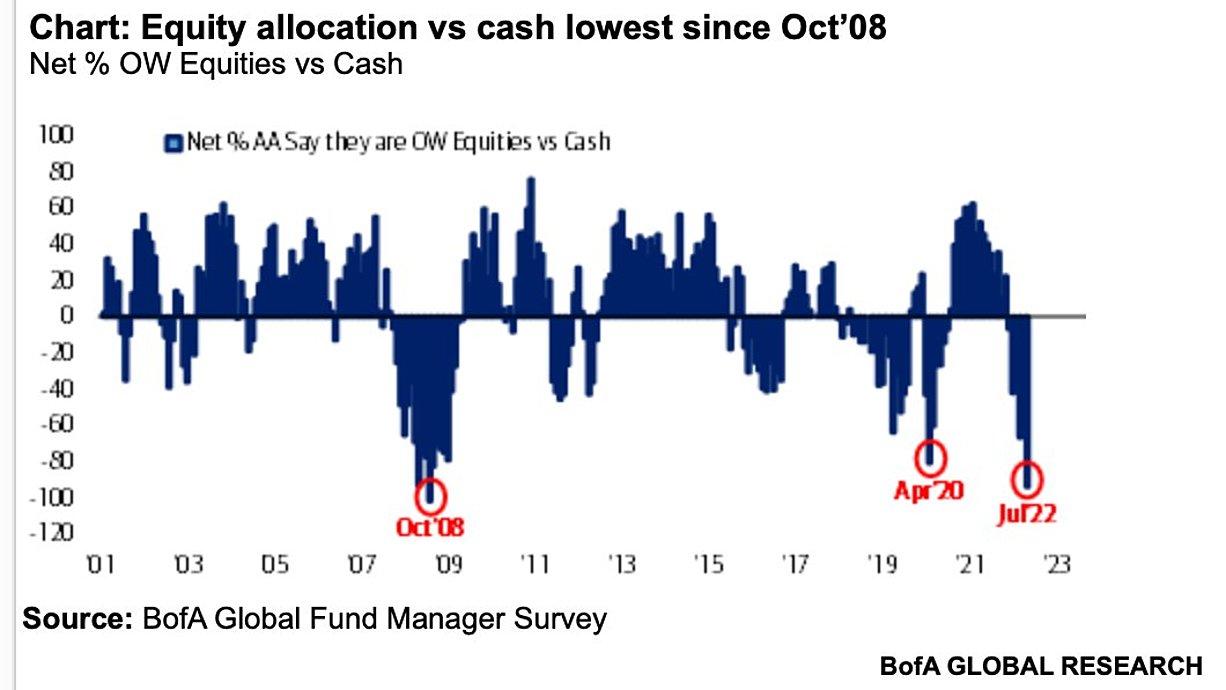 Above is a chart from Bank of America based on their Global Fund Manager Survey. The fundies indicated that they were either overweight equities or overweight cash. As the graph shows, the vast majority are overweight cash. You have to go all the way back, past COVID, to the GFC to find a period when the survey was this skewed to cash. 
(It's important to know that this figure doesn't represent the net percentage they hold in cash; again, it shows the net percentage of respondents who were overweight cash).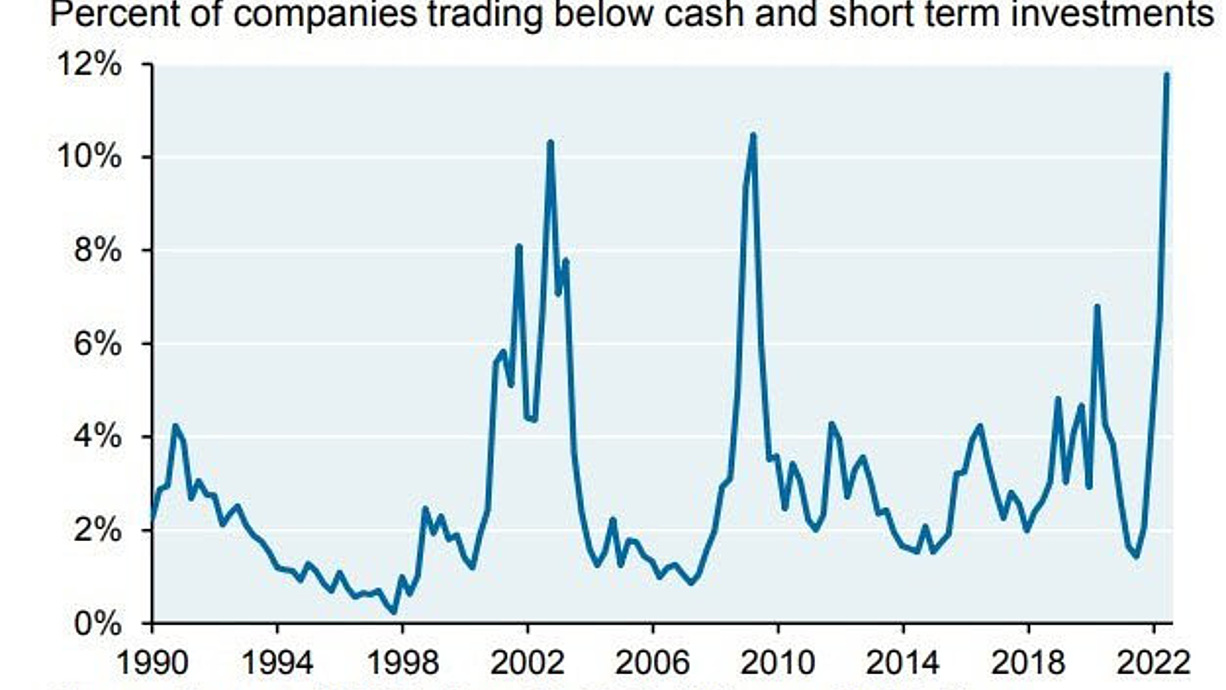 This chart is another sign that, if not at the bottom, things are very bad!
Companies are said to be 'trading below cash' when their market capitalisation is less than their net cash position. Once again, the metric is worse now than during the first wave of COVID, the GFC or following the September 11 attacks. 
STOCKS TO WATCH
Insurance Australia Group (ASX: AIG) is one stock brokers can't seem to agree on. 
The disagreement seems to revolve around the fact that in FY22 it topped up the cash reserves it keeps to pay out claims - a warning sign for any insurance company. 
Citi currently rate AIG a BUY.
"If we can accept that IAG's FY22E reserve top-up is a one-off adjustment to the past, then the top line momentum and margin support continues to point to profit improvement that should prove attractive to shareholders... That said, given IAG's recent track record we recognise a strong degree of healthy skepticism is warranted and there are risks."
Macquarie also rate the stock to Outperform. 
"IAG is trading at COVID-19 lows, with PE multiples significantly below long-term averages. Despite the ongoing challenges, the sector does have defensive qualities in a more difficult economic outlook, in our view; thus, we retain our Outperform recommendation."
Morgan Stanley, on the other hand, are Underweight AIG, noting:
"... we are concerned on IAG & SUN's ability to control claims inflation (after 20-year absence) and price for higher CAT / reinsurance."
Today's report was written by David Thornton. 
GET THE WRAP
We're trying something new around here - a daily market preview with a fun twist. If you've enjoyed this edition, hit follow on my profile to know when I post new content and click the like button so we know what you enjoy reading.
If you have a chart and/or a stat that you would like to see featured in a future edition of the newsletter, drop us a note at content@livewiremarkets.com. 
---
Markets Wrap
Livewire Markets
Charts and Caffeine is Livewire's daily pre-market news and analysis wrap. Every day, Livewire's team of market journalists and editors get you across the overnight session and share their best insights to get you better set for the investing day...
Expertise