Barbies, burgers and boats
---
The US reporting season has concluded for another quarter and once again approximately 80% of S&P500 companies have exceeded expectations. Digging a little deeper however provides us with some interesting insights into the latest spending habits of the US consumer.

Coffee culture in the US is alive and well with Starbucks enjoying same store sales growth of an astounding +7% driven by new beverages that appeal to younger generations. Not to be outdone, based on the same metric, McDonalds US sales grew by a relatively meagre but still remarkable +5.7%. Staple menu items such as the Big Mac and Quarter Pounder continue to sell well while recently rolled-out self-order kiosks are doing a great job of up-selling. Apparently customers are more likely to buy an apple pie dessert when they can actually see a picture of it.
With Uber Eats and Door Dash now available at the majority of McDonalds restaurants people no longer have to interrupt their binge watching of 'Orange is the New Black'. 
Despite a net decline of 126,000 US subscribers last quarter, 60 million (or approximately 50%!) of US households, still have a Netflix account.
Contrary to popular opinion that plant based protein products are taking over the world, Tyson Foods increased beef sales volume by +1.8% and that is after a price rise of +2.3%.
From a healthier perspective, sales of non-carbonated drinks like coffee and juices now represent 25% of Coca-Cola's revenue, up from 15% only 2 years ago. Meanwhile Mattel saw an increase of +11% in gross sales for their Dolls (Barbie) category in North America.
On the negative side, sales of big ticket items continue to deteriorate. Thor's North American recreational vehicle (both towable and motorised) sales declined by -23% in the most recent quarter, seasonally the most significant, with management expectations of a softer retail market to persist for the remainder of calendar year 2019. Harley Davidson US retail sales fell by -8.0% along with providing guidance for weaker shipments and lower operating margins over the next 2 quarters. On the same theme, leading recreational boat manufacturer Brunswick, has set an outlook target for their boat segment of a 6-7% decline in sales growth for 2019.
Discretionary spending at the upper end is clearly coming under pressure as consumers pull back on the more luxury items while still enjoying the simpler pleasures like all day breakfasts and 'Stranger Things'. According to Bloomberg, US household debt to disposable income has fallen back to levels not seen since the early 2000's.
US Household Debt to Disposable Income (%)
Source: Bloomberg

This de-leveraging is not surprising given the steadily rising cost of debt over the last 4 years. However, as the US begins the current easing cycle we will be closely monitoring how consumers react to lower interest rates and their willingness to loosen the purse strings.

K2 international funds currently hold positions in McDonalds and Tyson Foods.
Protect against volatility but don't sacrifice growth
With market volatility an increasing fact of life, we know that capital preservation is paramount. Keeping a watchful eye gives us the confidence to invest in equity markets to generate long-term growth but whilst preserving capital during volatile periods. Stay up to date with our latest Livewire insights by clicking 'follow' below, or contact us for further information. 
---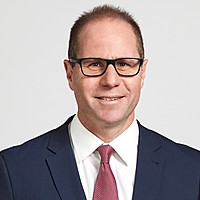 Portfolio Manager
Sintra Capital
Tony has extensive experience in international equities having worked in both London and Australia. Tony was formerly senior portfolio manager and head of international equities at K2 Asset Management (2016-2022). Prior broader market roles...
Expertise