Battery demand for nickel could give Mincor's new chief a welcome tailwind
---
A growing view that the beaten-up nickel price will bounce on lithium battery demand would be just what the doctored ordered for new Mincor boss David Southam.  And frustrated investors urge    WA Mines Minister Bill Johnston to demand Rio reveal what it has found at the Winu copper project.    
The nickel juniors are back near their 52-week lows after the most volatile of the metals did what it does best by staying volatile.
The past six months in particular has been a shocker for the nickel price, with earlier price gains wiped out with a retreat from $US7/lb down to $US4.90/lb this week.
The price is now just ahead of last (calendar) year's average of $4.73/lb. All hope that the $US10.36/lb prices of 2011 were on the way thanks to projections of supply deficit are lost, so you might think.
But Deutsche and others reckon this is a temporary setback for nickel caused by trade war-related slowdown in demand from what is currently the dominant customer, the stainless steel sector.
The argument goes that a whole new wall of demand is coming from the lithium-ion battery sector as the electric vehicle and renewable energy storage revolution gathers pace.
In a report earlier this month, Deutsche said nickel was headed for a "massive" supply shortage in the next three years. It went further to suggest demand from lithium-ion batteries (where increased nickel use equals greater energy density) would outstrip stainless steel by 2025.
Take all that in and it might be time to have a second look at the juniors with a clear pathway to production well before 2025 is upon us as rest assured, the nickel price will run hard ahead of time if Deutsche and others are right.
Today's interest is in Mincor (MCR), trading at 35.5c compared with its 52-week high of 47c and its low of 31c.
It was a highly successful nickel producer from its Kambalda operations until the post 2011 crash in nickel prices prompted it to suspend operations in the March quarter of 2016. It has kept itself busy since by getting up a small toll gold treatment operation to pay some bills.
But the plan has always been to return to nickel production, with something like 10,000t a year (in concentrates) in mind.
A reminder that Mincor continues to plot its return came during the week with the announcement that the finance director of nickel producer Western Areas, David Southam, is to become managing director.
His strong commercial background is just what Mincor needs as it starts to put the pieces in place for a return to nickel producer status.
The resource/reserve side of things for the return is pretty much in place. But the concentrate purchase agreement with BHP's Nickel West unit is about to expire. Southam's experience with offtake agreements at Western Areas could prove very handy.
As mentioned at Mincor's annual meeting earlier this month, BHP (and before it WMC) have been processing the Kambalda concentrates for 50 years. Now they can be offered to the open market.
"This has positive implications for the viability of the deposits we are targeting for near-term production and could also lead to the re-rating of a number of our dormant mines that still have substantial in-situ resources," Mincor told shareholders.
Why haven't you called, Minister?
The WA exploration scene is growing increasingly frustrated with Rio's decision to stay stum on the importance – or not – of its Winu copper discovery in the Paterson province.
The frustration levels only increased during the week when BHP broke cover on some impressive Olympic Dam-style hits at its Oak Dam West prospect in South Australia's outback.
BHP's announcement was an example of good disclosure because its global copper exploration chief was about to share the results with his team in Adelaide.
So admittedly, BHP did not release the results because it thought it was on to something special.
But as the flurry of activity in the volumes and share prices of companies exploring in the same neck of the woods as Oak Dam West showed, the BHP announcement was also a tonic for the broader industry.
That's why the WA explorers are hanging out for Rio to do a BHP and say something official on Winu.
A few of them have taken to sending around copies of Section 63(a) of the WA Mining Act.
It's the one that spells out conditions attached to exploration licences, specifically that the holder of an EL "will promptly report in writing to the Minister all minerals of economic interest discovered in, on or under the land subject of the exploration licence".
Thanks to The Australian newspaper's Paul Garvey earlier this month, we can pass on that WA Mines Minister Bill Johnston is, like the rest of us, in the dark on Winu, which is said by some to be Rio's best discovery in decades.
"All I can say is listed companies are obliged to notify the market of any material information and I expect all companies to comply with their listing rules," Garvey reported Johnston saying.
All very true, but those sending around copies of Section 63(a) would prefer Johnston focus on his own ministerial powers rather than rely on the listing rules of the ASX.
The suggestion is he pick up the phone and ask for a prompt report in writing on just what Rio is on to at Winu. We'll see.
BHP's Oak Dam
BHP was careful to say – as Rio would no doubt be on any report on Winu – that it was too early to say anything about the size, quality and continuity of the high-grade mineralisation encountered at Oak Dam West.
Still, the market got into nearology mode and waded in to the ASX-listed explorers active in the same part of the world as Oak Dam West, 65kms to the north-west of BHP's Olympic Dam monster.
It's not hard to see why. The 180m hit in one of the four holes reported graded a spectacular 6.07% copper, 0.92gpt gold, 0.4kg/t uranium and 12.77gpt silver. That was part of a 425.7m intersection from 1063m grading 3.04% copper, 0.59gpt gold, 0.34kg/t uranium and 6.03gpt silver.
It did not matter for most that the hit was seriously deep, and that the bulk of the results were pretty much in keeping with historic drill results in the area. Why, some even unkindly suggested BHP was putting lipstick on the pig because it was looking to sell OD to the Chinese.
The immediate reality of BHP's announcement was that it gave all of the juniors a lift. We're talking about stocks, among others, like Aeris (AIS), Argonaut (ARE), Auroch (AOU), Cohiba (CHK), Red Metal (RDM), Riversgold (RGL) and Tasman (TAS).
They are all at various stages of their Olympic Dam-style hunt but it has to be said three of them – Aeris and Argonaut in a joint venture, and Red Metal in a joint venture with OZ Minerals – are drilling right now (Red Metal/OZ), or are about to start (Aeris/Argonaut).
Both programs were worth watching on their technical credentials alone. Now that Oak Dam West had fired up investor interest in the broader Gawler Craton, that is even more so.
.
---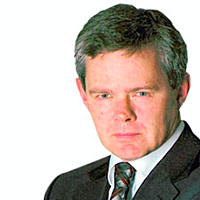 Principal
Independent Journalist
One of Australia's leading business journalists, Barry FitzGerald, highlights the issues, opportunities and challenges for small and mid-cap resources stocks, and most recently penned his column for The Australian newspaper.
Expertise