Ben Krasnostein - Working towards a zero carbon future
---
Ben joins David to discuss Kilara Capital a fund manager that he co-found in 2017 that focuses on investment opportunities that work toward sustainable infrastructure and a zero-carbon future.
Comprising 3 distinct business lines including private equity, energy and infrastructure solutions Kilara invest in deeply sustainable businesses across four key themes including future foods, circular economy, energy transformation and environmental markets. They are project developers and asset managers focused on advancing the build-out of utility scale renewable energy assets alongside the development of bespoke, zero emissions infrastructure solutions to businesses invested in the 'cooling economy'.
Ben has over 20 years of experience across corporate advisory, legal advisory, commercial transactions and deal structuring in a variety of industry sectors, including renewable energy, commercial property, sustainable finance and environmental markets. He leads the Kilara Growth Fund deal team and is responsible for overall management and strategy across the Kilara Group. Ben sits on the Kilara Growth Fund Investment Committee as an executive member.
Not already a Livewire member?
Sign up today to get free access to investment ideas and strategies from Australia's leading investors.
More podcasts

If you're enjoying Inside the Rope and don't want to miss a future episode, click 'follow' below to get notified when a new episode is released.
........
This research note has been prepared without consideration of any client's investment objectives, financial situation or needs. Before acting on any advice in this document, Koda Capital Pty Ltd recommends that you consider whether this is appropriate for your circumstances. While this document is based on the information from sources which are considered reliable, Koda Capital Pty Ltd, its directors, employees and consultants do not represent, warrant or guarantee, expressly or impliedly, that the information contained in this document is complete or accurate. Koda does not accept any responsibility to inform you of any matter that subsequently comes to its notice, which may affect any of the information contained in this document. © Copyright Koda Capital 2020 | AFSL: 452 581 | ABN: 65 166 491 961 | www.kodacapital.com
---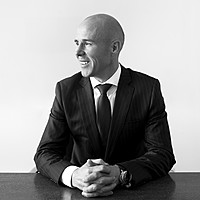 Adviser & Partner
Koda Capital
David Clark is an Adviser & Partner at Koda Capital. In his podcast 'Inside the Rope', David interviews some of the leading minds in wealth management.
Expertise