BHP's 'excitement' over its latest South Australian copper find looking justified
---
BHP's chief Andrew Mackenzie says he's excited by the company's "new copper opportunity" near Olympic Dam. In truth, it's actually an old WMC discovery. But there's no denying that BHP's drilling results thus far look special. The Big Australian's success is also good news for nearby tiddler Investigator Resources. Plus, NSW copper producer Aeris Resources hits back at market doubters with some exceptional drilling results.
If a junior exploration company had said it, it would have been dismissed as a bit of hype.
But in the case in question, it was BHP boss Andrew Mackenzie, a scientist of note, as him being a fellow of London's Royal Society (think Darwin and Einstein) tells you.
Speaking after the release of BHP's 2019 profit this week, Mackenzie got a little excited when talking about the group's Oak Dam discovery in South Australia's Gawler Craton.
"You will of course have heard that we have made a major and a very exciting discovery of a new copper opportunity to the south of Olympic Dam which, of course in time, will add to our copper production," Mackenzie said.
BHP lifted the lid on its deep but very high grade Oak Dam discovery in November last year (it is actually an old WMC discovery dating back to the 1970s but with a nice modern day interpretation of historical drill data by BHP).
BHP reported the results from four holes, the best of which was from AD-23, which returned a 180m hit grading 6.07% copper, 0.92gpt gold, 0.4kg/t uranium and 12.77gpt silver from a depth of 1,070m.
That was part of a 425.7m intersection from 1063m grading 3.04% copper, 0.59gpt gold, 0.34kg/t uranium and 6.03gpt silver.
So Oak Dam looks to be something special all right. Another 10 holes have been drilled since but results have not been released.
That forces us to rely on the bush telegraph where there is chatter that BHP has been getting more of the same from step out drilling.
The beauty about the thickness and grade of the mineralisation, and assuming the gossip on the step out holes is on the money, is that it won't take BHP long to rack up say a 200 million-tonne deposit.
That would mean that even a fairly modest mining rate of 5mpta could yield 200,000-250,000tpa of copper, matching Olympic Dam but at less than half the mining rate, such is the grade.
That's all a bit pie-in-the-sky stuff. But it does go to why Mackenzie got excited when adding the unfolding story at Oak Dam to the group's portfolio of future copper development options.
Investigator Resources (ASX:IVR):
Today's bigger point about Oak Dam is that after all these years of production from Olympic Dam, and OZ Mineral's Prominent Hill mine and what it has to come from its Carrapateena development, the Gawler continues to be fertile ground for big copper-gold discoveries.
That's good news for Investigator Resources, which has been edging up from 1c a share in mid-June to 2.8c on Thursday for a market cap of about $21m.
There are two good reasons for the price rise – the recent signing of a farm-in deal with OZ on Investigator's Maslins iron oxide copper gold exploration target in the Gawler and the silver price break-out.
Under the Maslins agreement, OZ can earn up to a 70% interest over five years by spending $10m. OZ's minimum expenditure commitment is $1.4m. The first test of the target with the drill bit is expected in early 2020.
BHP's Oak Dam discovery is 85km along trend to the north of Maslins, with Investigator having worked up the target since 2016 as being in a conductive corridor that also takes in Prominent Hill, Olympic Dam and Carrapateena.
Needless to say, Investigator's leverage to Maslins coming up trumps is extreme, with interest in the stock likely to build as the start of the drilling program with OZ approaches.
Adding to the call on the company's leverage to a discovery at Maslins is the situation where its market cap is more or less covered by its 42 million-ounce silver resource at its Paris project near Kimba in SA.
The silver at Paris has an in-situ value of $A1 billion, but a metallurgical study indicated that Paris would need $US20/oz type silver prices to fly. The poor man's gold is not there yet but it has been edging up from last year's $US15.70oz average to $17.03oz on Thursday.
The silver bugs will tell you the white metal has $US25oz written all over it as the gold-silver ratio corrects from a historically high 88 times to around the 60 times. Time will tell on that but for Investigator at least, having 42Moz of silver in the ground is a nice buffer to the high-risk/high-reward nature of Maslins.
AERIS RESOURCES (ASX:AIS)
Exciting times for Andre Labuschagne, executive chairman of NSW copper producer Aeris (ASX:AIS).
On Wednesday morning he was out at the airport, heading off to watch his son Marnus take to the crease in the third test at Headingley.
At the same though, he had to juggle inquiries about some impressive high-grade copper hits at the Murrawombie underground mine, part of Aeris' broader 26,000tpa Tritton copper operations.
Marnus proved himself to be one tough cookie after he was felled second ball by a demon delivery from Jofra Archer after coming in, somewhat ironically, as Steve Smith's concussion replacement at Lord's last weekend.
Dad never had any doubt Marnus would spring back up. "He was just not going to give any reason to being taken off the field. I know him well enough to know that he was thinking 'I will take all this if I need to, but I am not going off'."
In a parallel sort of way, the high grade hits at Murrawombie outside of the known resource (5.4mt at 1.5% copper) was Dad's way of hitting back at the market which had let Aeris drift to 6c a share on August 16 from its starting point for the year of 18.5c.
The drift stands as an over reaction to falling copper prices (Tritton's cash costs were a comfortable $A2.47/lb in the June quarter), the breakdown in talks to acquire the CSA copper mine from Glencore (the price was too high), and a halt in the Torrens exploration program in the Gawler (a cheaper and more focussed program is being worked up).
The Murrawombie results included hits of 6.25m grading 4.64% copper and 12.75m at 3.62% some 60m along strike from the current resource. The mineralisation remains open along strike and down plunge.
A new resource estimate is in the works. Initially at least, the uplift won't be substantial. That will come with more drilling along strike to the north and at deeper levels. Similar results would make a big difference to Aeris' valuation metrics.
While Murrawombie has a current resource grade of 1.5% copper, it is being mined at 1.7% copper and there is growing confidence that a 1.8% per cent plus grade could become the norm.
So it looks like the orebody is significantly better than first thought. Meanwhile, exploration elsewhere continues to add to the idea that the current 4-5 years of mine life at Tritton is very much a base case, worth something much more than the current share price of 6.6c.
---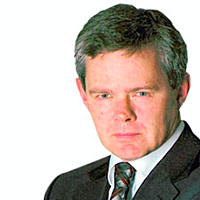 Principal
Independent Journalist
One of Australia's leading business journalists, Barry FitzGerald, highlights the issues, opportunities and challenges for small and mid-cap resources stocks, and most recently penned his column for The Australian newspaper.
Expertise