Bonanza gold hit shows Never say Never for a strong future at Gascoyne
---
From receivership to 59m at 12.5g/t, Lawson leads Lazarus revival for WA miner. Plus, Kin strengthens its hand in Leonora merger jigsaw and our recent heads-up on Creasy and Greenstone proves well-timed.
Exploration success is usually toasted with champagne. But at Gascoyne, there is a preference for the Never Never upmarket brand of gin which hails from South Australia's McLaren Vale.
Never Never is the name Gascoyne has given to a new high-grade gold lode discovery at its 70,000 ounce-a-year Dalgaranga operation, 65km north-west of Mt Magnet in Western Australia's Murchison region.
Drilling at Never Never has just returned a 59m hit from 139m grading 12.5g/t gold, including 13m at 51.1g/t.
So high-grade means high-grade in this instance. What's more, the confirmed thickness is what any miner would like to see.
Never Never is a new style of mineralisation for Dalgaranga which sits roughly at right angles to predominantly north-south orientation of the area's known deposits and follows on from the success at Gilbey's North earlier this year.
They stand together as a game-changer for Dalgaranga which given the cost inflation out there, would be under the pump because of its current 0.8g/t low feed.
But start thinking about blending in high grade material from Never Never and the Gilbey's North discovery – all within a stone's throw of the 2.5mtpa-rated treatment plant that has been running at 2.7mpta – and the incremental ounces will throw off a serious amount of cash.
New resource estimates and mining plans are in the works. Drilling continues at Never Never with Gascoyne MD Simon Lawson saying he is out to "change the future of Gascoyne one drill hole at a time".
Gascoyne was mentioned here on July 22 on the strength of what Gilbey's North alone could mean for Dalgaranga. It was 25c at the time and has since moved up to 35.5c, with Never Never providing the latest kicker.
It is impressive stuff remembering that company went into receivership in 2019. It came out of that in 2020 and is now debt-free.
As mentioned previously, Lawson was meant to become a non-exec after he came across in November last year from Firefly Resources, which was acquired by Gascoyne for its Melville gold deposit, 100km from Dalgaranga.
Melville will become an ore source at some point. But thanks to the high-grade material to come from Gilbey's North and Never Never, sweetening things up big time up at Dalgaranga can now be done within 1km of current operations.
Kin/Leonora:
The much-vaunted consolidation of the Leonora gold district has not exactly gone off with a bang. But it is coming.
Raleigh Finlayson's Genesis Minerals (GMD) is grinding away with its friendly $111 million scrip bid for Dacian (DCN) which marries up Genesis' undeveloped Ulysses project with Dacian's troubled Mt Morgans operation some 95km way.
And as far as we know, the consolidation talks between Genesis and Gwalia mine owner St Barbara are continuing, although St Barbara has finally got busy with its own consolidation moves and expansion plans.
The prospects for a nil-premium merger between Genesis and St Barbara, with the ex-Saracen guru Finlayson taking the leadership role, could well prove to be a bridge too far, which is a shame because Leonora has been crying out for consolidation for years.
But there is lots of stranded gold in the region and an excess of treatment plant capacity, even before St Barbara gets cracking on a planned mill expansion at Gwalia. So even if the big-bang merger between St Barbara and Genesis does not happen, Leonora is still going to see plenty of action.
Just under 1.3 million ounces of that stranded gold is held by Kin Mining, which is today's interest.
It is trading at 7.8c after pulling in $9.7m cash from a share placement at 7.5c a share, which is to be followed up with a $10.7m non-entitlement offer at the same price.
The fund raising is dilutional for sure, but a smart move given Kin is very much part of the Leonora consolidation story.
It presents as a bolt-on acquisition for one of the owners of the three treatment plants within comfortable trucking distance of Kin's Cardinia project – St Barbara/Gwalia, Genesis/Dacian at Mt Morgans, and Red 5/King of the Hills.
A toll treatment arrangement with one of those is likely for Kin at some point and it is best in such discussions to be well-funded.
And while the wait for a toll treatment deal continues, continuing to drive Cardinia up the value chain by adding more ounces at a finding cost of about $40 an ounce makes sense if toll treatment talks become takeover talks.
As it is, Kin is expected to update its resource estimate in September, with a figure around 1.5m ounces the market's expectations. The new funding will fund exploration for more ounces, with a push to 2Moz a reasonable expectation over two to three years.
St Barbara's Gwalia mill is the closest to Cardinia, which explains why it had a crack at Kin last October with a takeover offer that did not progress. But it left St Barbara holding an 18% pre-bid stake.
It is understood St Barbara did not take up shares in the placement, reducing its stake to about 16% ahead of the entitlement issue. The German family Delphi took up most of the placement, increasing its stake from 29.5% to 32%.
It was Delphi that led the rejection of St Barbara's bid last October. Now that it has also stumped up more cash to increase its Kin stake suggests that it for one reckons there is upside from both the failed St Barbara offer (13c indicative), and this week's placement price.
Greenstone/Conico:
Prospector extraordinaire Mark Creasy has proven to be on the money again with one of his dabbles in the junior exploration space.
As mentioned here on August 5, Creasy was outed as a 4.3% shareholder in Greenstone (GSR) in a presentation to Diggers & Dealers.
His investment was effectively a bet that the exciting Callisto PGE-nickel-copper discovery near Norseman in May by his 26% owned Galileo Mining (GAL) extends 200m across the boundary into the Mt Thirsty joint venture owned 50:50 by Greenstone and Conico (CNJ).
Galileo has gone from 20c ahead of the discovery hole to $1.07 for a market cap of $220m thanks to the upside at Callisto and its similarities with the money-printing Platreef deposits on the northern limb of the Bushveld complex in South Africa.
As noted in that August 5 yarn, the Mt Thirsty JV was about to test for Callisto-style mineralisation with the drill bit.
Greenstone was 4.7c at the time and Conico was 3.5c. That they both posted strong share price gains in Thursday's market – Greenstone to 7.8c and Conico to 5.8c – says that there has been plenty of encouragement from the first hole.
The companies reported the hole intersected 65m of disseminated sulphides, with assays results expected in 4-6 weeks.
Ahead of the assay results, the companies said the first hole had intersected the same geological horizon that hosts Callisto, and as is the case at Callisto, the mineralisation is hosted on the contact between an ultramafic sill and a sedimentary unit.
It has been a good start to the hunt for a Callisto extension into the Mt Thirsty ground, with a happy Creasy having a foot in both camps. The drilling rig at Mt Thirsty is being moved to drill the next hole closer to the boundary with Galileo/Callisto boundary.
---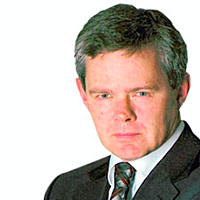 Principal
Independent Journalist
One of Australia's leading business journalists, Barry FitzGerald, highlights the issues, opportunities and challenges for small and mid-cap resources stocks, and most recently penned his column for The Australian newspaper.
Expertise