"Bubble bubble toil and trouble" - the 3 greatest bubblemakers
---
The local market started slightly positive as expected pre-market, but then kept on climbing as global investors were buying the market exposure. 
It was a decent "buy the market" portfolio as turnover was relatively solid, despite profit-taking near the close. A decent move back up by local bonds helped. 
Was it more RBA shenanigans? The move in the local market seems to be aligned with positive Asian markets - so it looks like global investors may be diversifying away from the US ahead of the US Fed prime time show on Thursday early morning Sydney time. 
The US Fed, European Central Bank and Bank of Japan are major league Ponzi schemes. RBA's QE Ponzi scheme barely touches the sides when you compare the trillions in play from the big three. The resources sectors were negative while growth sectors were the big movers. It is almost like the markets are taking an active bet that the US Fed delivers more QE. Time will tell!
The biggest three bubble blowers of all time are back on centre stage. BOJ has been at this for so long that markets take it for granted. ECB recently has reached the point of no return. EU needs a fiscal link to match the monetary link. It's ironic the EU has so many former great nations that once ruled big parts of the world and yet they have now become the pariahs that rely on socialism from the ECB to keep their dream alive. They will not want to give up their sovereign control but they have no hope of ever surviving alone. 
Most of the banking system in Europe can't survive without an ECB bailout. EU banks will be merged and the ECB will end up taking a massive shareholding in what is left. Socialised EU banks under ECB is the shadow fiscal integration of EU when you can't openly do it. They are so far down the rabbit hole that they don't realise the mess their banking system and currency would experience when they leave EU. EU is still coming out of lockdown restrictions and will need more stimulus in Q2. Hence ECB is holding fire for now. US Fed on the other hand has the technical problem of having its currency as the global currency and hence all debt is linked to it. The cost-based reflation limits the ability of US Fed to keep doing more stimulus without blowing out inflation to hyper mode. More QE will attract more currency debasement and more inflation. The solution will make the problem even bigger.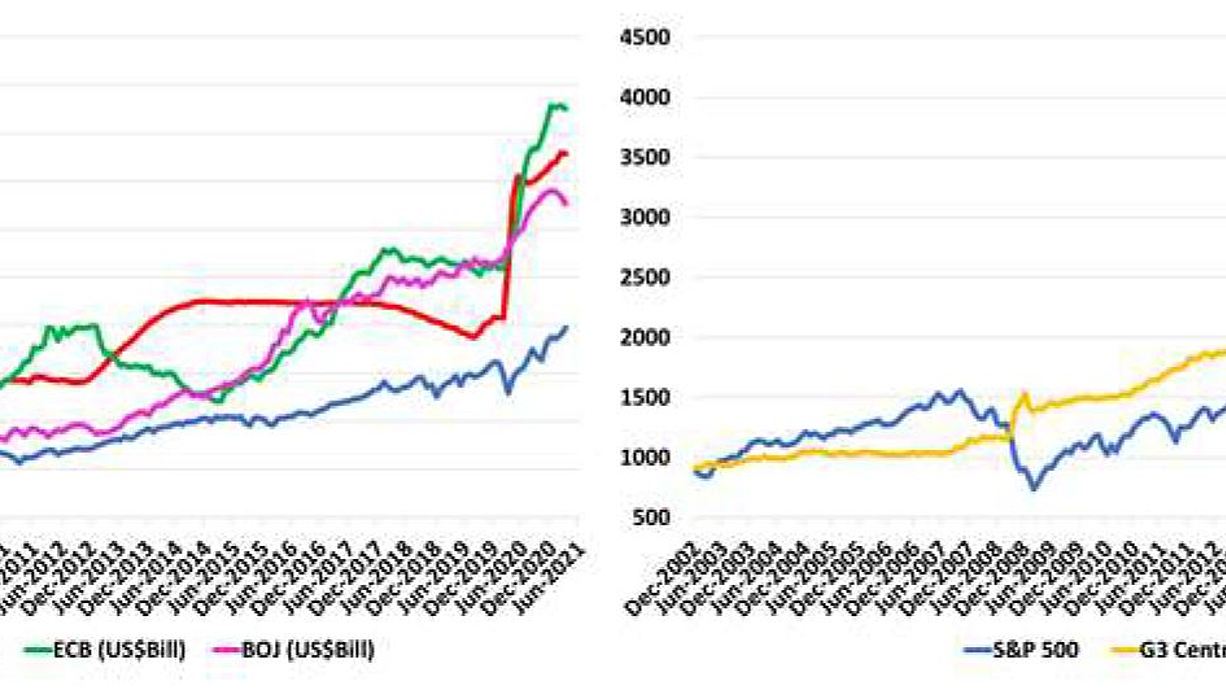 The charts show that the three biggest bubble blowers have expanded their balance sheet nearly 3 times what it was after GFC. Take a bit of time and let that thought settle in your head. The balance sheet expansion by the big three has reached approx. US$2800 per person…counting every man, woman and child in the world. Just cutting it back to US…US Fed balance sheet expansion sits at US$25,000 per person…counting every man, woman and child in the US. Now get your head around the reality of US economy was headed for recession before the pandemic. So, US has burnt $8t balance sheet and locked in minimum $1t deficit for every year over the next decade to return to a state of recession risk. The logic and self interest suggests that US government will continue to deliver quarterly checks to keep the economy from falling into double dip recession and hence deliver stagflation. In this macro, US Fed is going to meet over the next 48 hours and decide their next move. Damn if they do, damn if they don't. Markets are betting that vested interest groups will force the US Fed to keep the game on the road with more QE. Historical trend suggests markets are right and the Central Banks are going to bail out the minority and sell out the majority.
Time will tell how this plays out but we are truly in uncharted territory. Let me refer to something I wrote in a previous note…
The mess we are in reminded me of the speech delivered in a classic movie called The Big Short. This speech had profound meaning for me. Take the time to watch the movie. I thought I would paraphrase it for Australia. It goes something like this…
"We live in an era of fraud in Australia. Not just in banking, but in central banks, governments, regulators, rating agencies, media, tech, insurance, investment, education, religion, food, even cricket...What bothers me isn't that fraud is not nice. Or that fraud is mean. For fifteen thousand years, fraud and short sighted thinking have never, ever worked. Not once. Eventually you get caught, things go south. When the hell did we forget all that? I thought we were better than this, I really did. And the fact that we are not doesn't make me feel all right and superior. It makes me feel…sad. I just know at the end of the day average people are going to be the ones that are going have to pay for all this. Because they always, always do."
Comments on US market last close
US market did nothing much all day before a pump in the last hour delivered a positive day. US Fed meeting starts tomorrow and update Thursday morning Sydney time. It's a waiting game till then. Bond yields ticked lower, USD ticked higher and Gold moved higher. NASDAQ lead the indices up 1% while RUSSELL was flat as the laggard. Energy and Banks were the only red sectors while Gold and Retail were the best. European markets were down as Oxford vaccine gets suspended in the big EU nations while third wave goes through. CDC is warning similar wave in the US without taking precautions as spring break comes around. China data remains solid but uneven and they continue to add targeted stimulus while tightening in other areas. It's a waiting game for the US Fed.
Remain nimble, contrarian and cautiously pragmatic with elevated global macro risks!!! Buckle up...it's going to get bumpy!!!
Full SUNSET STRIP report with end of day market stats are on the attached link.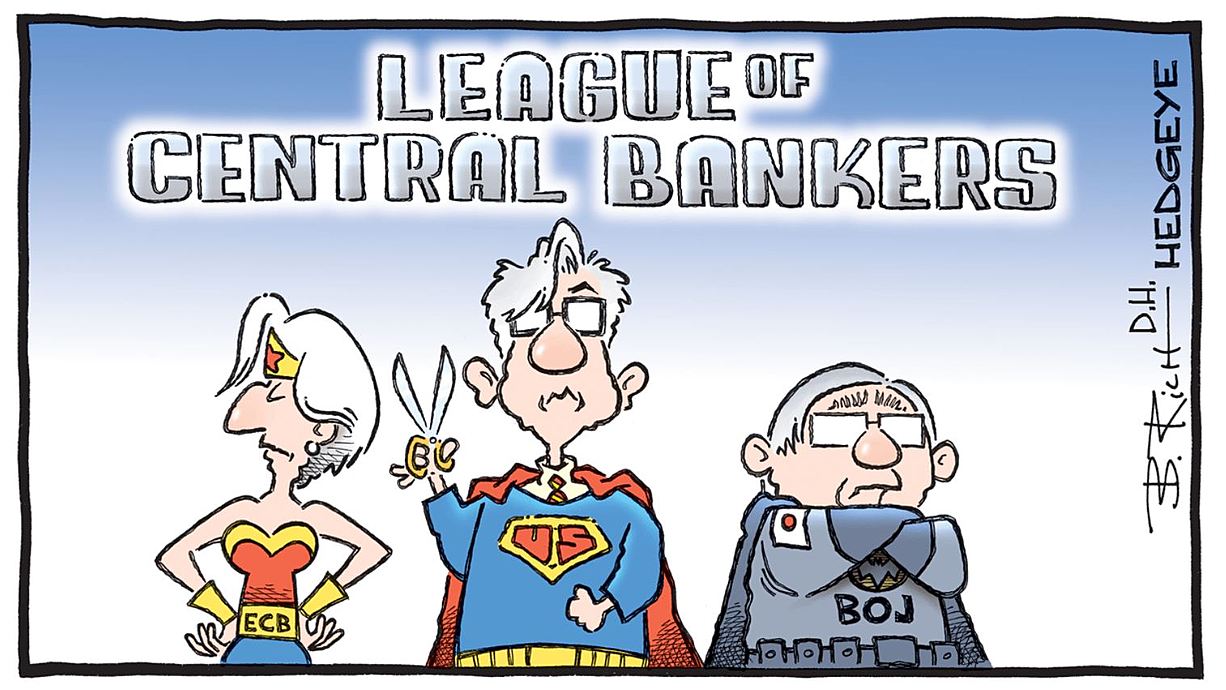 ........
Deep Data Analytics provides this financial advice as an honest and reasonable opinion held at a point in time about an investment's risk profile and merit and the information is provided by the Deep Data Analytics in good faith. The views of the adviser(s) do not necessarily reflect the views of the AFS Licensee. Deep Data Analytics has no obligation to update the opinion unless Deep Data Analytics is currently contracted to provide such an updated opinion. Deep Data Analytics does not warrant the accuracy of any information it sources from others. All statements as to future matters are not guaranteed to be accurate and any statements as to past performance do not represent future performance. Assessment of risk can be subjective. Portfolios of equity investments need to be well diversified and the risk appropriate for the investor. Equity investments in listed or unlisted companies yet to achieve a profit or with an equity value less than $50 million should collectively be a small component of a balanced portfolio, with smaller individual investment sizes than otherwise. Investors are responsible for their own investment decisions, unless a contract stipulates otherwise. Deep Data Analytics does not stand behind the capital value or performance of any investment. Subject to any terms implied by law and which cannot be excluded, Deep Data Analytics shall not be liable for any errors, omissions, defects or misrepresentations in the information (including by reasons of negligence, negligent misstatement or otherwise) or for any loss or damage (whether direct or indirect) suffered by persons who use or rely on the information. If any law prohibits the exclusion of such liability, Deep Data Analytics limits its liability to the re-supply of the Information, provided that such limitation is permitted by law and is fair and reasonable. Copyright © Deep Data Analytics. All rights reserved. This material is proprietary to Deep Data Analytics and may not be disclosed to third parties. Any unauthorized use, duplication or disclosure of this document is prohibited. The content has been approved for distribution by Deep Data Analytics (ABN 67 159 532 213 AFS Representative No. 1282992) which is a corporate approved representative of BR Securities (ABN 92 168 734 530 and holder of AFSL No. 456663). Deep Data Analytics is the business name of ABN 67 159 532 213.