Calidus poised for re-rating as it moves into development phase at Pilbara gold project
---
Calidus is trading at just a fraction of the valuation being applied to gold producers – but it stands to close the gap as it begins construction of its Warrawoona mine. And the prospect of a maiden resource this year at Anglo Australian's Kalgoorlie project shows it's been missed by the gold bulls.
The stampede by investors into junior gold developers in the wake of $US1,800/oz ($A2,585) gold is a sight to behold.
Massive over-subscriptions to equity raisings by juniors looking to add momentum to their development push has become the order of the day.
And little wonder too. Apart from what a decent discovery can do, the transition from would-be developer to producer is the biggest value uplift a junior (or investor) can pretty much bank.
There is no surprise then to see Pilbara gold developer Calidus being rushed in its $20m placement, upsized to $25m, at 51c a share, with Euroz and Blue Ocean Equities on the job.
Calidus is poised to capitalise on booming gold prices – and that is what $A2,585 gold is - through a planned $116 million development of its Warrawoona gold project near Marble Bar in WA's East Pilbara.
The company – owned 12.8% by Alkane – recently gave the market a teaser on what to expect from Warrawoona in what it called an updated pre-feasibility study.
The update highlighted what Calidus boss Dave Reeves described as the "superb" cash generating potential from forecast annual production averaging 85,000 ounces in the first six years of an initial 8-year mine life.
The update is being followed up by a definitive feasibility study (DFS), the completion of which will move the project into the financing stage.
"We are knee deep into the DFS study which we aim to get out in the September (2020) quarter," Reeves said ahead of the placement at a recent Resources Rising Star's virtual investor briefing.
"That should lead to a final investment decision later this year which will be followed with a start to construction next year. All things being equal, we could see gold bars being poured late next year (or early in 2022)," Reeves said.
Calidus began to consolidate the fragmented ownership of the historic goldfield in 2017, starting out with a 411,000 ounce gold resource. The resource has since grown to 1.5 million ounces.
The DFS work is based on a proven ore reserve of 519,000 ounces, including 502,000 ounces at the main Klondyke deposit.
The initial development will involve a single open pit, with a push underground delayed to future years in a deliberate decision to keep things simple.
"With that simplicity comes success of development, and minimisation of risk," Reeves said. "The ore outcrops at surface and when you look at the strip ratio of 3.6 to 1, it's why we can generate a lot of cash."
The updated PFS pointed to an all-in sustaining cost of production $A1,251 an ounce. At a $A2,500 an ounce gold price, project cashflow (pre-tax) was estimated at $648 million while the internal rate of return was put at 77% (post tax).
Capital payback was 13 months and average annual EBITDA was put at $95m at a gold price of $2,500.
So at the placement price of 51c, the $110m Calidus is just about trading on a 1:1 ratio on an enterprise value versus free cashflow basis, come 2023 that is.
The average of the producers is 5:1 - the potential value uplift Calidus is now out to capture. It is looking at creating other value uplift events through the drill bit.
The current resource is based on drilling to a depth of 250 metres. In August, some diamond tails will be drilled to depths of 550m, with first results likely in September.
"We are pretty excited to see what the drilling turns up," Reeves said.
"This deposit is open and it will be around for a long time once we develop the mine."
While fast tracking the development of Warrawoona and confirming an underground future, Calidus has also expanded its exploration effort in the East Pilbara region.
It recently struck a deal under which it can earn up to a 70% interest in the Otways gold-copper project, about 50km from Warrawoona, and to the north-east of Nullagine.
Drilling by others in the 1960s identified near surface copper mineralisation that remains to be tested at depth. The historic drilling never assayed for gold even though nearby costean samples returned values of up to 13g/t gold.
For the record, Blue Ocean had a $1 price target on the stock ahead of the placement while Euroz was at 85c. Hartleys was at 81c.
ANGLO AUSTRALIAN RESOURCES:
Anglo Australian Resources is not classified as a gold "developer" just yet, but expectations are that it will sit well and truly in the category before the end of the year.
That's because of the impressive drill results it has been reporting from an intense diamond/RC drilling program at its Mandilla gold project.
Now guided by the team from Egan Street Resources, which was acquired by Silver Lake last year for $70m on the basis of the development-ready work they did at the high-grade Rothsay project, Anglo could be in a position to announce a maiden resource by the end of the year.
Based on the growth in the footprint of the syenite-hosted gold mineralisation to date, it's fair to say a maiden estimate of 750,000oz in an open pit position would not surprise, with upside on top of that.
Mandilla is 70km south of Kalgoorlie and 20km south-east of Kambalda.
It was worth being quite specific about its location as it puts it about 45km by road from the St Ives operation of South Africa's Gold Fields.
St Ives has a big treatment plant and Gold Fields has made no secret of the fact that it is becoming a hungry one too.
The potential for a new open-cut with good grades to emerge 45km down the road – shorter if a haul road was cut through the bush – would no doubt be something of interest to Gold Fields.
That gives Anglo the twin appeal of near-term value uplift from the transition to developer status on the year-end maiden resource estimate, along with the potential takeover candidate dynamic.
It last traded at 13.5c for a market cap of about $63m. That is pretty much where it has been since the mid-March lows that everyone endured and means the gold chasers are not on to the story just yet.
Expect that to change in coming weeks as some of the brokers specialising in the juniors get around to having a look at what's coming for Anglo – a gold development story, a takeover candidate, or both.
Never miss an update
Stay up to date with my content by hitting the 'follow' button below and you'll be notified every time I post a wire. Not already a Livewire member? Sign up today to get free access to investment ideas and strategies from Australia's leading investors.
---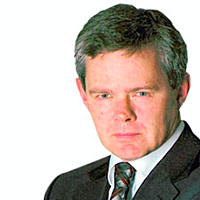 Principal
Independent Journalist
One of Australia's leading business journalists, Barry FitzGerald, highlights the issues, opportunities and challenges for small and mid-cap resources stocks, and most recently penned his column for The Australian newspaper.
Expertise