Canny O'Keeffe's shift into diamonds augurs well for expanding Lucapa
---
Legendary company-maker Michael O'Keeffe, whose timing has been impeccable over the years, has signalled that diamonds are now his best friend. Plus, Genesis approaching decision time on its 867,000oz WA resource.
For a guy who started out as a metallurgist at Mount Isa, Michael O'Keeffe has done really well over the years.
His success is linked to the best training one can get in commodity markets, courtesy of his time with his mate Ivan Glasenberg at Glencore between 1995-2004.
By the time he left, O'Keeffe had become managing director of the Australian side of the business and from that, he clearly developed a knack for identifying opportunities in seemingly clapped out commodities.
After Glencore, O'Keeffe spent 2004-2011 building a little thing called Riversdale Mining with a $7 million market cap into the Mozambique coking coal play that Rio Tinto took over in 2011 for $US3.7 billion and wished it hadn't, given it sold out for $US50m a couple of years later.
O'Keeffe then moved on to the ASX-listed Canadian iron play, Champion Iron (CIA). It is now a $1.3bn company on the strength of its 7.4mtpa Bloom Lake project in Quebec where planning is underway for an expansion to 15mtpa.
All that was made possible by O'Keeffe's decision to acquire Bloom Lake for $11m from affiliates of US group Cliffs in 2016 when everyone thought iron ore's glory days were over. Iron ore was less than $US40/t at the time.
Needless to say then, O'Keeffe has a big following, which is on show again in diamonds of all things.
Among his many interests is an ASX-listed thing called EHR Resources (EHX) where he is a non-executive shareholder with a holding of 11.8%. It has been getting by as a gold explorer in Peru without much impact.
But back in December the company said it would be acquiring the privately-held Quebec diamond explorer Nanuk Diamonds for a share consideration. O'Keeffe owns half of Nanuk and if the deal goes through, his EHR stake would increase to 16.3%.
EHR has said the acquisition is part of a "broader corporate strategy related to diamonds" and that more would be said when the shareholder meeting for the related-party transaction is held.
EHY was a 3c stock ahead of the Nanuk deal being announced and recently got as high as 15c, prompting an inquiry from the ASX.
It has since come back to 11c, still almost four times its pre-Nanuk market value.
Last year was a shocker for the global diamond market but as per his past form, O'Keeffe looks to have again got his timing and target market right. That's without knowing just what EHY's broader diamond ambitions are.
The diamond push by the company is taking shape just as the market for diamonds looks to be in recovery mode.
Diamond miners across the globe are reporting positive results from their most recent tenders, while jewellers like Tiffany & Co and leading Asian retailer Chow Tai Fook are reporting stronger festive season sales, albeit with Hong Kong a big exception.
The positive sentiment is starting to show up in the share prices of listed diamond companies, including high-value producers like London-listed Gem Diamonds (GEMD), and Canada's Lucara Diamond Corp (LUC).
They are up 17% and 8% respectively from their December lows which, funnily enough, coincides with O'Keeffe pivoting EHR towards diamonds.
Our own Perth-based Lucapa Diamond Co (LOM) saw its share price sink to a low point in 2019 amid the global diamond sector gloom. But like Gem and the unrelated Lucara, it has been fighting back.
Lucapa got as low as 10c in December but is now back at 13c. Like the other two, Lucapa is a producer of big and premium-quality gems from two African mines, Lulo in Angola and Mothae in Lesotho.
Being on the quality end of the business has its benefits. While the average global price of diamonds fell to less than $US100/carat in 2019, Lucapa sold its combined run of mine production for an average price of $US1,127/ct.
This year will be a bigger one for Lucapa, with the new Mothae mine operating above its nameplate capacity and the completion of a $US12 million expansion at Lulo, all poised to take advantage of the apparent uptick in the diamond market.
Euroz will be cheering it on at any rate. In October, when Lucapa was trading at 15c it had a price target on the stock of 61c. Some of that suggested upside could come through soon, assuming Lucapa's next sales report confirms higher diamond prices.
Genesis Minerals (GMD):
There's lots of chatter that the trickledown effect of plus-$A2220 an ounce gold will wash over the junior gold developers in a big way in 2020 on the M & A front.
Having said that, there was plenty of acquisition activity along those lines last year, with the bloated cash flows of existing producers being used to make bolt-on acquisitions to fully utilise established milling capacity.
There is no surprise in that given the $A1,000 an ounce-plus margins to be had from running some average grade dirt through an established mill. Besides, bolt-ons take the pressure off when it comes to maintaining reserves/resources.
But having said that, milling capacity is at a premium in the WA goldfields, as might be expected given the elevated gold price.
The rub from that is junior developers hoping to get into production quickly through toll treatment operations might end up disappointed.
It's best then for them to continue to pursue a stand-alone development, with the fall-back being that they either secure a toll treatment deal or get taken over at a juicy premium to a current share price that reflects their dilemma.
That's kind of what faces today's interest, Genesis Minerals (GMD). The resource estimate for its Ulysses project near Leonora was increased by 107,000 ounces in December to 867,000 ounces (8.5mt at a very handy 3.2g/t gold).
The stock has edged up from 3c then to 3.5c on Thursday. It is a worthwhile gain all right but leaves Genesis well short of what might be expected of a company with a (growing) 867,000-ounce resource in the bag.
More than double its current price is indicated on an EV/Resource comparison basis.
Failing one of the gold producers in the region making a move on the company, the plan is to make a decision on a stand-alone development, or a toll treatment operation, in the next quarter.
So things are coming to a head. And it seems likely that the starting point in the valuation matrix for the final outcome – be it stand-alone, toll treatment or takeover – could be something well north of 3.5c.
---

Never miss an update
Get the latest insights from me in your inbox when they're published.
---
---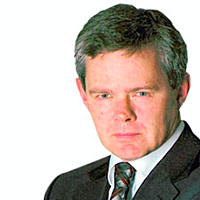 Principal
Independent Journalist
One of Australia's leading business journalists, Barry FitzGerald, highlights the issues, opportunities and challenges for small and mid-cap resources stocks, and most recently penned his column for The Australian newspaper.
Expertise