Chalice's Julimar palladium-nickel find emerging as 'something special'
---
And now Liontown, Chalice's stablemate and neighbour, is looking for a Julimar of its own in 'similar geological terrain' while Cassini says me-too. Plus, there's a new Canadian player in the Victorian gold game and action aplenty at Navarre.
STOP PRESS: It was mentioned here back in January that 2020 was shaping up as a big year for Strandline (ASX:STA) as it set about delivering the big-time potential of its zircon-rich Coburn project in WA's Mid-West.
Interesting to see then that Strandline went into a trade halt late yesterday pending an announcement on the "execution of material commercial agreements for the Coburn mineral sands project".
The commercial agreements suggest it could be referring to offtake agreements. Or it could be project financing, or the sale of project equity to a strategic partner.
The reality is that the three candidates are all related in that underpinning offtake agreements would underpin financing, as well as attracting a strategic partner, and vice-versa.
It should be worth looking out for as Strandline last traded at 9.6c for a decidedly modest market cap of $43m for a company with a potential world-class project on its hands.
Chalice
There is nothing like a potential mining province-making discovery to lift the spirits of the exploration sector, particularly at a time of gloom and constrictions like that being endured now under COVID-19.
And so it was this week with latest drilling results confirming that last month's Julimar nickel-palladium-copper discovery by Chalice (ASX:CHN), all of 70km north of Perth, is indeed something special.
The market said that was the case. What was a 16c stock before the discovery hole in March had become a 56c stock ahead of Wednesday's drilling update, with the latest results taking it to more than a $1 a share at Thursday's close.
The highlight of the follow-up drilling was an intersection from a hole 60m to the east of the discovery hole which turned up a new, shallow, and high-grade palladium-nickel-copper zone (31m at 3.3g/t palladium, 0.5g/t platinum, 0.7% nickel and 0.5% copper from 40m).
Chalice boss Alex Dorsch said it seems Chalice has what appears to be a very large palladium-nickel discovery on its hands, with associated platinum, copper and cobalt.
The world could certainly do with another palladium source, with production of the catalytic convertor material controlled by supplies from platinum-dominant mines in South Africa and Russia.
That has limited palladium supplies given that platinum is under pressure because its price has not been great and because it has a broader spread of end-uses exposed to pockets of demand weakness its cousin has not had to endure.
All that has put a rocket under the palladium price. It has put on 60% to $US2,230/oz in the past year while platinum has shed 13% to $US780/oz.
Having banged on about palladium, Chalice's ambitions for Julimar are much bigger, with Dorsch saying the focus remained on defining high-grade zones of nickel and other mineralisation which could be found below the disseminated sulphide zones.
He mentioned the giant Jinchuan and Kabanga nickel deposits in China and Tanzania as geological analogues.
Lots more work to do before Julimar can claim similar credentials but there is little doubt Chalice is off to a flying start. It has got the cash to push hard at Julimar, as well as doing the same at its exciting Pyramid Hill gold project in Victoria where the hunt is on for a "new" Bendigo/Fosterville.
Liontown
Not many of us are walking on air at the moment. But Tim Goyder, industry veteran and long-time supporter of the value creation power of the drill bit, surely must be.
He is chairman and a 17% shareholder in both Chalice and Liontown (ASX:LTR), with the latter confirming it too was in the hunt for nickel-copper-platinum group metals in the same regional rock units which have fired up Chalice.
Better known for its Tier 1 Kathleen Valley lithium project where another resource upgrade is due at the end of the month/early May with an optimised PFS to follow in the fourth quarter, Liontown has held its Moora project ground since 2018 as part of its broader battery metals strategy.
In light of Chalice's success, Liontown put its hand up on Thursday to announce initial field work at Moora – 95km north of Julimar – had got going after a lull in the resource definition drilling phase at Kathleen Valley.
"Liontown's exploration concept has been validated by Chalice's discovery of high-grade Ni-Cu-PGE mineralisation in the same geological terrain at Julimar," the company said. Its shares popped as high as 10.5c before settling back at 10c, a 9.8% gain for the day.
Moora has good credentials, with the fabled Poseidon NL generating some decent hits (9m at 0.62% nickel from surface) from limited work back in 1968 before getting distracted by its Windarra nickel discovery near Laverton, the one that sowed the seeds of the Poseidon nickel boom.
Work by the others 20 years or so ago confirmed what Liontown describes as multi-element anomalism in the same area explored by Poseidon.
Because of the region's extensive cover, Liontown opted for a gravity survey and auger sampling program on its pathway to defining drill targets. It shapes up as a nice second leg to its lithium story, one that is positioning Kathleen Valley as the next development to meet the wave of demand come the mid-2020s.
Cassini
A second leg is what Cassini (ASX:CZI) needed following the decision by OZ Minerals (ASX:OZL) to go slow on the $995m proposed development of the Nebo-Babel nickel-copper project in light of the COVID-19 crisis.
Cassini is a 30% partner in the OZ-managed project which will come in to its own once we all get back to work.
Well before COVID-19 hit, Cassini had in fact been working up exploration projects elsewhere to its own account.
One of those is the Yarawindah nickel-copper-PGE project, about 40km north of Julimar, and in the same rocks.
Cassini has been working away there since 2018 and this week reported more encouragement from drilling at the third prospect defined at the project – Ovis.
A 50m intersection of 0.24% nickel and 0.18% copper in one of the holes was not the best of the results on a reported-grade basis but is considered important because it demonstrated the potential scale and prospectivity of the mineralised intrusive.
Yarawindah's upside potential comes for free given Cassini's current market cap of $38m at 9.4c is more than covered by Nebo-Babel.
New player in Vic gold
Talking earlier about Chalice's Victorian gold project, it's interesting to note a new listed explorer has entered the fray in the state – Canada's sharply named Fosterville South (FSX:TSXV).
It listed on the Toronto Venture Exchange earlier in the week without raising any equity but starts out with $C6m in cash thanks to the early backing of legendary gold investor Eric Sprott and others.
As its name suggests, its exploration focus will be on ground to the south of the Fosterville gold mine, 20km east of Bendigo, and owned by a fellow Canadian company, the dual listed Kirkland Lake (ASX:KLA).
Fosterville is just about the most profitable gold mine in the world thanks to much of its production coming from the 2016/17 discovery of the high-grade Swan Zone at depth below lower-grade workings on the Lower Phoenix fault.
The Swan Zone is still good for 1.56Moz at 38.6g/t and Kirkland was looking to spend more than a $100m this year to find the next Swan Zone before the coronavirus came along and put a temporary halt to things.
All that is why Fosterville South is neatly named and why its backers must be pretty pleased. It started out trading with a $A56m market cap – such is the interest in Victoria's high-grade gold potential.
That's a fancy market cap for an early-stage explorer, even if its ground position is in the same neck of the woods as Fosterville.
Mind you, most of the Victorian gold explorers have been travelling well thanks to the Fosterville factor, and their own good work. As mentioned earlier, Chalice was rated highly on its Pyramid Hill project before Julimar added to its story.
Then there are the likes of Gina Rinehart-backed Catalyst with its $180m market cap and the Sprott-backed Kalamazoo (ASX: KZR) with its $65m valuation on the strength of its Castlemaine project.
Navarre Minerals (ASX:NML):
Good luck to all of them too. But today's interest is in Navarre Minerals (ASX:NML), trading at 8.8c for a market cap $42m. It counts Kirkland and Victor Smorgon interests as its biggest shareholders and has about $8m in cash.
Compared with its peers in the Victorian gold exploration space, Navarre's market cap looks to be on the light side of things given it is active across a number of fronts, including in the Stavely volcanic arc where Stavely (SVY) notched up its shallow and high-grade Thursday's Gossan copper-gold discovery last year.
Navarre's share price got a bit of wriggle on earlier in the week in response to encouraging results at its Glenlyle gold-silver prospect, about 25km from Stavely's find and in the same volcanic rocks.
Reconnaissance drilling returned shallow hits of up to 3.6g/t gold and 12.4g/t silver, prompting Navarre to make the call that it could be honing-in on a "blind" and potentially large poly-metallic system at depth at the prospect which comes with a proximal magnetic low and IP anomaly.
Navarre is itching to test the prospect with some diamond holes before this year's crop of wheat/canola goes in, and before the promised wet Victorian winter sets in. Whether that happens remains to be seen.
Also in the Stavely arc, Navarre has just completed drilling at the Eclipse prospect where it is chasing mineralisation beneath a chalcocite blanket in much the same way Stavely did at Thursday's Gossan. The results could be worth watching.
The same goes for Navarre's long-standing gold hunt in the Stawell corridor, and to the north of Bendigo, the latter involving its 49:51% Tandarra joint venture with Catalyst.
Navarre's 49% interest in Tandarra in itself more than covers its market cap, using Catalyst's value for its Four Eagles project, Tandarra, and its cash, as a guide.
That means there is next to nothing in Navarre's share price for the Stavely arc projects and its Stawell Corridor projects.
In the Stawell Corridor, a diary note suggests drill results from the Resolution prospect at the Irvine project can't be far off. And what comes from reconnaissance drilling and some whizz-bang targeting technology involving the CSIRO at Langi Logan will be of interest.
The projects are 20km and 40km south respectively of the operating and now privately held 4Moz Stawell gold mine. Just as Kirkland and others are looking for another Swan Zone, Navarre is aiming to uncover another Stawell – or another Fosterville, or another Thursday's Gossan, for that matter . 
---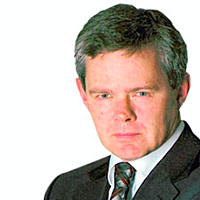 Principal
Independent Journalist
One of Australia's leading business journalists, Barry FitzGerald, highlights the issues, opportunities and challenges for small and mid-cap resources stocks, and most recently penned his column for The Australian newspaper.
Expertise