Chris Andrews - Returns from disciplined lending (La Trobe Financial)
---
In this episode, David speaks with Chris Andrews, the Chief Investment Officer at La Trobe Financial. La Trobe Financial manages a book of mortgage-backed loans on behalf of investors aiming to receive returns over those provided by traditional cash alternatives in exchange for an acceptable level of risk.
David and Chris discuss La Trobe's flagship product the 12-month term account, which as at the 24th of November, offers investors a return of 4.35% p.a. net of all fees. This $3.5bn strategy is comprised of over 6,000 first ranking secured mortgages across Australia with a maximum LVR of 75% and as at the 24th November has an average LVR of 63%. Since its inception in 2002, the strategy has not lost any investor's capital.
As Chief Investment Officer at La Trobe, Chris oversees $12bn of investment opportunities each year, of which La Trobe settles approximately $5.5bn to 6bn whilst maintaining a strict level of discipline.
More podcasts

If you're enjoying Inside the Rope and don't want to miss a future episode, click 'follow' below to get notified when a new episode is released.
Not already a Livewire member?
Sign up today to get free access to investment ideas and strategies from Australia's leading investors.
........
This research note has been prepared without consideration of any client's investment objectives, financial situation or needs. Before acting on any advice in this document, Koda Capital Pty Ltd recommends that you consider whether this is appropriate for your circumstances. While this document is based on the information from sources which are considered reliable, Koda Capital Pty Ltd, its directors, employees and consultants do not represent, warrant or guarantee, expressly or impliedly, that the information contained in this document is complete or accurate. Koda does not accept any responsibility to inform you of any matter that subsequently comes to its notice, which may affect any of the information contained in this document. © Copyright Koda Capital 2020 | AFSL: 452 581 | ABN: 65 166 491 961 | www.kodacapital.com
---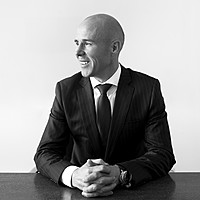 Adviser & Partner
Koda Capital
David Clark is an Adviser & Partner at Koda Capital. In his podcast 'Inside the Rope', David interviews some of the leading minds in wealth management.
Expertise