Coda taps investor appetite for junior copper plays with organic growth potential
---
Plus, Red 5 eyes re-rating as first gold production draws near and Firefinch is a hot bird in demand with lithium feasibility study imminent.
The copper price is proving to be resilient in the face of all the uncertainty around the place.
Last quoted at $US4.38/lb, the red metal remains a heady 56% up on last year's (calendar) average.
And why wouldn't it be resilient when the likes of BHP, which is not known for exaggerating things, is running around saying the world will need almost double the copper in the next 30 years that it got by with in the past 30 years.
Decarbonisation and electrification drives the bullish outlook for copper demand, with incentive prices well north of US$4/lb required to drive a supply response.
No wonder there has been action aplenty on the ASX around copper, with a clear theme emerging that it is game on in terms of positioning to copper's upside.
Recent examples include Sandfire's (ASX: SFR) $1.83 billion acquisition of the 120,000tpa MATSA project in Spain in September and South32 (ASX:S32)'s October deal to acquire a 45% stake in the 180,000tpa Sierra Gorda operation in Chile for $2 billion.
More broadly than the M & A activity, the ASX-listed juniors with promising exploration/development projects are increasingly being sought out as leveraged plays to the copper thematic.
One to have benefitted from the deeper dive into the sector has been Coda Minerals (ASX:COD), last mentioned here in March when it was a 39c stock.
It traded on Thursday at 83c, with its latest leg up the result of an initiation report by Shaw & Partners on the stock on Wednesday.
It came with a 12-month price target of $2.30. Not surprisingly, the market in Coda responded by carrying the shares 16c or 23% higher on the day to 85c.
Coda's flagship Elizabeth Creek copper project - near BHP's Olympic Dam operation and its recent Oak Dam West discovery in South Australia's Gawler Craton – is certainly expected to be newsflow- rich in coming months.
The newsflow will come from Coda's dual focus on Zambian belt style copper/cobalt mineralisation at shallow depths and drilling for an Olympic Dam-style IOCG deposit.
Coda has previously flagged a maiden resource estimate was due before the end of the year for the Zambian-style mineralisation at the Emmie Bluff deposit.
Shaws said it expects Coda's resource base across its collection of Zambian-style deposits could grow from 280,000t of copper at 1.4% copper equivalent to about 800,000t post the update.
Then there is the newsflow to come from drilling in the hunt for an IOCG deposit at the Emmie Deeps prospect, the drilling of the prospective Elaine IOCG target in the March quarter, and to round things off, drilling at the Cameron River copper-gold project near Mt Isa in Queensland, also in the March quarter.
"In our view, Coda's Elizabeth Creek copper-cobalt project and the Cameron River copper-gold project are leveraged to the right themes (electrification / battery metals / precious metals) and are located in tier 1 jurisdictions with world class mines nearby. With a net cash balance of $18m, key catalysts are approaching," Shaws said.
RED 5 (ASX:RED)
Red 5 has been gamely swimming against the tide in the gold space as first production from its $226 million King of the Hills (Koth) gold project in WA's Eastern Goldfields draws ever closer.
Its shares have climbed from a low of 16c back in March to 26c this week. That's a great effort when compared with the big boys of the industry.
That's particularly so when it is remembered that while Red is a producer from its high-cost Darlot operation some 80km from Koth, it is pretty much considered a gold developer given the scale of Koth (176,000oz annually in the first five years of an initial 16 year mine life).
Normally gold stocks struggle to gain traction when in the development phase, with investors standing back until a project is derisked with first production, and confirmation that project targets are being met.
Having said all that, Red's chief corporate development officer Patrick Duffy did not waste time at the Melbourne Mining Club's "Cutting Edge" series during the week to argue that even with the stock's 62% price gain since March, the stock is looking underdone.
A flurry of broker reports after the release of Red's September quarterly report backed his argument, with target prices on the stock ranging from 35c to 40c.
Duffy told Cutting Edge that investors should have a look at the market caps of Gold Road (GOR, $1.2 billion for 175,000oz of annual equity apportioned production at Gruyere) and Capricorn (CMM, $1.1 billion for 120,000oz from Karlawinda).
With its $617m market cap, Red's enterprise value/reserves metric is about half that of Gold Road's, and about one-third that of Capricorn.
But those two are in production. Red says it will be in production in the June quarter next year and quite remarkably, given the cost pressures in the industry, the development is on time and on budget.
So the closer and more-derisked first production from Koth gets, the more likely Red gets re-rated to the valuation metrics enjoyed by its peers.
FIREFINCH (ASX:FFX):
There has been no looking back for Firefinch (ASX: FFX) this year.
Investors have chased the stock higher all year to Thursday's close of 79c on the strength of its Mali projects - Morila gold, and the Goulamina lithium project.
Analysts reckon there is more to go too, with recent target prices on the stock ranging from $1.05 (Sprott) up to $1.30 (Canaccord).
There are those that are backing Firefinch to recapture some of the former glory of the Morila project. It used to be known as "Morila the Gorilla'' when it was owned by Mark Bristow's Randgold, now part of Barrick.
Morila has been washing its face under the first stage of Firefinch's plan since acquiring the project in August last year to have it return as a long-run producer of 150,000oz annually at sub $US1,200 an ounce costs.
Then there are those that have chased the stock higher on Goulamina, now a joint venture with China lithium battery heavyweight Ganfeng.
An updated definitive feasibility study – including consideration of expanding the scale of the project to more than 800,000tpa of spodumene concentrate – is expected any day now.
The timing is as good as it gets given boiling investor interest in the lithium space.
That came through this week in the ease with which WA lithium developer Liontown (ASX: LTR) was able to pull in $450m from a placement. It was more than the company's market cap a year ago.
Canaccord said that its base case development scenario for Goulamina remains at 430,000 tonnes of spodumene, with first production expected in late 2023.
"However, should the expanded case be pursued, we highlight significant valuation upside potential versus our current estimates," Canaccord says.
It also explored the question of what Goulamina could be worth, remembering Firefinch is spinning out its share of the project into a new ASX-listed company (Leo Lithium) in the March quarter.
"On our base case (spodumene at $US800/t long term), an expansion to 800,000t from Year 3 (assuming additional capex and a 25% reserve increase) lifts our NPV10% to $US1.4bn from $US1.01bn," Canaccord said
"At $US1,300/t, our expanded case NPV10% increases to $US3.2bn, and at 'spot' pricing (about $US2,200/t), our NPV increases to $US6bn. Under the spot price scenario, our NAV (45% attributable to Firefinch) increases to $A4.15 a share (pre de-merger)."
No wonder there is excitement in the lithium space.
---

Follow Barry FitzGerald's wires
---
---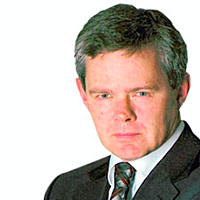 Principal
Independent Journalist
One of Australia's leading business journalists, Barry FitzGerald, highlights the issues, opportunities and challenges for small and mid-cap resources stocks, and most recently penned his column for The Australian newspaper.
Expertise