CPI might not help the struggling Aussie dollar
---
The A$ has had a bad week. Since we are looking for a soft reading on Australia Q4 CPI on Wed, RBA rate cut talk is likely to linger near term. So in order to recover some lost ground, the Aussie is probably going to need a breakthrough in the US-China trade talks next week in Washington, DC.
A number of US Federal Reserve officials have made clear that the quarterly interest rate rises we have seen since Dec 2017 are very likely to be paused in March. Market volatility and stable inflation have prompted a cautious tone. As a result, interest rate futures are pricing very little chance of a March rate rise, let alone a move at next week's meeting.
But there will still be plenty for markets to digest – in addition to the statement, Chairman Powell will deliver a press conference. One topic he is sure to discuss is the economic impact of the longest US government shutdown on record. It is hard to see an agreement near term and there are press reports that the White House is looking at the implications of the standoff continuing into March. Council of Economic Advisers Chairman Kevin Hassett said that GDP growth could be near zero if there is no resolution during Q1.
We certainly hope that government reopens much sooner than that, limiting the impact on what is otherwise a strong growth picture. With many US data releases postponed due to the shutdown, the other key US event for markets next week is US-China trade talks in Washington DC. US Commerce Secretary Wilbur Ross said that the two sides were "miles" away from agreement but at least the talks are continuing at a high level.
The US-China trade situation is one of the keys for the Aussie dollar in the week ahead, after it slipped to 3 week lows under 71 US cents and fell against all major currencies. This included falling back below 1.05 against the Kiwi, which found support on New Zealand's stronger than expected inflation data.
The Aussie did rally briefly in response to Australia's December labour force data, which reported that the unemployment rate dipped to 5% as employment rose by 22,000. Soon after however, the Aussie tumbled on news that the National Australia Bank would raise its mortgage rates.
Investors are aware that if actual lending rates rise further than the RBA would like to see, it might cut the cash rate. But NAB's move was seemingly just a belated catchup to the increases by the other 3 major Australian banks a few months ago. Even these moves were played down by the RBA in its monthly statements and minutes.
So it seems likely that the RBA will place a lot more weight on the strong employment data than on the NAB move. Markets price a hefty 70% chance of an RBA rate cut by December 2019. Westpac continues to expect no change in the cash rate this year but Australia's key data release in the week ahead is the Q4 CPI, which seems likely to be low enough to encourage those hoping for a rate cut.
Westpac forecasts consumer prices to have risen just 0.3% in the quarter and 1.5% over the year, well short of the RBA's 2-3% target. As such, rate cut talk is likely to linger near term, so in order to recover some lost ground, the Aussie is probably going to need a breakthrough in US-China trade talks.
---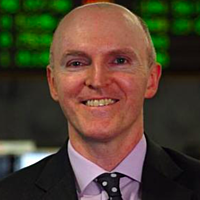 Senior Currency Strategist
Westpac Bank
Sean Callow is Westpac Bank's Senior Currency Strategist, based in Sydney. Sean focuses on the Australian dollar and other G10 and Asian currencies. He has worked in strategy and economics roles in New York, London, Singapore and Melbourne.
Expertise