Creating Alpha - Rajeev Gupta of Alium Alpha Fund
---
Rajeev Gupta of the Alium Alpha Fund joins David to discuss his career to date, the history of the Alium Alpha Fund, and the businesses that it invests in.

In what Raj calls a "Crossover Fund", he explains how the Alium Alpha fund focuses on investing in both private & public companies; with a particular focus on providing later-stage funding to Technology & Innovative companies intending to list on the ASX in the future. The fund targets an annualized return of 20-25%.
Rajeev has 20 years of experience analysing, investing & building technology companies. Rajeev began his investment career at Goldman Sachs, where he worked for almost a decade in the investment group in Hong Kong, Singapore & New York with a focus on listed & unlisted technology companies. Rajeev then utilised his technology investment experience as a portfolio manager at both Tribeca & Merricks Capital where he ran global technology funds. He then built his own 25-person technology startup called Geckolife, before establishing Alium Capital. Rajeev has an Honours degree in Finance & Econometrics from the University of Sydney.
Not already a Livewire member?
Sign up today to get free access to investment ideas and strategies from Australia's leading investors.
More podcasts

If you're enjoying Inside the Rope and don't want to miss a future episode, click 'follow' below to get notified when a new episode is released.
........
This research note has been prepared without consideration of any client's investment objectives, financial situation or needs. Before acting on any advice in this document, Koda Capital Pty Ltd recommends that you consider whether this is appropriate for your circumstances. While this document is based on the information from sources which are considered reliable, Koda Capital Pty Ltd, its directors, employees and consultants do not represent, warrant or guarantee, expressly or impliedly, that the information contained in this document is complete or accurate. Koda does not accept any responsibility to inform you of any matter that subsequently comes to its notice, which may affect any of the information contained in this document. © Copyright Koda Capital 2020 | AFSL: 452 581 | ABN: 65 166 491 961 | www.kodacapital.com
---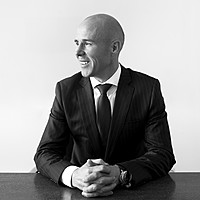 Adviser & Partner
Koda Capital
David Clark is an Adviser & Partner at Koda Capital. In his podcast 'Inside the Rope', David interviews some of the leading minds in wealth management.
Expertise