Dacian shares poised to play catch-up as countdown to 'commercial production' begins
---
Dacian missed the gold sector's recent run – which means there is upside to be had as its production ramp-up gains pace. And Rio is still trying to lock-down more acreage in the red-hot Paterson Province, which may explain its ongoing refusal to shed light on its Winu copper 'discovery'   
The ASX-listed gold producers have been grinding higher in response to the gold price moving back over $US1,200 oz, with gold doing what it is supposed to do during times of turmoil.
The gold producers have got a way to go to recapture their highs of earlier in the year but it has to be said their three-month gains on the back of the gold price recovery has been impressive.
Leading the way has been Saracen (SAR) with its 3-month gain of 38%. Then follows Northern Star (NST) 20%, Evolution (EVN) 15%, and Regis (RRL) 11%.
It's got to the point where the upside from here, in the absence of a breakout in the gold price to the upside or some unexpected M & A action among them, is difficult to find.
Today's interest then is in Dacian Gold (DCN), a newbie gold producer from its $200m Mount Morgans project near Laverton in WA.
Dacian has missed out all together on the three-month gains posted by the established gold producers in response to the gold price recovery. In fact, it is down 4% to $2.24.
Mt Morgans now has two quarters under its belt and as recently as October 16 the company reaffirmed FY19 guidance of 180,000-210,000oz.
That is in keeping with its broader aim to establish Mt Morgans as a 200,000ozpa producer for at least 10 years at an all-in sustaining cost of $A1,000/oz, with upside to Tier 1 status of 300,000oz a year.
As might be expected from a project involving multiple underground and surface mining fronts, Mt Morgans will only hit its straps late this year/early next year to make the FY19 guidance a reality.
The analysts know that, which is why share price targets on the stock include $3.25 at RBC, $3.80 at Canaccord, and $3.10 at Macquarie. Had Dacian benefitted from gold's rally back over $US1,200 an oz, its discount to those target prices (27-40%) would not be as big as it is.
Clearly the market is waiting for a confirming quarter or two from Dacian that steady-state production has arrived. Once it does, Dacian is line for a major re-rating event.
The expected declaration of "commercial production" by the end of December could well be the start of the re-rating.
In meantime, Keith Goode from Eagle Research had his boots on the ground at Mt Morgans in mid-October for four days. His report is an interesting read (he received a consultancy fee for compiling the report).
Suffice to say, he came away happy enough with what he saw to put his name to a price target of more than $3 a share (his valuation at $US1,215 gold and a US72.8c exchange rate was  $3.70 a share).
Rio Tinto/Rumble Resources
Rio Tinto remained as coy as ever during the week on the significance of its Winu copper discovery in WA's Paterson province.
So why the coyness? The answer seems to be that it is yet to be convinced that it has fully covered the potential for the broader region to host yet more Winus.
As previously noted here, Rio got really excited about Winu sometime late last year as it launched itself in to one of the biggest pegging rushes ever seen.
From holding 2300sqkm in its own name and in joint ventures before December last year, it has since moved to more than 16,000sqkm.
And it has an appetite for more, with a noticeable push west of the generally-accepted western edge of the Paterson with its Proterozoic rocks into the Archean rocks of the Pilbara.
As recently as June, Rio lodged an application for exploration licences which a junior had let lapse covering 1,375sqkm in the Paterson between Newcrest's Telfer gold-copper mine and Metals X's Nifty copper mine.
Only problem is that it was beaten to the punch by another junior, Rumble Resources (RTR), which last traded at 5c for a market cap of about $17m.
Rio's over-lapping application 90 minutes later has incorrectly made its way on to the Paterson tenement maps that are now floating around the place since news of the Winu discovery first broke here.
But Rumble is first in line.
It's a great pick-up for the junior – it has called the project Lamil - but it has to be said its current priority is on divining the big time potential of its Braeside base and precious metals project in the east Pilbara (Lamil is 30km to the south-east of Braeside).
Rumble is close to reporting results from a recently completed drilling program at Braeside in which 14 targets were tested over a strike length of 35km within a mineralised corridor up to 6km wide.
So with or without Lamil, Rumble was going to be one to watch in coming weeks.
As for the Lamil project, expect the same systematic approach by Rumble to defining drill targets as used at Braeside.
In the meantime, the fact that Rio has been trying to extend its already massive Paterson/Pilbara tenement coverage kind of goes to the idea that Winu must indeed be something special, subject to confirmation by Rio of course.
Antipa/Greatland
It is suggested that Rio got on to Winu using airborne electromagnetics (AEM).
So it was interesting to hear from Antipa (AZY) that Rio, as operator of their Citadel joint venture project up near Winu, has proposed a 600sqkm AEM survey to define EM conductors with the potential to represent semi-massive to massive sulphides associated with gold and/or copper mineralisation.
Importantly, Antipa said the AEM survey was not included in the original program proposed in the current field season and that it "represents a decision by Rio to undertake additional regional geophysical work."
The 600sqkm is the last bit of Citadel not previously subject to AEM. Previous work has identified lots of targets so the latest AEM addition is a case of Rio being thorough. Given the potential for another Winu, why wouldn't it be?
And coverage of the building Paterson rush created by the yet-to-be-confirmed Winu discovery would not be complete without a mention of the spectacular results reported during the week by the UK's Greatland Gold at its Havieron gold/copper discovery, about 160km south east of Winu, and 40km east of Telfer.
It is not every day that a (combined) 275m hit grading 4.77g/t gold and 0.61% copper is reported. It looks to be of the Olympic Dam/Ernest Henry IOCG type and along with Winu, means the Paterson is shaping up as the place to be.
---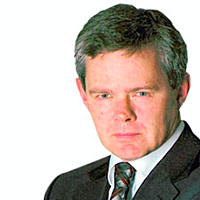 Principal
Independent Journalist
One of Australia's leading business journalists, Barry FitzGerald, highlights the issues, opportunities and challenges for small and mid-cap resources stocks, and most recently penned his column for The Australian newspaper.
Expertise