De Grey chief outs himself as Kairos shareholder as he bangs drum for his junior neighbour
---
Plus, its Fosterville frustration as tensions mount over Victoria's tardy bureaucracy, Hugh Morgan's gold float starts rattling the can and Chalice's gold cup runneth over.
There is nothing like a game-changing discovery to fire-up interest in a region's potential to host another one.
That's what has happened in the Pilbara, where investor interest in its gold potential has long suffered in comparison with the Yilgarn down south.
But De Grey changed all that late last year with its intrusion-related Hemi discovery about 80km south of Port Hedland.
Hemi is part of De Grey's broader Mallina project. Mallina was already good for a 2.2 million-ounce shear-hosted resource which in the absence of Hemi, would have been coming into its own thanks to record gold prices.
But it has been Hemi, and the discussion around there now being a 5Moz potential for De Grey in the Pilbara, that recently carried the explorer to a $1 billion market cap, or $880m this week.
Such massive success naturally enough has fuelled interest by investors in who might be next in the Pilbara.
Kairos – which was a 1c stock when it was mentioned here in October – is one of the Pilbara players to benefit. It is now a 4c stock, giving it a market cap of $58m.
Like De Grey, Kairos has a long-standing known resource in the Pilbara that was recently upgraded to 873,000oz.
And after a recent fundraising exercise, it is funded for what will be its biggest field season in years, with intrusive-related gold targeting part of the story.
It was no surprise then to hear back from a Perth operative that De Grey's executive chairman Simon Lill rocked up to the Kairos shareholder meeting during the week.
During what were some friendly exchanges with Kairos executive chairman Terry Topping, Lill confirmed that he himself was a Kairos shareholder.
He made a good point too that De Grey's existing 2.2Moz shear-hosted resource had been re-rated following the Hemi discovery as the market could now see a clear pathway to the ounces being developed.
He suggested the same thing might happen with Kairos' existing resource base, assuming of course that it comes up with something special in its exploration hunt.
Topping confirmed that drilling would start in the next couple of weeks to extend the known resource. That will be interesting in itself given record gold prices aren't going away in a hurry.
The rig then moves to a test an 8km-long gold anomaly at Fuego, which could be anything. In the meantime, survey data is being crunched to identify Hemi-style intrusions to test. De Grey's success means it will all be closely watched.
Gov goes slow on Fosterville tenement release
Victoria is going to need all the economic stimulus that can be mustered once it comes out the other side of its COVID-18 crisis. And if a big chunk can make its way to the hard-pressed regional areas, all the better.
The state's original gold rush was behind the creation of "Marvellous Melbourne'' in the late 1800s and there is a modern version now underway. It won't have the impact of the original rush, but its contribution will be both needed and welcome nevertheless.
The genesis of the modern rush was the 2015/16 discovery of bonanza grade lodes at the Fosterville mine, 20km from Bendigo and owned by Canada's Kirkland Lake. The surge in the gold price to record levels has increased the incentive to find the next one.
It is against that backdrop that there is disappointment and frustration that Victoria continues to drag the chain on the hotly contested release of four exploration blocks surrounding Fosterville, now among the world's most profitable gold-only mines.
Tenders for the mineral exploration rights to the four "prospective'' blocks closed in February and it was assumed the winners would be announced before June was over. But a letter has just gone out to the big field of local and overseas contenders saying the winners won't be announced until March next year.
The somewhat incongruously named Department of Jobs, Precincts and Regions apologised for the delay. And so it should have given it has effectively delayed a minimum $70m exploration commitment spend over five years across the blocks. The number could be much, much, higher given the interest in ground.
The department rustled up a number of excuses for the delay.
It said COVID-19 hasn't helped. But that doesn't wash as we're talking about what is essentially a desktop exercise.
It also said that there was a "need to deliver an assessment process that adheres to the strictest of probity considerations". Again, that doesn't wash. A few quick phone calls is all that is needed to determine if a tenderer is a spiv.
The final excuse was that the department has been working with the Traditional Owners to "ensure that they, for the first time, can participate in the tender evaluation process". There might be something in that. But assuming Rio Tinto is not one of the tenderers, is March 2021 overstating the issue?
Big week anyway
While there was a backdrop of disappointment with the delay in the Fosterville tenements release, there has been action aplenty in the Victorian gold space in recent days.
The IPO of North Stawell Minerals (NSM) got out of the gates. It is seeking $20m. At its float price of 50c a share, its market cap on listing would be $60m.
NSM comes out of the private alliance between Victor Smorgon Group and Hugh Morgan's Arete that took on board the Stawell gold mine (5Moz) a few years back.
None less than former BHP CEO, and later chairman, Jerry Ellis is chairman of the new explorer which will be looking for Stawell repeats on its ground.
It gets to leverage off a 40-year database from Stawell and it has already worked up a host of Stawell lookalikes to test with the drill bit.
It will be the first home-grown float focussed on Victorian gold since Canada's Fosterville South Exploration raised $C6m back in April. It is now a $C300m company, such is the interest in Canada in the potential for there being another "Fosterville'' out there somewhere.
Another Stawell would do NSM very well, thank you very much.
Chalice kicks another goal
Alex Dorsch at Chalice set the company on a different Victorian pathway a few years back.
Rather than exploring historic gold mines, he set out on a deliberate strategy to find a virgin gold field the old-timers could not see because it has been hidden by the extensive cover of the Murray Basin sediments to the north of Bendigo (22m ounces).
It initially required a broadbrush approach. Over time, targets have been refined, one of which is the Karri prospect, part of Chalice's broader Pyramid Hill project.
Latest drilling there identified several high-grade zones but more importantly, it confirmed the prospect has a similar geological setting to the large scale, high-grade gold deposits in the region (think Bendigo and Fosterville).
Results from the widely-spaced "geological" drilling at the prospect - designed to define the underlying structural setting – returned anomalous gold in all of the holes.
Dorsch said the presence of primary gold systems at relatively shallow depth had paved the way for the next stage of exploration, which will be targeted towards the discovery of primary gold lodes.
"The combination of tightly folded Castlemaine Group sediments, quartz veining and a large-scale gold footprint with primary high-grade gold make it a compelling opportunity,'' he said.
"Results indicate that the Karri prospect has the potential for a tier-1 scale system."
You don't hear that every day. Having said that, the market looked the other way. No harm in that as it is still early days.
And besides, Chalice has become a $315m company on the strength of is highly rated Julimar nickel-copper-palladium discovery in March on Perth's doorstep.
Julimar was a first hole discovery and an example of Dorsch thinking outside of the square. Time will tell if Karri is another when the first of the lode-targeted holes go in. 
Get investment insights from industry leaders
Liked this wire? Hit the follow button below to get notified every time I post a wire. Not a Livewire Member? Sign up for free today to get inside access to investment ideas and strategies from Australia's leading investors. 
---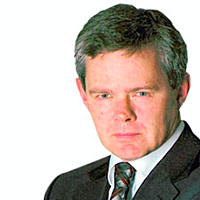 Principal
Independent Journalist
One of Australia's leading business journalists, Barry FitzGerald, highlights the issues, opportunities and challenges for small and mid-cap resources stocks, and most recently penned his column for The Australian newspaper.
Expertise