Desk Note - Eagle Mountain (EM2.ASX Last $0.25)
---
High-Grade Copper/mine - Exploration Commencing - Catalysts + Positive Thematic

Eagle Mountain (EM2) is a copper junior, with an existing high-grade resource and underground mine on care and maintenance in Arizona USA, which they purchased out of administration (previous owners had $1.07 per pound copper hedge vs copper now $2.95 per pound). There are two main reasons I am taking a closer look at EM2, Coming Newsflow and the Copper Thematic, both of which I feel can be positive. 
The Company
EM2 has Oracle Ridge (80% interest) and Silver Mountain (100%). Both located in Arizona US (Arizona very mine friendly – Tier 1 jurisdiction for mining investment).
Oracle Ridge is one of the highest grade copper projects listed on the ASX 11.76mt @ 1.5% Cu (NON-JORC). It sits amongst some majors in Arizona (BHP's Resolution 1,787mt @ 1.53% Cu as a standout example, some monsters but most run at grades of 0.30% to 0.66% Cu).
Oracle is high grade but in search of additional tonnes. Historical drill results of 7.7m @ 5.11% Cu, 9.1m @ 3.97% Cu and 18.3m @ 2.84% Cu, show the potential. Copper rich "skarns" host the mineralisation, which lie in sheets. These skarns appear open in many directions outside the existing resource, which the company is about to test through drilling. The bigger objective is to find a feeding porphyry.
Oracle had an estimated US$26m spent on exploration (76,000m drilled, tech studies, permitting) since 2011. Has 18kms of underground development (with regular care and maintenance). Non-JORC mineral resource estimate of 11.7m tonnes at 1.57% copper and 17.47g/t silver for 185k tonnes of copper and 7.2m ounces of silver. Last mined in 1996 when copper was around US$1.07 per pound. EM2 paid US$6.9m for 80% (US$500 upfront and the remainder a 10-year convertible note, with no repayments for first 5 years
Managing Director/Major Shareholder is Charles Bass (~36%) – he was the geologist who discovered Jundee (Gold WA), and Aquila Resources which was acquired for $1.4b in 2014.  He is joined by Tim Mason who has underground mining/technical expertise. 
Listed in March 2018. Raised $1.8m at $0.15/share via PAC partners back in January.
Silver Mountain – also Arizona (100km Northwest of Oracle), sits amongst some world-class porphyry copper deposits. Early days, but it is in the right neighbourhood (the world-class United Verde deposit has 34.5mt @ 5% CU and 1.13gt Au). (market not really placing much value on it at this stage)
Catalysts
Aero Magnetics – have been flown over Oracle Ridge – currently being interpreted for release in the next few weeks. Note they flew over some surrounding ground as well. 
JORC Compliance – the company needs to bring the existing NI43-101 into JORC 2012 compliance. Can this deliver more than the 11.76mt at 1.5% under the old code? We know the answer in about 2 months.
Drilling – just about to start the drill program. Key is to increase tonnage and reduce costs. The cost reductions come with scale, with they can increase the resource and be mining multiple loads at once. Drill preparation is commencing now and should spud in the next week or two.
What is the target? Targeting the existing magnetic high anomaly within the existing mine tenements – the conceptual exploration target is at ~14-29mt with a grade of 1.1-1.9% Cu (plus gold and silver credits)
What might you then have? Adding existing with exploration target - 11.7mt at 1.6% plus 14-29mt – then you have 25-40mt @ ~1.6%cu. Peer analysis shows that it would be one of the highest-grade copper deposits across the ASX juniors (PAC Research). Given existing infrastructure in place, can this deposit be readily brought back into production?
Copper Thematic
Speculative demand has seen the "financialisation" of copper over time, with copper prices driven by speculative positioning in futures markets (futures traded 1.6b tons of copper or 64x's more than the ~25mn tons consumed last year). So while supply/demand is important, the key drivers of speculation are equally so. The 3 key variables that tend to drive that speculation are (source Longview Economics) -

(i) Chinese 2-year sovereign yields (there is headroom for these to move higher as growth accelerates, Chinese housing and credit cycles have turned higher);
(ii) the Chinese equity market (i.e. the Shanghai Composite, policymakers are supporting equity markets for now, to the extent they are rumoured to be buying equities, encouraging trading activity, state-owned media talking up the market); and
(iii) the Renminbi vs. the US$ (while the outlook for the currency is finely balanced, and perhaps still down in the long term due to structural issues, the spread between Chinese inter-bank rates and the US rates are supportive of some further CNY strength).
As with the post-GFC environment, the post-COVID set-up should be positive for commodities, particularly if we move into an inflationary boom.
Demand-side argument – electric vehicles, renewable energy systems use a lot more copper. The copper price more recently has come to represent somewhat the speculative activity around these markets. (correlation with Tesla Chart for instance).
Supply-side – existing mines are maturing. There is limited large scale exploration success globally, and the average copper grade is falling, whilst costs are not.
Supply deficits forecast to begin from 2022/23 onwards.
LME copper warehouse stocks are falling (30, 60, 90, 1yr, 5yr) - (VIEW LINK)
If you want to read the bullish supply and demand argument – then read (VIEW LINK). In short ore grades are declining, production costs climbing, few big discoveries are being made despite the money being spent exploring, a lot of copper is found in unfavourable mining jurisdictions. I could go on.

Summary – I am bullish on the copper thematic in the near to medium term.
My summary view
There is plenty of buying interest again at the small-cap end of the market again, and it is not necessarily easy to accumulate stocks like EM2 (like in the good old days). However, I like the copper thematic, and I think EM2 should have some genuine catalysts that can drop through over coming months. At last trade of $0.25, the fully diluted Mkt Cap (including all options if exercised at all levels) would be $39.8m. Peleton, CPS Securities and Canaccord were all involved in the IPO, so there are eyes on the stock. Recent trading has seen volume lift and the register looks reasonably tight again post the recent placement (PAC Partners and Taylor Collison $2.75m at 13c in July). PAC Partners has published initiation research with a 12m price target of $0.51.

Want to read more - Links/Attachments
EM2 - 2YR Price Chart
Oracle Ridge and Silver Mountain locations along with the major copper system in Arizona.
Oracle Ridge sits in the formation (Laramide Arc) that hosts some exceptionally large porphyry copper deposits.
MissionComplex-900Mt @0.52%CuTwinButtes-940Mt @0.5%CuChristmas-367Mt @0.38Cu
And whilst Oracle ridge has only mined/drilled the Skarn formations, they believe it is prospective for a deeper porphyry type system. 
The NI43-101 resource (NON-JORC 2012). 
Complex little diagram but worth a look - essentially highlighting the key areas of exploration in the upcoming program, along with nearby intersections.
 Author
Thomas Schoenmaker
Never miss an update
Stay up to date with my content by hitting the 'follow' button below and you'll be notified every time I post a wire. Not already a Livewire member? Sign up today to get free access to investment ideas and strategies from Australia's leading investors.
Never miss an update
Enjoy this wire? Hit the 'like' button to let us know. Stay up to date with my current content by
following me
below and you'll be notified every time I post a wire
Welcome to Livewire, Australia's most trusted source of investment insights and analysis.
---
To continue reading this wire and get unlimited access to Livewire, join for free now and become a more informed and confident investor.
Tom is a Founder and Head of Wealth Management. For the past 10 years, he has been running the Wentworth Model Portfolios, focusing on macroeconomics and tactical equity positioning. These portfolios were initially created as a solution for "core wealth management" for Wentworth's HNW clients, and are now openly available online through the website. Everything starts with the macro, and then we work back from there in terms of asset allocation and positioning for risk. We work with leading independent research providers and have a structured approach that has worked very well over time. Outside of the core portfolios, we look for opportunities in the small to mid-cap sectors of the market, where our experience can add value.
........
Disclosure - The author owns shares in EM2. These shares have been purchased on the market. The Author/Wentworth has not been paid any fees by EM2 or any of their associated parties, and has no corporate relationship with EM2. This is not a research note and the Author is not a Research Analyst. It is not personal advice or a recommendation to buy the Company mentioned (EM2). An investment in EM2 should be considered "very high risk" and "very speculative". The company currently has no revenue, will require additional funding rounds and subject to material exploration risk. Many other risks associated with EM2 are not discussed in this desk note. Nothing in this note should be viewed as personal financial advice to you, it is not written for you personally, and in no-way considers your personal situation. Whilst desk notes discuss markets, macro and companies, and look to raise ideas and discussions, you should not act on the content of the note without seeking your own professional financial advice. The content is general in nature.
---

Never miss an update
Get the latest insights from me in your inbox when they're published.
---
---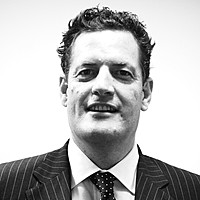 Director and Head of Wealth Management
Wentworth Securities
Tom is a Founder and Head of Wealth Management. For the past 10 years, he has been running the Wentworth Model Portfolios, focusing on macroeconomics and tactical equity positioning. These portfolios were initially created as a solution for "core...