Does the market misunderstand Challenger?
---
In the AFR today I write on why both bank and non-bank platform have conflicts, why AMP's David Murray is wrong on ASIC, and why the market may have misunderstood Challenger's shift from property to fixed-income (AFR subs can click here). Brief excerpt:
For decades Australia's main annuity supplier to risk-averse retirees, Challenger Life, quietly struggled to get its lifetime income solutions listed on vertically-integrated platforms precisely because the owners were worried about Challenger's annuities cannibalising their in-house deposit products. In 2014 I explained that the competition laws needed to be reformed to introduce an "effects test" to address this specific hazard, which was clearly to the detriment of consumers.
There are few businesses I admire more than Challenger's annuity monopoly, run by an exceptional management team that have worked together for decades. The APRA-regulated Challenger spits out 18 per cent returns on equity – more than one-third higher than the average of the four major banks – with leverage that is almost one quarter the 19 times leverage the majors carry. That's much more return with substantially less risk.
The sharemarket did not embrace CEO Brian Benari's recent decision to tilt his asset allocation away from property towards fixed income on the basis that it would reduce the returns Challenger earns from around 8.3 per cent to 4.6 per cent. Yet investors have confused return on assets with the much more important question of Challenger's return on equity. According to Deutsche Bank's Challenger-sceptic Ross Curran, cash and fixed income only attracts a 7 per cent capital charge compared with the 25 per that hits Challenger's property holdings.
As a consequence, it is easy to compute scenarios where Challenger actually improves, not reduces, its return on equity by shifting out of higher-yielding property and into lower-returning fixed income purely as a function of the leverage it can apply. There is also the ancillary benefit that cash and fixed income are much more scalable asset classes for Challenger than property, which is a key consideration given the annuity market is set to explode by some 10 to 20 times if the government goes ahead with its recommendation that up to 20 per cent of all post-retirement super balances should be allocated to lifetime income strategies.
At three times book value, Challenger's stock is pricey. But if it continues to punch out 18 per cent returns on equity, it can command this premium. I suspect Benari et al were also anxious about the downside capital risks in property with house prices falling and core commercial property valuations sitting above the 2007 levels. This contrasts strikingly with the valuation fundamentals in financial credit and Australian high-yield.
The senior and junior-ranking bonds issued by the big banks are trading at four to 10 times wider spreads than those that investors accepted prior to the global financial crisis. And the domestic sub-investment grade, or the high-yield space, has historically been starved of capital, which means it is sometimes possible to capture unusually attractive returns per unit of risk.
---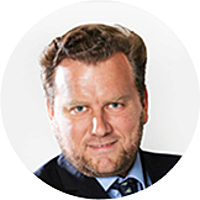 Portfolio Manager & Chief Investment Officer
Coolabah Capital
Chris co-founded Coolabah in 2011, which today runs $7 billion with a team of 33 executives focussed on generating credit alpha from mispricings across fixed-income markets. In 2019, Chris was selected as one of FE fundinfo's Top 10 "Alpha...