Downside risks to US earnings could force equities much lower...
---
We've forecast a 30-60% correction in US equities since late 2021. Most of the price adjustment to date (~20-30%) looks to have been triggered by higher interest rates (or discount rates). The next leg of the correction will likely come as a result of US corporate earnings downgrades via a combination of reduced margins as input costs soar and weaker consumer and business demand. While a corporate earnings downgrade cycle has begun, it has yet to materially impact overall earnings forecasts. We find that US corporate earnings are well above their long-term trend and should revert to more normal levels as the Federal Reserve raises interest rates and shrinks its balance sheet,  posing a further challenge to stock prices. 
The boom in US equities over the past couple of years stands as testament to the success of monetary and fiscal policy in containing the worst effects of the recession of 2020 and promoting a rapid economic recovery.
The boom in stock prices has been rapidly unwound this year as the Federal Reserve reverses the generous policy stimulus introduced at the worst point of the pandemic. Fiscal policy stimulus is also starting to fade.  
The Federal Reserve is withdrawing stimulus on two fronts, first by reversing the emergency interest rate cuts made during the pandemic and second by planned quantitative tightening (QT), where it will shrink its  balance sheet by selling the bonds it bought under quantitative easing (QE).  
Higher interest rates simultaneously slow the US economy and change asset valuations, while QT works in reverse to QE, boosting long-term bond yields at the margin and encouraging investors to take less risk as they rebalance their portfolios.  
The impact on the economy of withdrawing stimulus takes some time, with the Fed's FRB/US model indicating it takes about 1-2 years for the peak effect to be felt on activity and hence earnings.  
The S&P500 measure of corporate earnings is highly leveraged to the economic cycle, experiencing a sharper slump during the pandemic and a more rapid recovery. Earnings are now well above a simple long-term trend and should revert to a more normal level later this year and into next year, where this mean reversion presents a further major challenge to the stock market. 
Recall that we have previously presented research quantifying the risk of a US recession in 2023-24, which seems likely, using signals from both bond markets and equity markets. In April 2021, we also modelled the impact of an increase in inflation expectations on US equities, which pointed to large drawdowns. And we have argued since March 2021 that cyclically-adjusted price-earnings multiples presaged a correction.
Many analysts and investors value stocks using short-term measures of valuations, such as trailing price-earnings (PE) ratios based on last year's earnings and forward PE ratios based on forecast earnings over the next one to two years.  
These metrics find it hard to cope with the extreme volatility in earnings during the pandemic and should find it hard to deal with the reversion in earnings over the next year or so. In contrast, long-term measures of equity valuations attempt to deal with the volatility in earnings by measuring them over the business cycle. 
For example, the Shiller cyclically-adjusted price-earnings (CAPE) ratio, which we have repeatedly referenced over the past 12 months, averages earnings over the past ten years. Averaging over ten years is a defensible assumption in that the US has typically experienced one recession per decade in the post-WW2 period.  
This measure of market valuation peaked late last year, but remains high, pointing to the risk of further market weakness. The ratio is currently about 31 - if the ratio corrects to, say, 20 or 25, which would still be above the long-run average of 17, stock prices would need to fall much further, down another 18-35%.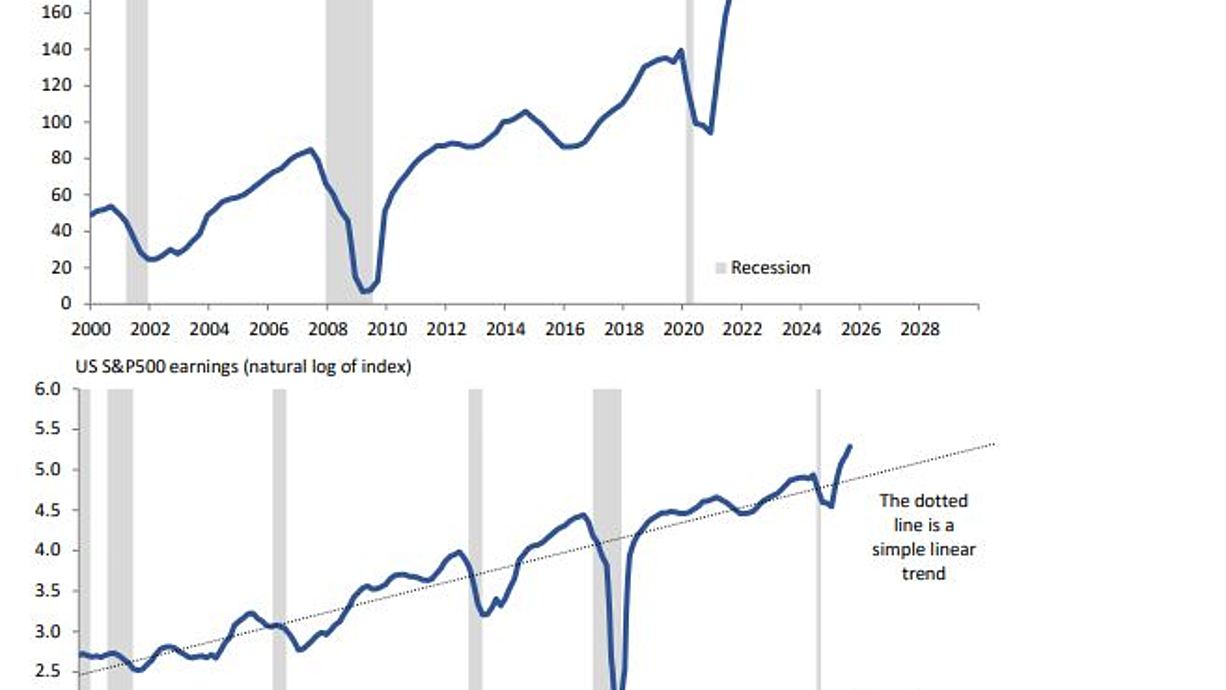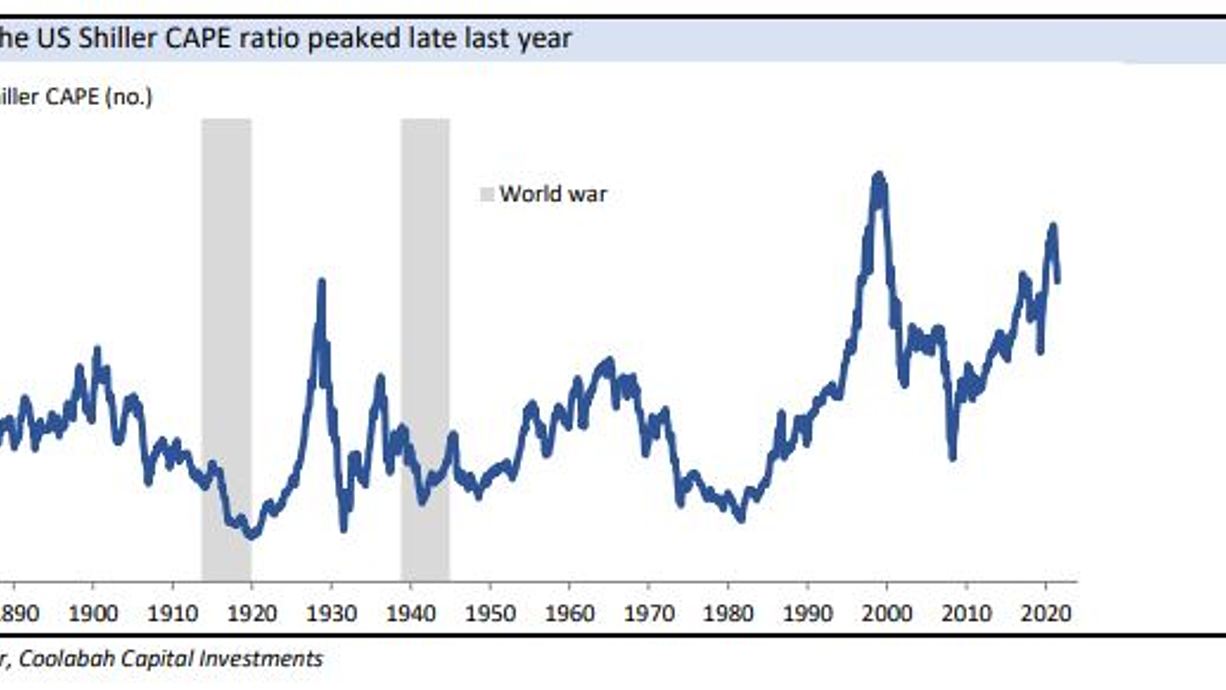 ........
Investment Disclaimer Past performance does not assure future returns. All investments carry risks, including that the value of investments may vary, future returns may differ from past returns, and that your capital is not guaranteed. This information has been prepared by Coolabah Capital Investments Pty Ltd (ACN 153 327 872). It is general information only and is not intended to provide you with financial advice. You should not rely on any information herein in making any investment decisions. To the extent permitted by law, no liability is accepted for any loss or damage as a result of any reliance on this information. The Product Disclosure Statement (PDS) for the funds should be considered before deciding whether to acquire or hold units in it. A PDS for these products can be obtained by visiting www.coolabahcapital.com. Neither Coolabah Capital Investments Pty Ltd, Equity Trustees Ltd (ACN 004 031 298) nor their respective shareholders, directors and associated businesses assume any liability to investors in connection with any investment in the funds, or guarantees the performance of any obligations to investors, the performance of the funds or any particular rate of return. The repayment of capital is not guaranteed. Investments in the funds are not deposits or liabilities of any of the above-mentioned parties, nor of any Authorised Deposit-taking Institution. The funds are subject to investment risks, which could include delays in repayment and/or loss of income and capital invested. Past performance is not an indicator of nor assures any future returns or risks. Coolabah Capital Investments (Retail) Pty Limited (CCIR) (ACN 153 555 867) is an authorised representative (#000414337) of Coolabah Capital Institutional Investments Pty Ltd (CCII) (AFSL 482238). Both CCIR and CCII are wholly owned subsidiaries of Coolabah Capital Investments Pty Ltd. Equity Trustees Ltd (AFSL 240975) is the Responsible Entity for these funds. Equity Trustees Ltd is a subsidiary of EQT Holdings Limited (ACN 607 797 615), a publicly listed company on the Australian Securities Exchange (ASX: EQT). Forward-Looking Disclaimer This presentation contains some forward-looking information. These statements are not guarantees of future performance and undue reliance should not be placed on them. Such forward-looking statements necessarily involve known and unknown risks and uncertainties, which may cause actual performance and financial results in future periods to differ materially from any projections of future performance or result expressed or implied by such forward-looking statements. Although forward-looking statements contained in this presentation are based upon what Coolabah Capital Investments Pty Ltd believes are reasonable assumptions, there can be no assurance that forward-looking statements will prove to be accurate, as actual results and future events could differ materially from those anticipated in such statements. Coolabah Capital Investments Pty Ltd undertakes no obligation to update forward-looking statements if circumstances or management's estimates or opinions should change except as required by applicable securities laws. The reader is cautioned not to place undue reliance on forward-looking statements.