Equity valuations are still compelling
---
The rulebooks traditionally followed by central banks and governments have flown out the window since last March. This was a dominant theme during our Investment Forum for 2021, the first of our regular events for the year, where we invite external experts to "stress test" our investment views. 
Key messages centred around:
The prospect that uber low central bank policy rates would persist for a number of years 
A near term inflation spike would likely recede in the second half of this year 
Equity valuations may be less stretched when you dig below the surface 
Unlisted real assets can provide a meaningful hedge to inflation risk.
After the forum, I sat down with one of our panellists, Tim Samway, Executive Chairman of Hyperion Asset Management, for a quick chat about how Hyperion is viewing current equity market valuations, why they like concentrated investing, and some of the investment themes they are pursuing. Read or watch the interview below.
Edited transcript
For Hyperion, building equity portfolios that perform over the long-term is a really important focus. With equity markets touching new highs here and overseas, how are you thinking about valuations at the moment?
Well, what I think I'd point out now is, that over the last year, if we go back 12 months, the Australian market is still below where it was. The global markets are still just a bit ahead of where they were last year. And what we've seen over that period is a lot of the businesses we invest in have actually done extremely well. They've delivered sales growth in excess of 20% per annum, and that's converted into earnings growth well in excess of 20% per annum. And we think that the pandemic actually validated a lot of the theses that we were looking at back in January last year. So there's some long-term thematics that we follow that actually got brought forward during the COVID pandemic.
Things like e-commerce suddenly became front and centre. Cash to card and digital payments, people stopped using cash. And, we're used to it here in Australia because we're used to cards, but there's lots of places around the world where cash was still king, and they moved very quickly to card. So we think that, actually, the valuations still look as compelling. In fact, more compelling than they did in January last year.
What do you think are the pros and cons or the risk and reward of investing through concentrated portfolios?
Well, it's been proven over the very long-term that actually concentrated investing is actually the only way you make money. There is a study that's been done in recent years that shows over a very long period of time most of the return of a market actually gets produced by just a very small number of stocks and the rest of the stocks merely produce a bond-like return. And of course, the bond-like return at the moment is very low. We think that you should concentrate your energies on those businesses that can be excellent, that are innovative, and can actually perform in a low GDP, a low economic growth environment, because that's what we think the next 20 years looks like, is low economic growth. So if you actually want to make money out of equities, you need businesses that can do something special for a long period of time, a sustainable earnings growth story that compounds.
Sustainability and de-carbonisation are big themes for us here at Crestone, and I know that's true for you at Hyperion as well. Do you think they are themes that are going to dominate the market for the foreseeable future? And what are some of the other themes you like?
Yeah, so that absolutely will dominate the world. We have seen it in the sudden realisation that this world is fragile. A pandemic did that to us. And I think that's translated very quickly into a fear of what carbon and climate change could do to us. So I expect to see a lot more focused on that over the next 10 years. We certainly are doing that with investments like Tesla. But the other thematics we see are working from home, or working in a distributed sense. Those software as a service businesses that allow that to happen, they've come to the fore during this pandemic and we don't think that's going to change.
I mean, can you imagine this pandemic having occurred 20 years ago when video conferencing didn't really exist? I mean, it would have been a disaster for most businesses. But we carried on because people quickly learned how to use the software tools, and once they've learned them, they're not coming back. So we think that there's been a permanent step change for a lot of innovative businesses during this last year that will actually carry forward to very strong earnings growth over the next 10 years.
Learn what Crestone can do for your portfolio
With access to an unrivalled network of strategic partners and specialist investment managers, Crestone Wealth Management offer one of the most comprehensive and global product and service offerings in Australian wealth management. Click 'CONTACT' below to find out more.

---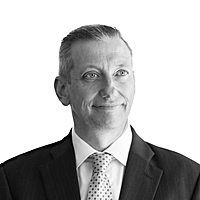 Chief Investment Officer
Crestone
Scott has more than 20 years' experience in global financial markets and investment banking, providing extensive economics research and investment strategy across equity and fixed income markets.
Expertise