Europe earnings mean business, and ready to kick-off
---
With Euro 2020 football tournament finally underway, Europe is turning heads once more. According to Goldman Sachs' statisticians, Belgium is most likely to win the tournament,  Portugal to place second - with England the most overrated contender.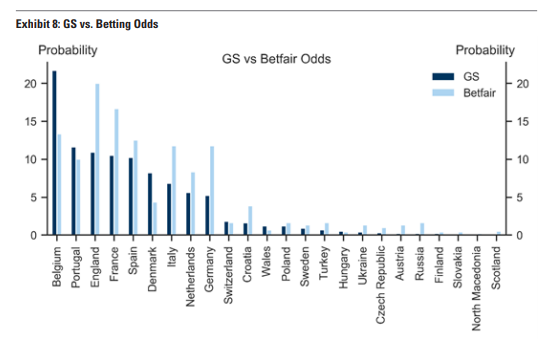 Source: Goldman Sachs, 30 May 2021
Investors are also taking notice of Europe, for reasons other than sport. In recent months, European funds such as the ETFS EURO STOXX 50 ETF (ASX Code: ESTX) have gathered inflows at an increasing rate. This stands in contrast to trends over the past 10 years, where investors developed a strong preference for the US over Europe. Why the sudden interest in Europe?
Earnings growth and buybacks
Earnings are a key driver of investors' interest. Corporate profits are forecast to grow faster in Europe this year. New estimates suggest they may rise 45% in Europe compared with 34% in the US. Strong earnings growth is anticipated in the services sector, as capacity restrictions and lockdowns are removed.
Share buybacks also are back on the radar. European businesses hoarded cash when the pandemic hit the continent last year. But as economies begin to recover, corporate treasuries are using their vast cash piles to conduct a 'buyback bonanza', as the Financial Times calls it. Societe Generale predicts that buybacks from European companies could eclipse their pre-pandemic levels by 25%.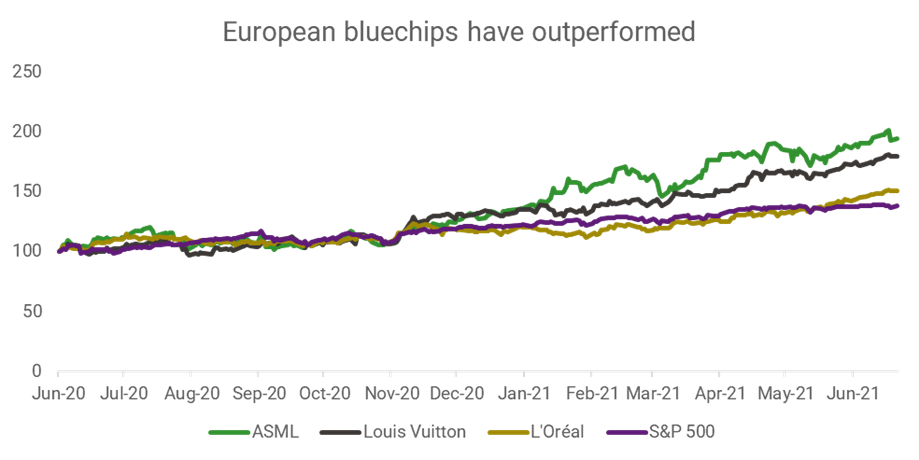 Source: Bloomberg, 22 June 2021
Perhaps the most important reason investors are turning to Europe is the strength of its businesses. The EURO STOXX 50 Index, the continent's premiere share market gauge (which ESTX tracks) has some of the most important names in global commerce. They include: ASML, the Dutch semiconductor business, which has become one of the largest companies in the world in recent months. It now commands a monopoly position in all-important lithography machines, which put transistors on microchips, and thereby create ever-more-powerful semiconductors. Given the ongoing global semiconductor shortage, ASML sits in a uniquely powerful market position. 
Luxury giants Louis Vuitton (LVMH) and L'Oréal are seeing their share prices surge thanks to endless demand for French luxury goods from Chinese consumers. According to estimates from consultancy Bain & Co, Chinese demand for luxury goods is growing at 48% a year. This means LVMH and L'Oréal are supported by the emerging middle class in China and its boom in online shopping. Luis Vuitton recently struck a deal with JD.com, allowing them access to JD.com's 450 million active users.
These climbing European shares have helped mean that the historical "discount" that European shares trade on relative to the US has closed over the past five years. Today's discount on the EURO STOXX 50 Index, Europe's primary share market gauge, has fallen from 27% in June 2016 down to 17% in June 2021.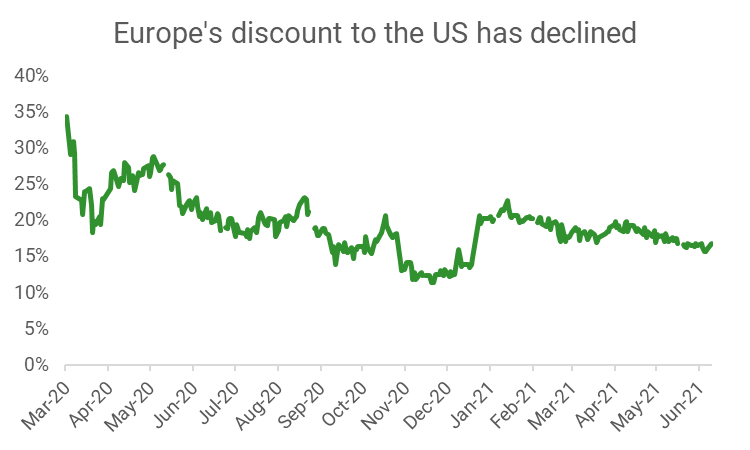 Source: Bloomberg, ETF Securities, 22 June 2021
Inflation safe space
On inflation, America's loss has been Europe's gain. In recent months, the Federal Reserve has spooked US capital markets with potential interest rates hikes, thanks to higher inflation. In Europe, however, the opposite is occurring. Recent forecasts from the European Central Bank say European inflation will decline from 1.9% in 2021 to 1.5% in 2022 and 1.4% in 2023. Making interest rate hikes in Europe highly unlikely.
European businesses are also benefitting from a strong interest in environmental investing. Europe introduced its "Green Deal" in December 2019. The ambitious policy initiatives aim to make Europe climate neutral within 30 years. This includes a €1 trillion investment pledge, funded by EU member states, which will help make the transition to climate neutrality.
Political turbulence subsiding
The final piece is that the political difficulties that wracked Europe in the previous decade are finally subsiding. Brexit, after much shuffling and delaying, has been completed. At least for now, the major blowback from Brexit appears to be within Britain rather than Europe – with Scottish independence and Northern Irish troubles rearing their heads. The populism – fanned by the austerity policies introduced after the eurozone debt crisis – has also begun to subside. With centrist parties holding firm in major European countries. 
........
Fund specific The EURO STOXX 50® is the intellectual property (including registered trademarks) of STOXX Limited, Zurich, Switzerland ("STOXX"), Deutsche Börse Group or their licensors, which is used under license. EURO STOXX 50® is neither sponsored nor promoted, distributed or in any other manner supported by STOXX, Deutsche Börse Group or their licensors, research partners or data providers and STOXX, Deutsche Börse Group and their licensors, research partners or data providers do not give any warranty, and exclude any liability (whether in negligence or otherwise) with respect thereto generally or specifically in relation to any errors, omissions or interruptions in the EURO STOXX 50® or its data. This document is issued by ETFS Management (AUS) Limited ("ETFS") (Australian Financial Services Licence Number 466778). This document may not be reproduced, distributed or published by any recipient for any purpose. Under no circumstances is this document to be used or considered as an offer to sell, or a solicitation of an offer to buy, any securities, investments or other financial instruments. The information provided in this document is general in nature only and does not take into account your personal objectives, financial situations or needs. Before acting on any information in this document, you should consider the appropriateness of the information having regard to your objectives, financial situation or needs and consider seeking independent financial, legal, tax and other relevant advice having regard to your particular circumstances. Any investment decision should only be made after obtaining and considering the relevant product disclosure statement This document has been prepared by ETFS from sources which ETFS believes to be correct. However, none of ETFS, ETFS Capital Limited, nor any other member of the ETFS Capital Group, nor any of their respective directors, employees or agents make any representation or warranty as to, or assume any responsibility for the accuracy or completeness of, or any errors or omissions in, any information or statement of opinion contained in this document or in any accompanying, previous or subsequent material or presentation. To the maximum extent permitted by law, ETFS and each of those persons disclaim all any responsibility or liability for any loss or damage which may be suffered by any person relying upon any information contained in, or any omissions from, this document. Investments in any product issued by ETFS are subject to investment risk, including possible delays in repayment and loss of income and principal invested. Neither ETFS, ETFS Capital Limited nor any other member of the ETFS Capital Group nor any of their respective directors, employees or agents guarantees the performance of any products issued by ETFS or the repayment of capital or any particular rate of return therefrom. The value or return of an investment will fluctuate and an investor may lose some or all of their investment. Past performance is not a reliable indicator of future performance.  
---
ETF Specialist & Head of Distribution
Global X ETFs Australia
Kanish Chugh is responsible for distribution covering sales and marketing strategy for institutional, intermediary and retail clients. He joined Global X ETFs Australia in 2015 and has previous experience with Fidelity International, BlackRock and...
Expertise