BROS is one of the fastest-growing brands in the foodservice and restaurant industry in the United States by location count. Its unique and efficient drive-through shops based in suburban malls and lots bring a fun and differentiated experience to the company's customers. 
With a coffee-centric background, BROS has expanded into fully customised energy drinks, resulting in a smooth daily sales mix. The company has some of the best margins and metrics in the industry and its rapid growth from the west coast to the east coast – and regional to national – makes BROS one of the most exciting growth stories in the market.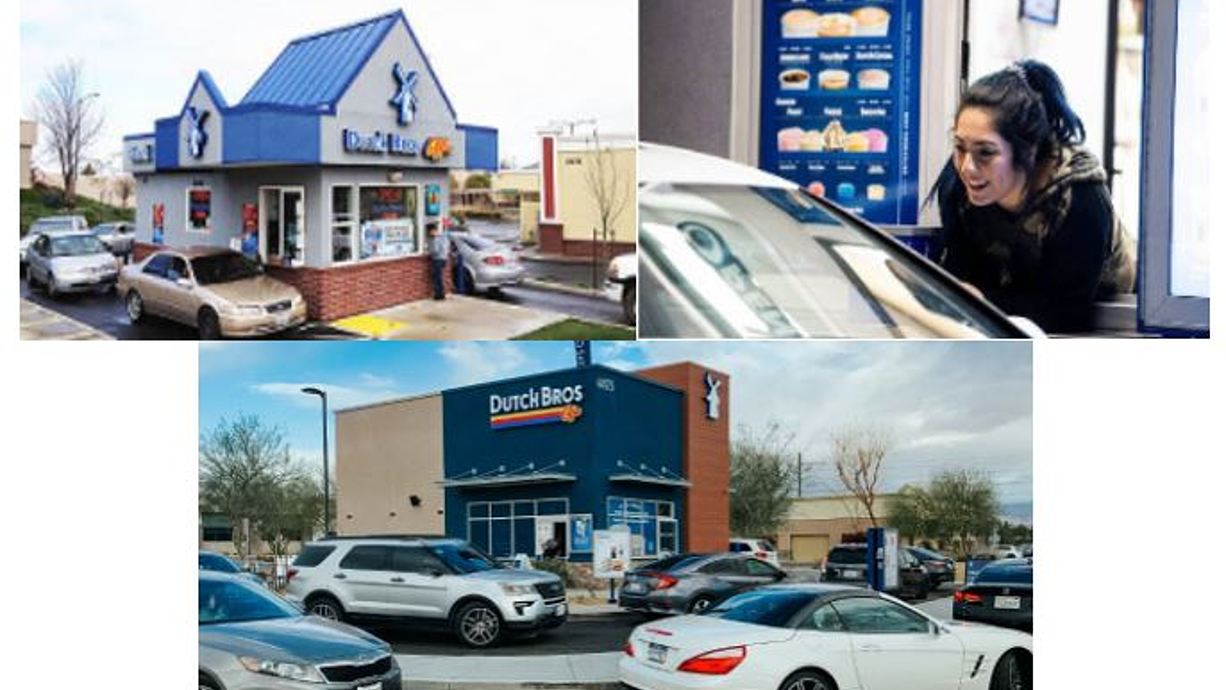 Dutch Bros has been serving high-quality hand-crafted drinks across the Western U.S. for nearly 30 years.  In 1992, Dan and Travis Boersma started Dutch Bros with a double-head espresso machine and a pushcart in downtown Grants Pass, Oregon.  Today, Travis plays a daily visionary leadership role at Dutch Bros and serves as Executive Chairman. 
While Dutch Bros is already recognised as one of the fastest-growing brands in the United States, food service and restaurant industry by location count, the company is still in the early stages of long-term growth potential and has enormous potential ahead. The company is a high growth operator and franchisor of drive-thru shops that focus on serving high quality, hand-crafted beverages with unparalleled speed and superior service. 
Dutch Bros is entirely focused on delivering on its core values of quality, speed and service in every interaction they have. Every visit to Dutch Bros should feel like a celebration. Baristas are genuinely excited to serve customers and interested in how they can make their day better. 'Runners' greet customers before they get to the drive-thru window to personalize every order and, when needed, explain the menu. There are very few competitors of scale that sit at the intersection of quality and convenience and none that deliver the extraordinary Dutch Bros experience.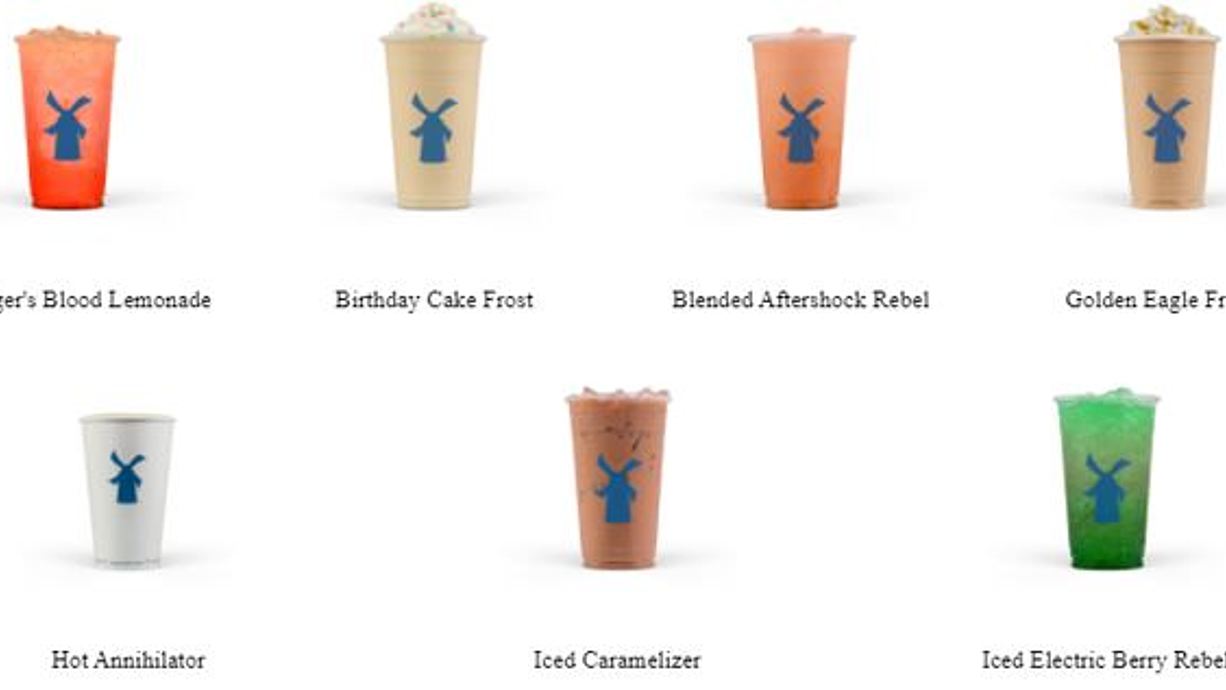 Investment thesis
Growth – BROS is a 'regional to national' growth story, rapidly expanding from the West Coast state by state over East. BROS has increased its shop count from 254 shops in seven states at the end of 2015 to 538 shops in 12 states at the end of 2021. 271 shops are company-operated, up 50% from 2020 while 267 shops are franchise owned. Company-operated shops generated a shop-level contribution margin of 25.1% in 2021, down from 28.7% in 2020 but accounting for a one-off change in discount promotional expense relating to the shift from paper stamp cards during COVID to the digital app launched in February 2021. 
BROS targets 30% contribution margin, which is the best in the industry. The strong margin profile is aided by the lack of food sales, with no plans to add lower margin and potentially operationally complex food. Shops opened in 2020 average $2.1 million in average unit volume and management said shops opened in 2021 are tracking above that figure. For 2022 total system shop openings are expected to be at least 125, with at least 105 being company operated. Longer-term, BROS is targeting 4,000 domestic locations within the next 10-15 years, which is credible given best in class unit economics in limited service. 
Execution is the primary catalyst. Due to the highly attractive unit economics, in addition to the desire for quality control over people and culture, BROS will focus primarily on company-owned store count growth going forward. Long-term, the brand will expand primarily to the South and lower parts of the Plains, Midwest, and Mid-Atlantic regions, as well as infill in the Southwest. People are key at BROS and currently, it has 200 fully qualified regional operator candidates in the pipeline ready to run the market. That is, at scale, it can support 750 to 1000 new shops. Behind these regional operator candidates are 900 others in the Dutch Bros leadership pathway program. For 2022 management are guiding revenues of $700million to $715 million, +43.9% from 2021 following +52.1% in 2021.
Efficient and Differentiated Service – Drive-thru only, but high-quality service as witnessed by Dutch Bros 'runners' who create a personalized ordering experience for customers. BROS offer a beverage-only concept with a menu built around handcrafted espresso-based coffee, cold brew, and proprietary "Blue Rebel" energy drink products. The Coffee-centric menu (36% of sales) is built around hand-pulled espresso shots. Hot coffee accounts for ~18% coffee mix, while Cold coffee accounts for ~82% coffee mix. The proprietary Blue Rebel energy drink platform (24% of sales) along with a variety of tea, smoothies, shakes, and sodas to offer over 9,000+ beverage combinations across caffeinated and non-caffeinated options make up the balance of sales mix. 
Blue Rebel is the company's exclusive energy drink and the main driver of the afternoon daypart (popular afternoon "pick-me-up"); the offering is available in regular and sugar-free and can be customised with flavours to create a variety of unique combinations.
Smooth daily sales mix. Although the brand is known for coffee leadership the menu and brand offer a balanced, all-day appeal. Pre-noon sales account for 39% of the mix. Midday sales account for 29%. Afternoon/evening daypart account for 31% mix.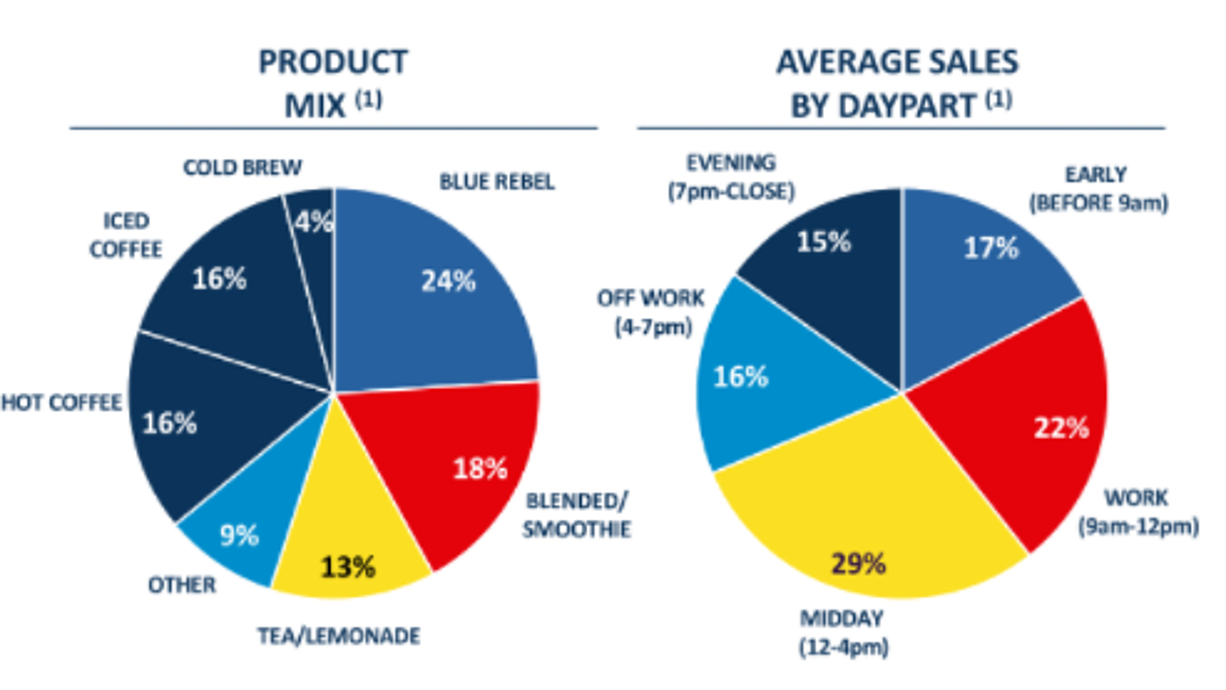 Digital Demographic. In February 2021, Dutch Bros launched a new tech-enabled loyalty program. The Dutch Rewards program has already grown to 3.2 million registered users, which is approximately 6,000 customers per shop.  Over the last 6 months, the average ticket for Dutch Rewards members was also 3% higher than for non-rewards members.  At the end of 2021, digital tender was over 60%. BROS is off to a strong start in the digital ecosystem and has a strong advantage, incorporating into its customer base early rather than having to convert later in the cycle like quick-service restaurants have done in the past (ie Starbucks, McDonald's etc).
Valuation
It certainly isn't cheap. Trading at 10.9x 2023 sales vs peers (WING, SHAK, SBUX, CMG) average 5.9x. But with revenue growth of 44% expected there is plenty of room for BROS to grow into its multiple. BROS is a hyper-growth business, rapidly expanding from 'regional to national' and management execution is the benchmark. That said, in its short-listed history in being public, BROS is trading at the lower end of its range of 10x-20x sales since listing in October 2021.
A better way to look at 'value' is by comparing sales and margin metrics versus peers. BROS shops are typically 865 to 950 square feet, and target lots that are at least 25,000 square feet to handle substantial car volume throughout the day. All shops deploy either a single or double drive-thru window with multiple feeder lanes for traffic flow. 
Most shops also have walk up ordering windows, party patios and escape lanes to prevent unnecessary congestion. In 2021, company-operated shops generated AUVs of approximately $1.8 million with a strong shop-level gross margin of 21.1% and contribution margin, a non-GAAP financial measure, of 25.1%.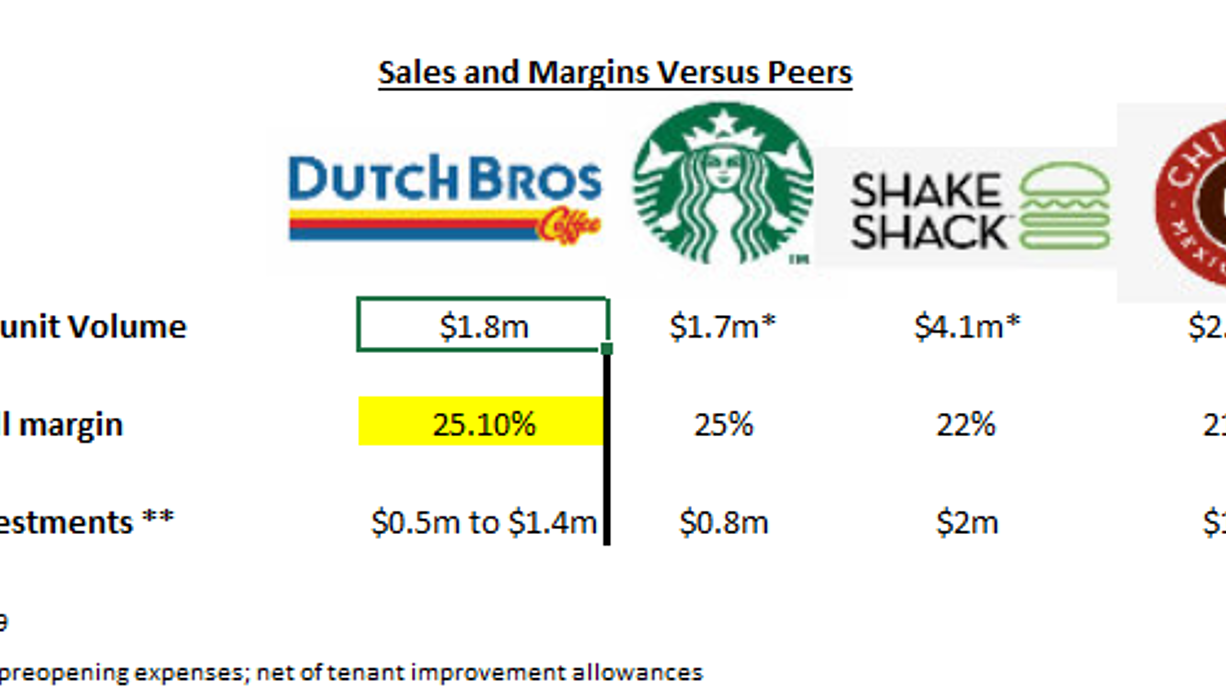 BROS average unit volumes are slightly better than Starbucks' pre-pandemic domestic AUVs of $1.7 million despite (1) limited food product (4% of sales vs 20% at SBUX), and (2) an only recent launched rewards program. Its contribution margin, or four-wall margin, is in line with SBUX and better than SHAK & CMG but is most likely understated given it was 28.7% in 2020, before BROS made an accounting charge for promotional expense moving from paper loyalty cards to digital. BROS targets 30% contribution margin, which is the best in the industry.
Risks
Failure to manage growth effectively could harm the business and operating results.
Shops are geographically concentrated in the Western United States and could be negatively affected by conditions specific to that region.
Inability to identify, recruit and retain qualified individuals could slow growth and adversely impact the ability to operate.
Interruption of the supply chain of coffee, flavoured syrups or other ingredients, coffee machines and other restaurant equipment or packaging .
Increases in the cost of high-quality arabica coffee beans or other commodities or decreases in the availability of high-quality arabica coffee beans or other commodities.
Technical
BROS is range-bound between $45-$60. A break above $60 will open the door to test all time high of $81.40. We use $40 as a stop loss.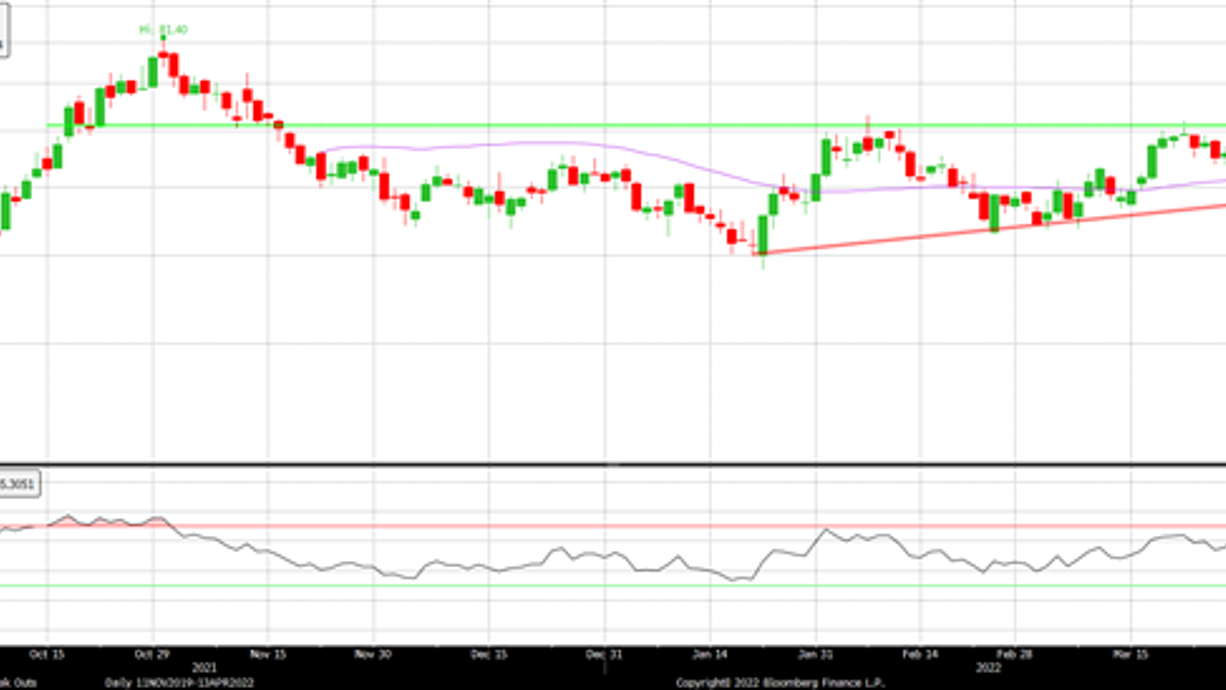 Never miss an insight
If you're not an existing Livewire subscriber you can sign up to get free access to investment ideas and strategies from Australia's leading investors.
And you can follow my profile to stay up to date with other wires as they're published – don't forget to give them a "like".
........