Fast-growing gold explorers could provide an opportunity in an oversold space
---
Backing the right gold explorer can be a rewarding strategy. Expanding inventories, such as those unveiled recently by Breaker Resources and Bellevue Gold, combined with growing evidence that a discovery will be economic and therefore become a mine, allows investors to ride a wave of strong value creation.
The sell-off in local gold equities in the last two months – with the exception of Northern Star which has pogoed higher – has been remarkable stuff.
Market leader Newcrest is down 14%, which is bad enough in itself. Then there is the 22% hit on Evolution, St Barbara's 24% slide, and Regis' 20% fall.
It is remarkable stuff because while the US dollar gold price is off by about $US60 or 5%  to just under $US1,200/oz, the Aussie price at more than $A1,660/oz is "only" off by $A20, or 1.2%, due to the slide in the US exchange rate.
More to the point is that the current local price is comfortably ahead of last (calendar) year's average of $A1,638 an oz.
Given the local industry is still minting $A500-plus/oz margins, the sell-off in the past two months does look over done.
Having said that, there is no denying that it is sentiment around the US dollar gold price that is a key factor in the pricing of ASX gold producers.
So a share price rebound from here for the savaged ASX listed producers will require a recovery in the US dollar gold price. Can it do that? Macquarie's commodity desk pondered the same thing yesterday.
"Continually hit by a strong dollar, higher yields, weak physical demand, rising shorts….the list goes on. At times like these, it's difficult to even imagine it going up," Macquarie said.
But it did come up with five scenarios which could prompt a significant gold rally from here.
* US data undershoots expectations, sparking a reassessment of how fast and far the Fed can hike rates, sending US short-term yields lower.
* Economic data of the rest of the world improves, weighing on the USD, boosting gold jewellery demand.
* Equity markets tank.
* China stimulates its economy and re-values the yuan higher to ease trade tensions.
* India reduces gold import duty.
Thanks for those, we think. But there is a strategy that can be played in the ASX gold space which is largely independent of what the gold price is next week, in six months' time, or next year for that matter.
It's a strategy based on the ability of the drill bit to create value, particularly for the juniors. While proving up a 1 million oz resource would not move the needle at Newcrest, or most of the other listed producers, there is a leveraged response for the juniors.
As luck would have it, the elevated interest in the ASX gold sector in the last couple of years because of the (ongoing) bumper margins to be had, has allowed dozens of juniors to embark on well-funded exploration programs which if successful, can deliver major value uplift independent of whether the gold price is in a bearish or bullish phase.
Some of those exploration programs are now maturing in to maiden resource estimates and/or upgraded resource estimates where a corresponding value uplift can be expected.
A couple of those are today's interest – Breaker Resources (BRB), on its resource upgrade, and Bellevue Gold (BGL), on its pending resource upgrade. There are plenty of other examples out there, with the only warning being that some will disappoint.
Breaker cracks a million, with more to come
Breaker knows all too well about disappointing the market. Back in April its shares got hammered when a maiden resource for its greenfields Bombora discovery, 100km east of Kalgoorlie, came in at  "only" 624,000oz.
The sell-off was overdone on the basis that the multi-million-ounce potential at Bombora was intact, it was just that relatively speaking, exploration/infill drilling – and a geological understanding of the virgin discovery – was its infancy.
That was demonstrated yesterday when Breaker came out punching with its announcement that the resource had been updated to 24.6Mt at 1.4g/t gold for 1.08moz in the top 250m, including a higher grade core of 808,000oz at 2g/t
It is not the end of the story either as Breaker has set an "exploration target" of 1.2m to 1.4moz from 250m-700m below the resource estimate where multiple high grade lodes with underground mining potential need to be followed up.
Breaker shares popped 5.5c or 24% higher to 28c for a market cap of all of $33m yesterday in an otherwise gloomy market for gold stocks. Yes, it remains well short of its 70c level back in January when the market got ahead of what Breaker was actually able to do with the drill bit in the time available.
But it is now back in the frame as a near-term gold producer from what it clearly shaping up a multi-million-ounce gold discovery.
Importantly, Breaker executive chairman, Tom "Colonel" Sanders, noted that the rapid growth in the Bombora resource estimate since April reflected a much clearer understanding of the mineralisation controls at Bombora.
"We are now finding a lot more gold, more quickly.  This is unmistakably reflected in the improving discovery cost of $18/oz compared to $23/oz for the maiden resource in April."
A pre-feasibility study is now underway into an initial standalone open-pit mining operation. Given the current light market cap for its 1.08Moz in an open cut position, and the high-grade underground potential, that is a smart move.
It's all about spelling out the value uplift to be had from a development before regional competitors capture it for themselves with a low-ball takeover bid.
One million ounces on the way for Bellevue
While the producers have suffered an almighty shakedown in the last couple of months, a gold explorer/developer like Bellevue Gold (BGL) has been a virtual tower of strength, rising from 17c to 20c ($80m market cap).
Its relative price strength is not because it's not yet a producer from its namesake project near Leinster in WA. It's because it has become something of a mini-me version of Northern Star in that it has demonstrated that the historic Bellevue has much more to give.
Bellevue was a big and high-grade producer in its day but was closed and forgotten about for 20 years until BGL came along. It started drilling in October last year and by December, it had made a new lode discovery.
Early last month it was in a position to announce a maiden resource estimate of 500,000oz (1.9Mt at 8.2g/t gold).
It now has three rigs whirring away on defining another new lode discovery and the expectation is that there could well be a resource upgrade to 700,000-750,000oz by October, and another to the magical 1Moz level early in the New Year.
It won't be a 20c stock by then.
Assuming the suggested resource targets are met, BGL will be sitting on a project with an "endowment" of 1.8Moz (historic production plus unmined ounces) all down to no more than 500m.
The time will be ripe then to demonstrate that the 1.8Moz is/was part of a much bigger system with some deeper holes and some step-out holes.
Things will start to get really interesting at that point. BGL might well get to do the work itself. But because Bellevue is surrounded by existing mining and treatment operations, the vultures might well have moved in by then to capture the "big system" upside for themselves.
---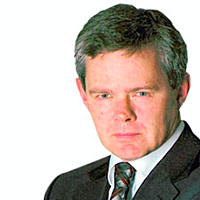 Principal
Independent Journalist
One of Australia's leading business journalists, Barry FitzGerald, highlights the issues, opportunities and challenges for small and mid-cap resources stocks, and most recently penned his column for The Australian newspaper.
Expertise