Five stocks we don't like at today's prices
---
Newcrest Mining (NCM) $22.97
For the first time in seven years, gold has fallen in an August, around 3% with one US session left to trade. Even over the last 5-years when gold was in a bear market, the precious metal rallied in August. Simply, gold is losing momentum after the best first 6-months in almost 40 years.
The pending interest rate increases in the US is creating renewed strength for the $US and subsequently, suppressing the gold price. While we believe a large part of this should be built into the price, it feels highly likely to continue short-term.
Local gold stocks have been hit by some meaningful profit taking of late with NCM falling 15.5% and Regis Resources 12%.
We remain a buyer of NCM ~$21 but this is a further 8-9% lower.
Newcrest Mining (NCM) Monthly Chart
Telstra (TLS) $5.29
TLS is a great example of how both stocks and markets move in cycles. In early 2015, everybody was chasing yield with TLS along with the banks the prime candidate for retail investors. Here we are 18-months later, the ASX200 is 8% lower, but poor TLS is down a significant 21.4%. Markets look ahead and interest rates are primed to rise in the US and TLS shows little/no growth prospects, hence why own it?
Technically, TLS looks destined to break its $5 support area, with a target somewhere around $4.70. Its 5.86% fully franked dividend is not supporting the stock. However, down towards $4.70, TLS may outperform the market if we see a sizeable correction for stocks - this would be a fall of 11% from today's levels.
Telstra Monthly Chart
Westfield Corp. (WFD) $10.28
We have been bearish WFD since it hit $11 and so far this has proved accurate with the stock retreating 6.6% from its July highs.
We remain bearish WFD, targeting a further ~15% downside.
Westfield Corp. (WFD) Monthly Chart
Sydney Airports (SYD) $7.34
We have recently discussed our view that global interest rates have basically bottomed and are set to rise with the potential for a "bond bubble" to pop and rates spike. Central Bank's biggest job of the next few years may not be creating growth, but letting the bond bubble down slowly.
We believe top performing stocks like SYD that have acted like a quasi-bond are set for a pullback, we are targeting the $6-6.50 region for SYD i.e. ~13%.
Sydney Airports (SYD) Monthly Chart
BHP Billiton (BHP) $21.11
This is more of wildcard entry to our 5 stocks, as we like BHP and believe the resources sector has the ability to rally for another ~6 months, led by BHP and RIO. However, BHP has now rallied over 50% since the panic lows last December and the risk / reward is far from compelling at today's prices.
BHP has been edging higher over recent months, with no decent momentum and noticeably it has bounced in a very similar manner to early 2014. We would be taking $$ on any long position and wait for further development.
BHP Billiton (BHP) Weekly Chart
Summary
Our simple view on the 5 stocks that we are currently negative:
Buy NCM ~$21, or 8-9% lower.
We will consider TLS in the $4.70 region if we are bearish the overall market, as it is likely to outperform during a significant correction.
We remain bearish WFD, targeting a further 15% downside.
SYD looks set for a 10-15% retracement.
BHP, the stock would be far more exciting under $18. Over $21, the risk / reward is not compelling.
Livewire readers can receive  14 days' free  access to our  Platinum level  membership by registering here:  (VIEW LINK)
---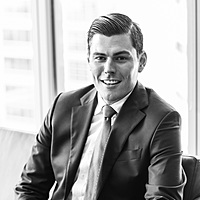 Market Matters is an online investment and share trading advisory service designed for those that want to take their wealth further. We specialise in advice for active share market investors, including those new to the markets or those with a Self...
Expertise
No areas of expertise