Flying high – a remarkable track record
---
Back in 2002 Alliance Aviation Services (ASX:AQZ) commenced flying with just two aircraft. Today, the operating aircraft fleet size has grown to 43, with a further 14 new aircraft set to arrive in the next 12 months. AQZ's business is literally flying! The company operates fly-in fly-out charter services for Australian mining companies and a range of ancillary aviation services, and has a strong track record of consistent profits and growth. AQZ delivered record profits in FY20 despite the global COVID pandemic. The aviation market is very cyclical, boom and bust, so how has Alliance developed such a remarkable track record?
Alliance's share price at $3.60 has flown high since listing on 20 December 2011 with an IPO price of $1.60. Long term shareholders have enjoyed a total return including dividends of 149.1 per cent since then – that's an annual compound rate of return of 10.9 per cent – smashing the rate of return for the Small Ords Accumulation Index at 6.3 per cent over the same period.
Operating low unit capital cost aircraft, with high cost structure flexibility, means the company has consistently made good returns. Gary Rollo catches up with Lee Schofield to discuss the how COVID-19 impacted the business and the next milestone, acquiring 14 E190's, to again position the company for its next growth phase.
"Typically when you're leasing aircraft, there's this driver to work them hard and to fly them for the sake of flying them, even in difficult markets. One of the reasons why we've been able to be so predictable, even during tougher times in our business is that owning our own aircraft, we're not forced to operate them that hard. We have a very low utilization, which sits very comfortably with our low capital costs. So, we can park aircraft and wait until it's a better time to deploy them." Lee Schofield
Not already a Livewire member?
Sign up today to get free access to investment ideas and strategies from Australia's leading investors.
---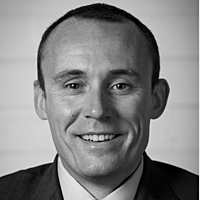 Portfolio Manager
Montgomery
Gary is the Portfolio Manager of the Montgomery Small Companies Fund – a small-cap Australian equity fund investing in 30 to 50 high quality, undervalued small and emerging companies with strong growth potential. The fund invests outside the ASX100.
Expertise