Four sectors we're optimistic about
---
Q1 2020 was a whirlwind of a quarter with capital markets experiencing unprecedented volatility and mass panic sell-offs due to COVID-19. The impact of the virus across Asia ex-Japan region is not one and the same. The response to COVID-19 varied across Asia and we are now beginning to see the positive effects of early detection and control. As crucial as early detection and control, we're encouraged governments within the region have begun to synchronise monetary and fiscal policies to help stabilise their economies during this period through a range of interest rate cuts, debt principle and interest payment moratorium to name a few. We view equity markets in the region very positive, however markets in Asia are neither one and the same and the thematic driving individual equity markets will heavily influence their rate of recovery. Below are some insights at the sector level.

Education
Online education companies outperformed year-to-date amid COVID-19. Initially, we had doubts whether parents would be willing to take online classes for their children or whether younger students would stay disciplined enough to take online courses at home. We believe the Coronavirus has played a key role in the online education industry which we think will become a key growth driver of the after school tutoring industry. According to GSX Techedu, a technology driven education company and leading online K-12 large-class after-school tutoring service provider in China, online education penetration has increased from 7% last year to near 100% today amid Coronavirus. Leading online after-school-tutoring (AST) players have been actively providing free online courses throughout the day to take this opportunity to engage with as many students as possible, i.e. expand user base to increase penetration. Thus, we believe online education can meaningfully take off in China after COVID-2019. 
E-Commerce
E-commerce is another industry we are optimistic on its pace of recovery driven by accelerated share gains from offline retailers since COVID-19. We believe Coronavirus will bring further change in consumer behaviour and more consumers will shop less offline and more online. That said, near term they have also had heightened negative impacts leading to earnings cuts. Overall consumption demand including e-commerce has been weak in February and we started to see recovery in March particularly since the T-mall 3.8 festival. Other than the demand side there is also the question of supply; this was where we saw supply chain disruptions where majority of factories in China were shut down for the interim. Our understanding is that currently, logistics for the industry has 85% restored from 10-20% in early February for overall industry. 
Alibaba (NYSE: BABA) remains our top pick in the E-commerce sector but may also look to add another e-commerce name to our exposure. The company we are assessing has: 1) strong logistics and category mix (home appliances/general merchandise) that led to stronger than peers 1Q20 revenue growth, 2) more importantly, many new users who previously only used the Taobao platform or never used ecommerce before have downloaded the new company's app; thus we anticipate further consumer engagement.
Many companies have reported their earnings results in the past two weeks and provided more clarity on COVID-19 updates while the situation in China has been gradually improving so far. Sportswear sector performed well since the results of Anta (HKG: 2020), Li Ning (HKG: 2331) and Nike (NYSE: NKE). 
Technology
China smartphone demand is recovering well in March, and suppliers now expect a more stabilised outlook in 2H20. iPhone pull-in demand will be strong in the near-term, but order visibility remains unclear from the end of 2QFY20 onwards. As COVID-19 spreads in Europe and the US, the smartphone demand expects to be further impacted by quarantine enforcement on wider populations and impaired consumer confidence, especially for iPhone (>50% shipment from US/EU). Though end-demand is uncertain, the near-term iPhone component procurement plan should not be impacted as inventories are low on the stronger-than-expected iPhone 11 sell-through. As a result, iPhone supplier's revenue is likely to see a strong rebound in 2QFY20 on the EMS/ODM production and inventory restocking demand. 
Construction
China infrastructure construction contractors delivered strong FY19 results and positive guidance on the back of enhanced fiscal support. This includes the expectation of raising the budgetary fiscal deficit, quotas for special local government bonds and issuance of special government bonds. Amid the increase in funding support, we notice the stricter oversight preventing leakage into non-infra projects, such as land- banking, allowing a higher proportion of the funding support to be allocated to infra activity, as compared to that in 2018-19.
Construction machinery names should perform well in 2020 despite the COVID-19 disruption. March sales saw notable pick-up, which would help to significantly offset the slump
in February. According to management commentary for Zoomlion (HKG: 1157), the main impact from COVID-19 is on supply chain disruption and outlook for overseas sales. On the other hand, domestic end demand is robust in light of the government's supportive measures for infra and housing projects which have seen encouraging work resumption since late-February. We expect excavator deliveries for Sany Heavy (HKG: 0631) to be flat or record a slight positive for 1Q20, better than the industry average. 
Conclusion
COVID-19 is a disruption on both the supply side (production) and demand side. It will affect both the manufacturing and services sectors, and the near-term impact is very sharp. Markets that are biased toward companies driven by global trade and tourism are heavily exposed to the macro impact of COVID-19 and we expect their recovery trajectory to be more subdued than those markets that have a growing domestic consumer base and less reliant on global trade. The key underlying theme in Asia, is the growing consumption story and the fundamentals related to this thematic remain unchanged. We believe our Funds are well positioned to capture the upside of a market bounce back in the more immediate term while capturing the longer term thematic of quality companies benefiting from the continued growth in consumption.

Invest in sector leading companies
Mirae Asset focuses on identifying 'Sector Leaders' that will benefit from competitive advantages and deliver sustainable growth over the long-term. Click the 'FOLLOW' button below for more insights
........
Mirae Asset Global Investments (HK) Limited content shared through Livewiremarkets.com is neither an offer to sell nor solicitation to buy a security to any person in any jurisdiction where such solicitation, offer, purchase or sale would be unlawful under the laws of that jurisdiction. Investment involves risk. The information in the material contribution is based on sources we believe to be reliable but we do not guarantee the accuracy of completeness of the information provided. The material contribution through Livewiremarkets.com has not been reviewed by SFC and shall only be circulated in countries where it is permitted. This material contribution is intended solely for your private use and shall not be reproduced or recirculated either in whole or in part, without the written permission of Mirae Asset Global Investments. Whilst compiled from sources Mirae Asset Global Investments believes to be accurate, no representation, warranty, assurance or implication to the accuracy, completeness or adequacy from defect of any kind is made. The division, group, subsidiary or affiliate of Mirae Asset Global Investments which produced the underlying content shall not be liable to the recipient or controlling shareholders of the recipient resulting from its use. The views and information discussed or referred in reports through Livewiremarket.com are as of the date of publication, are subject to change and may not reflect the current views of the writer(s). The views expressed represent an assessment of market conditions at a specific point in time, are to be treated as opinions only and should not be relied upon as investment advice regarding a particular investment or markets in general. In addition, the opinions expressed are those of the writer(s) and may differ from those of other Mirae Asset Global Investments' investment professionals. The provision of content through Livewiremarkets.com shall not be deemed as constituting any offer, acceptance, or promise of any further contract or amendment to any contract which may exist between the parties. It should not be distributed to any other party except with the written consent of Mirae Asset Global Investments. Nothing herein contained shall be construed as granting the recipient whether directly or indirectly or by implication, any license or right, under any copy right or intellectual property rights to use the information herein. Content may include reference data from third-party sources and Mirae Asset Global Investments has not conducted any audit, validation, or verification of such data. Mirae Asset Global Investments accepts no liability for any loss or damage of any kind resulting out of the unauthorised use of this document. Investment involves risk. Past performance figures are not indicative of future performance. Forward-looking statements are not guarantees of performance. The information presented is not intended to provide specific investment advice. Please carefully read through the offering documents and seek independent professional advice before you make any investment decision. Products, services, and information may not be available in your jurisdiction and may be offered by affiliates, subsidiaries, and/or distributors of Mirae Asset Global Investments as stipulated by local laws and regulations. Please consult with your professional adviser for further information on the availability of products and services within your jurisdiction. Australia: Mirae Asset Global Investments (HK) Limited ("Mirae HK") is exempt from the requirement to hold and Australian financial services license in respect of the financial services it provides in Australia. Mirae HK is authorized and regulated by the Securities and Futures Commission of Hong Kong under Hong Kong laws, which differ from Australian laws.
---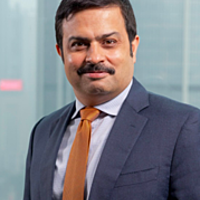 Chief Investment Officer & Portfolio Manager
Mirae Asset Management
Rahul is CIO & Portfolio Manager with over 19 years investing in Asia ex-Japan Equities. Based in HK & a regular in Asian financial services media, Rahul embodies Mirae's ethos of " We Live Our Investments."
Expertise