Gateway opens for Gidgee to be next old Australian gold project to come good
---
Plus, whispers that Newmont is drilling two deep holes in NSW porphyry country fires up interest in neighbour DevEx while initial drilling at PolarX's potential company-makers offers much encouragement
Veteran geologist Peter Langworthy has been promising to turn Gateway (GML) into a player in WA's Murchison region ever since he arrived as MD at the former sleepy gold explorer.
Langworthy has now started to deliver on the promise.
Gateway has just announced a maiden resource estimate for the Whistler and Montague deposits at its historic Gidgee project in WA of 3.4mt at 2.2g/t for 240,000oz of gold.
It is a good start for the lightly-capitalised Gateway ($25m at 1.9c a share).
But as might be suspected, the maiden resource estimate is just the start of the story for Gateway.
The maiden estimate obviously does not capture the real potential for additional resource growth at the two deposits which remain open in all directions.
And it needs to be remembered Whistler and Montague represent a small part of the prospective contact of the Montague Granodiorite which runs for some 18km.
That came through in Gateway's other ASX announcement on Thursday of an "exploration target" being set for the Achilles prospect, which covers four mineralised structures previously thought to be distinctly separate.
It is now believed that they form part of a separate structural domain and are likely to be interlinked by additional structures.
Suffice to say that there are good reasons why Gateway has been able to place an exploration target on Achilles of 1.2mt to 3.4mt at 2.3g/t to 3.4g/t – or between 80,000oz and 370,000oz if you prefer.
That's more than enough encouragement for Gateway to get cracking on a 16,000m drilling program to turn the exploration target into a resource reality.
The program will also tackle the apparent resource expansion potential at Whistler and Montague.
Success with all that would lift the company's Gidgee project to the next level and importantly, it would strengthen Gateway's hand in the sensible regional rationalisation of gold projects held by juniors.
Most notably, Gidgee sits on the same greenstone belt that hosts Horizon Gold's (HRN) 1.39Moz Gum Creek gold project, which comes with a high-grade component.
As mentioned here previously, Horizon has been working on a mining plan which could see it go down the toll treatment route (probably at Wiluna) or building a stand-alone plant.
A combination of Gidgee and Gum Creek would seem to be a logical combination. But having said that, the near-term upside for Gidgee is probably a more compelling story for Gateway at the moment.
DevEx
It was mentioned here a couple of weeks ago that that Alkane's (ALK) big porphyry gold-copper hit at its Boda prospect in NSW was bound to rub off on junior explorers in the state.
DevEx was mentioned as one to watch on the strength of its NSW porphyry hunt at its advanced Bogong and Junee projects, with the first holes to be drilled in the December quarter.
DevEx was 7.7c at the time and it has since moved on to 9.2c, after announcing on Monday it would be pulling in $4.6m at 8c in a two-tranche placement to accelerate the NSW program.
It can thank Alkane's 502m porphyry intersection grading 0.48g/t gold and 0.2% copper for stepped up investor support of its program.
Bogong is to be drilled first and as suggested here previously, it is kind of already a discovery given the existence of a hit of 54.9m at 1.1% copper from 6.1m and 9.2m at 2% copper from 39.6m in a hole drilled 45 years ago.
Having said that, there is just as much buzz around Junee, 60km north-west of Bogong.
It is to test rocks under cover that the NSW Geological Survey suggested were prospective for large-scale Cadia and Northparkes-type porphyry systems in that it was a southern extension of the Junee-Narromine Volcanic Belt.
More than that, in recent days there has been the gossip that no less than the mighty Newmont of the US is currently drilling two deep holes in a nearby location, almost visible through the gum trees, as it were.
Newmont is not going to be keeping the market informed on what comes of its drilling, unless of course it comes up with something special.
But for DevEx, it is at least a nice endorsement of its early move into the area that the market has become hot for.
PolarX
Big-time copper/gold success can take time to unfold. Stavely's (SVY) "overnight" success at Thursday's Gossan in western Victoria after five years of effort is a case in point.
Punters looking for immediate gratification from programs designed to unearth a big one are best advised to look elsewhere.
And they often do, as was the case earlier this week in response to results from the first holes drilled by PolarX (PXX) at its Alaska Range project, a six-hour drive from Anchorage.
Shares in PolarX fell from 9.4c to an 8c close on Thursday as immediate-gratification seekers did not get their fix.
But it has be said that the drilling program remains one of the most highly anticipated on the ASX given the scale of the targets and funding involvement of Canadian hotshot miner/explorer, Lundin Mining Corp.
The first holes tested the Mars and Saturn porphyry targets. Mars returned visual confirmation of porphyry-style veins with copper and molybdenite mineralisation (any gold will only show up when the assaying is complete).
PolarX MD Frazer Tabeart described the first hole result as "extremely encouraging," and said that Mars has the potential to be a very large mineralised system which "clearly warrants considerable follow-up drilling".
Saturn was the subject of a number of holes which point to a porphyry source being deeper than previously thought, with a gravity survey underway to "vector" into the target.
So the secrets of Mars and Saturn remain to be uncovered but there has been plenty of encouragement that there could be some real excitement to come, initially at Mars.   
---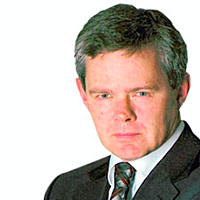 Principal
Independent Journalist
One of Australia's leading business journalists, Barry FitzGerald, highlights the issues, opportunities and challenges for small and mid-cap resources stocks, and most recently penned his column for The Australian newspaper.
Expertise