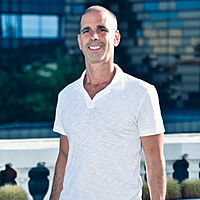 There's been a rash of IPOs in 2021 so far. Some of the largest are those of Latitude Group Holdings Limited (ASX:LFS); last week's Australian Clinical Labs Limited (ASX: ACL); and Jupiter Minerals Limited (ASX: JNO) trading below their listing prices. And from the many inquiries we've received, it's clear people want to know why.
Alas, before we get ready to throw in the towel for capital raisings, we do need to remember markets normally do not go up in a straight line and the previous four quarters have been highly exceptional. Not every IPO will open up 50%+ as was the case for recent IPO Black Canyon Limited (ASX: BCA) - which has also pulled back.
At 180 Markets, however, we are increasingly becoming more optimistic for the landscape of future Capital Raises. On a stock-specific basis, placements for those companies with uniquely positive developments are well supported and showing strong post-event price action.
Investors' expectations are certainly becoming much more muted (i.e. more fear than greed) which will reset many management teams' lofty expectations and create better pricing scenarios. These points can lead to better outcomes for all parties with fully funded companies and supportive shareholders.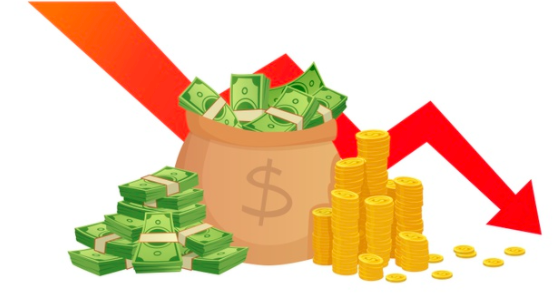 The takeaways 
At 180 Markets, we feel it will be a stock pickers' market and we are extremely hopeful that there will be many good stories that will provide many opportunities for investors in the near term.
Hot placements of the week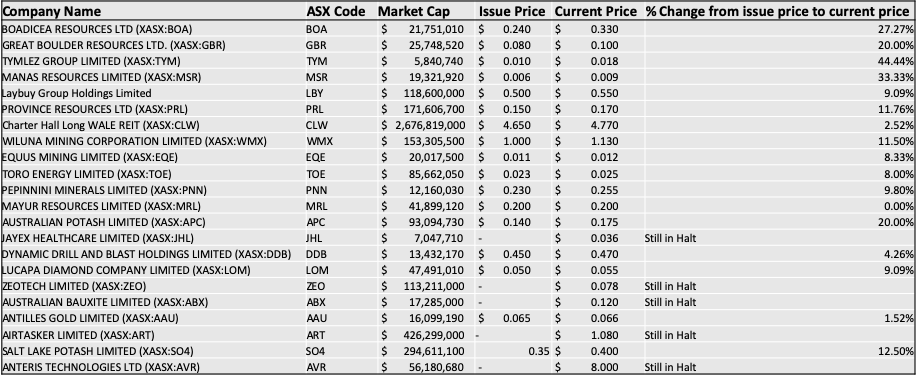 In what is a big surprise to the market, after only being listed for two months, Airtasker Limited (ASX: ART) has come back for a massive capital raise. At an issue price of $1.00, they are raising funds for US expansion and to acquire US local marketplace Zaarly Inc. The acquisition of Zaarly provides Airtasker Limited (ASX: ART) with more than 527, 000 users. Airtasker Limited (ASX: ART) raised $83.7 million at $0.65 (65c) through Morgans in one of the most successful IPO's this year.
In what's portrayed as a positive sign to the market, Great Boulder Resources Limited (ASX: GBR) raised $5.5M at a very small discount to the price pre-raise. The placement was well supported by high quality institutional, sophisticated and professional investors, and existing significant shareholders of the company. Managing director Andrew Paterson commented "this is strong validation of great boulders WA gold and based metal asset portfolio, exploration team and strategy. Investors can look forward to increased exploration coupled with strong news flow in the coming months".
Tymlez Group Limited (ASX: TYM) launched a massively discounted rights issue to raise $5.8 million at 1c per share. The issue price represented a discount of 61.5% to the companies last close prior to the raise of 2.6c. The rights issue will not be underwritten.
Province Resources Ltd (ASX: PRL), one of the ASX success stories of the year has raised $18 million in a heavily oversubscribed equity capital raise led by ESG and other institutional funds. Province Resources managing directed David Frances stated "the strong support demonstrated by the equity capital market and, in particular ESG and other intuitional funds, of our vision to be a significant green hydrogen producer and minerals explorer is highly encouraging and allows us to restfully pursue these goals". Green hydrogen has been majorly in favour this year, hence the strong share price in PRL. Province Resources Ltd (ASX: PRL) raised money at just 0.8 cents and its share price has increased rapidly due to its up and coming green hydrogen strategy. Cannacord Genuity and newly formed Inyati Capital, acted as joint lead managers for the raise. Inyati Capital is led by David Wall ex-MD of 88 Energy Limited (ASX: 88E). Inyati Capital also invested in a very successful capital raise for BPM Minerals Limited (ASX: BPM). Investors paid $0.20 per share and also received a free attaching option. The shares are currently trading at 46 cents which is a great result for everyone who invested.
PepinNini Minerals Limited (ASX: PNN) raised a small amount of funds at 23 cents this week. 180 Markets were able to complete the whole capital raising, from launching the raise to issuing the shares in just under 23 hours.
Shaun Factor Co-Founder of 180 Markets "One of our goals has been to minimise the time it takes to raise capital and companies are loving working with us. Due to the automation of our website, we are able to do this regularly, both benefiting the companies we work with and our investors." 
THINKING ABOUT TAKING THE LEAP TO AN IPO? HERE'S WHAT WE KNOW
In what was a very disappointing listing, Audeara Limited (ASX: AUA) raised $7 million, led by Morgans at 20 cents a share. The shares are currently trading at just 14 cents, which is further discouraging for IPO investors given their recent low performance.
Bells launched a $72 million offer for the well-known Best and Less Group (ASX: BST). The raise will be done at $2.15 a share. It is proposed that the funds will be used for payment to existing shareholders in relation to the sale of shares. Payments made to the management equity plan and shares gifted as part of an employee gift offer. 
Two recent IPO currently raising capital are Western Mines Group Ltd (ASX: WMG) and Cosmo Gold Limited. Both are expected to list in the coming month and we are hopeful given the demand they will successful listings. Western Mines Group Ltd (ASX: WMG) has highly prospective projects in Western Australia managed by an experienced management team and a tightly held shareholder registry. The IPO is being led by Harbury Capital, which recently led the very successful IPO listing for Akora Resources Limited (ASX: AKO).
Cosmo Gold Limited will be raising between $5-$6m to fund the exploration, evaluation and potential development of the Cosmo Newbery project. The project is located around the Cosmo Newbery aboriginal community, approximately 90km north east of Laverton Western Australia. The lead manager for this raise is RM Corporate Finance.
180 Markets, by investors for investors
Never miss an insight
Enjoy this wire? Hit the 'like' button to let us know. Stay up to date with my content by hitting the 'follow' button below and you'll be notified every time I post a wire. Not already a Livewire member? Sign up today to get free access to investment ideas and strategies from Australia's leading investors.
........
Important Notice This report has been prepared and issued (in Australia) by 180 Markets Pty Ltd ACN 638 381 129 is an authorised representative (AR No. 001280199 of Pursuit Capital Pty Ltd ACN 136 717 283 (AFSL. 339211). The report remains the property of 180 Markets Pty Ltd. No material contained in this report may be reproduced or distributed, except as allowed by the Copyright Act, without the prior written approval of 180 Markets Pty Ltd. This report is subject to the disclosures and restrictions set out below. No Advice Notice The content of this report is not a recommendation to any particular individual and has been prepared without taking account of the objectives, needs, financial and taxation situation of any particular individual. The content of this report should never in any way be considered financial advice of either a general or specific nature. For this reason, you should, before acting on the content, consider the appropriateness of it having regard to your objectives, needs, financial and taxation situation and if necessary, seek appropriate independent financial and taxation advice. If the content relates to a particular financial product, you should obtain a Product Disclosure Statement (PDS) or prospectus relating to the product and consider it before making any decision about the product. 180 Markets Pty Ltd does not guarantee the performance of any particular stock mentioned in this report. The One Eighty Report is supposed to be of an informative nature. The One Eighty Report endeavours to highlight stocks which have been trading on high volumes, stocks which have risen or fallen significantly as well as other related market activity which 180 Markets Pty Ltd and its associates believe may be of interest to the readers of this report. Past performance is not a reliable indicator of future performance. 180 Markets Pty Ltd, and its related bodies corporate, do not accept any liability for any loss or damage arising out of the use of all or any part of this report and do not warrant that any projections or forecasts, which are subject to assumptions and uncertainties, will be met. General Disclosure & Conflict of Interest 180 Markets Pty Ltd and its associates (as defined in Chapter 1 of the Corporations Act 2001), officers, directors, employees and agents, from time to time, may own or have positions in securities of the company(ies) in this report and may trade in the securities mentioned either as principal or agent or may be materially interested in such securities. This may include providing equity capital market services to company(ies) in this report, holding a position in the securities or acting as principal or agent. 180 Markets Pty Ltd and its associates therefore may benefit from any increase in the price of those securities. The Author of this Report, 180 Markets Pty Ltd declares that it may receive compensation from companies mentioned in this report and 180 Markets Pty Ltd does and seeks to do business with companies mentioned in the report. As a result, investors should be aware that the firm may have a conflict of interest that could affect the objectivity of this report. Investors should consider this report as only a single factor in making their investment decision. Electronic Communication Disclaimer The information contained in this email is confidential and is intended solely for the addressee. If you are not the named addressee, you must not disclose or use in any way the information in the email. If you have received this email by mistake, please notify the sender immediately by reply e-mail and delete this email and destroy any printed copy. 180 Markets Pty Ltd ACN 638 381 129 is an authorised representative (AR No. 001280199 of Pursuit Capital Pty Ltd ACN 136 717 283 (AFSL. 339211) believes that the information contained in this message and its attachments have been obtained from reliable sources (asx.com.au) and that any estimates, opinions, conclusions or recommendations are reasonably held at the time of compilation. No warranty is made as to the accuracy of the information in this message and, to the maximum extent permitted by law, 180 Markets Pty Ltd disclaims all liability for any loss or damage which may be suffered by any recipient through relying on anything contained or omitted from this.
---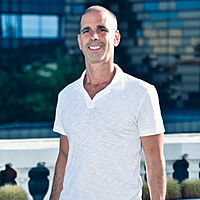 CEO and Co-Founder
180 Markets
Greg is Co-founder of 180 Markets which gives access to Australia's hottest IPOs and Placements. Previously Greg has spent over 20 years as a professional hedge fund investor, including with P Schoenfeld Asset Management and Credit Suisse, in...