Grant McCarthy: Seed-first SAAS investing with a Yahoo veteran
---
Grant McCarthy spent the early years of his career at Yahoo observing and working across several of Yahoo's investments in some of Australia's early SAAS (Software As A Service) success stories such as Seek and CarSales. Today Grant runs Tidal Ventures, a seed-first venture capital investor primarily focused on SAAS businesses that he founded back in 2016. Performance for the initial funds has been impressive, with Fund 1 producing a money-on-money return of 3.6x since inception.
Grant joins David to discuss the learnings through his career as well as the history behind Tidal Ventures. Grant also highlights the benefits of investing in what he considers high growth trajectory SAAS businesses when compared to traditional industrial-focused companies. He also touches on why he believes seed first is the most compelling area of venture capital to focus on.
Grant leverages a background in digital media and 20+ years of experience investing in seed companies in Asia & Australia and advising early-stage founders on their most critical challenges.
Not already a Livewire member?
Sign up today to get free access to investment ideas and strategies from Australia's leading investors.
More podcasts
If you're enjoying Inside the Rope and don't want to miss a future episode, click 'follow' below to get notified when a new episode is released.
........
This research note has been prepared without consideration of any client's investment objectives, financial situation or needs. Before acting on any advice in this document, Koda Capital Pty Ltd recommends that you consider whether this is appropriate for your circumstances. While this document is based on the information from sources which are considered reliable, Koda Capital Pty Ltd, its directors, employees and consultants do not represent, warrant or guarantee, expressly or impliedly, that the information contained in this document is complete or accurate. Koda does not accept any responsibility to inform you of any matter that subsequently comes to its notice, which may affect any of the information contained in this document. © Copyright Koda Capital 2020 | AFSL: 452 581 | ABN: 65 166 491 961 | www.kodacapital.com
---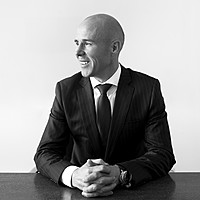 Adviser & Partner
Koda Capital
David Clark is an Adviser & Partner at Koda Capital. In his podcast 'Inside the Rope', David interviews some of the leading minds in wealth management.
Expertise