Growing evidence White Rock may have the right rock, as Sandfire suspects
---
Early results suggest Sandfire may be onto something with its decision to fund exploration at White Rock's Alaskan base metals project. But with White Rock still capped at $11m, it seems the market is yet to catch on. And well-regarded analyst David Coates puts the case for Breaker to triple.
Get the feeling that Alaska has become something of a go to destination for Aussie miners and explorers looking for opportunities away from the crowded space back home?
You would be right to think so.
Sporting a top-10 ranking on the Fraser Institute's measurement of the all-round attractiveness of places for miners and explorers to invest (WA is the only Aussie state in the top 10), Alaska has been grabbing headlines of late.
Northern Star's acquisition of the Pogo gold mine and South32's stalking of the advanced copper-zinc-cobalt explorer Trilogy Metals have been the main events of late.
But then there is a bunch of explorers that have also decided Alaska is the place to be, notwithstanding the short field season (it's why so much prospective exploration ground is available), and the odd problem with a cranky bear.
Allan Kelly's Evolution-backed Riversgold (RGL) is in the thick of things in the Tintina gold belt looking to find its own multi-million ounce deposit.
And PolarX (PXX) has just made a juicy 15m hit grading 2.3% copper and 2.2g/t gold at its Zackly deposit which adds to expectations that the known resource there is only going to get bigger, much bigger.
But today's interest is in White Rock Minerals (WRM), which now has Sandfire as a 12.7% shareholder and come a decision to be made by the end of the year, a possible joint venture partners in WRM's high-grade Red Mountain zinc-silver-lead-gold project in Alaska.
It is of the volcanogenic massive sulphide (VMS) type that Sandfire knows well courtesy of its DeGrussa copper-gold mine in WA. Sandfire's technical boffins are now on-site at Red Mountain running through the mass of exploration data collected by WRM in the May-September field season ahead of its end-of-year decision on the joint venture.
In simple terms, Sandfire would have to spend $30m to end up with 70% of the project. It is spending $6m in the first year so it obviously thinks Red Mountain has potential to build on its established resource of 16.7Mt at 4.1% zinc, 1.7% lead, 99g/t silver, 0.2% copper and 0.7g/t gold  across the two deposits – Dry Creek and West Tundra Flats (the latter has a higher silver count which gives it a zinc equivalent grade of 14.4%).
The highlight of the 2018 field season was the discovery made at the Hunter prospect, 5km west of the Dry Creek deposit. VMS deposits tend to occur in clusters so the first-up result from Hunter (1.4m from 48.2m grading 25.8% zinc equivalent) was warming stuff.
Even though $1.1 billion-Sandfire is onto the story, WRM has yet to gain traction in the local market. It is trading at all of 0.7c for a market cap of $11m. The Sandfire option is an obvious catalyst for traction, as will be what comes from the review of the 2018 field season data in terms of improving the understanding of what WRM is onto at Red Mountain.
Backing up for a moment, WRM owns the Mt Carrington gold-silver mine in NSW which it wouldn't mind a partner to come in to fire it up again. It would start out with the gold and then move on to the rich silver mineralisation.
Baillieu Holst's seasoned analyst Warren Edney reckons Mt Carrington's gold leg has a post-tax value of $22.8m which is kind of interesting when compared with WRM's current $11m market cap.
But he then goes on to point out that using an EV/t of zinc equivalent comparison with other Aussie zinc explorers, the existing Red Mountain resource could be valued at between $28m and $117m.
Another way of looking at it is that WRM's current market cap gives less than zero value for the Red Mountain resource and its upside.
Sandfire, for one, obviously thinks differently.
Breaker Resources
Here is an update to an earlier note (September 7) on Breaker (BRB) notching up a 1.08Moz resource at its greenfields Bombora discovery at its Lake Roe project  some 100km east of Kalgoorlie.
Breaker shares popped 5.5c, or 24%, higher to 28c on that news. But as mentioned, it was only recapturing ground lost back in April when its shares went into a tailspin when the maiden resource estimate came in at "only" 624,000oz.
The good news is that the shares have continued to edge higher to 35c this week. There is still a long way to go to get back to its 12-month high of 74c. But the stock is clearly on the march, as might be expected for a company that added 400,000oz to a virgin discovery in the space of five months.
Executive chairman and 16% shareholder Tom "Colonel" Sanders was on the hustings in the Eastern states this week as part of the Resources Rising Stars investor luncheon series.
His key message was that Bombora was an unfolding story, with four drilling rigs whirring away to add more shallow ounces, as well as making an underground "exploration target" of 1.2-1.4Moz at a higher grade a reality.
So the Colonel has his sights set on a 2.5Moz-plus resource as planning begins for a starter open-cut.
David Coates at Bell Potter has long been a fan of the stock and penned a note on the back of the resource upgrade.
"Combined with the positive metallurgical testing to date, the location east of Kalgoorlie, and the pending granting of Mining Leases, this update reinforces our view that Lake Roe is the most compelling greenfields gold discovery in the market," Coates said.
---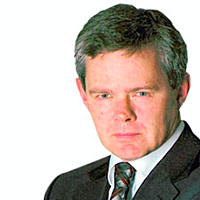 Principal
Independent Journalist
One of Australia's leading business journalists, Barry FitzGerald, highlights the issues, opportunities and challenges for small and mid-cap resources stocks, and most recently penned his column for The Australian newspaper.
Expertise