Harvesting the returns of long-term thinking
---
Long-term investing is relatively common but Prime Value's foundation as a family office means that it is embedded in our investing DNA. Generating significant wealth without taking excessive risk takes time, which is reflected in our investment approach. We highlight this through the example below from the Emerging Opportunities Fund.
Mainfreight (NZE: MFT) is a long term holding in the fund. It is a global logistics business focusing on the less than container load (LCL) market. Based in New Zealand, it also has significant operations in Australia, North America and Europe. 
Management recently gave a trading update at its Annual General Meeting in July. For the first 17 weeks of the current financial year, revenues were up 41% and profit before tax was up 97%. While partly boosted by a weak previous period due to COVID disruptions, this is still a very strong result. Annualising the period's profit implies strong growth over the last two years across all regions and product segments. This highlights broad-based growth including in large markets where the long-term opportunity is vast, such as the United States of America and Europe. 
In recent weeks, Don Braid, managing director of Mainfreight, also purchased around $3 million of shares on-market adding to his $200 million worth of holdings. He is clearly aligned with shareholders and optimistic about the longer-term outlook. Having led the company for 20 years, Braid has been instrumental in its success.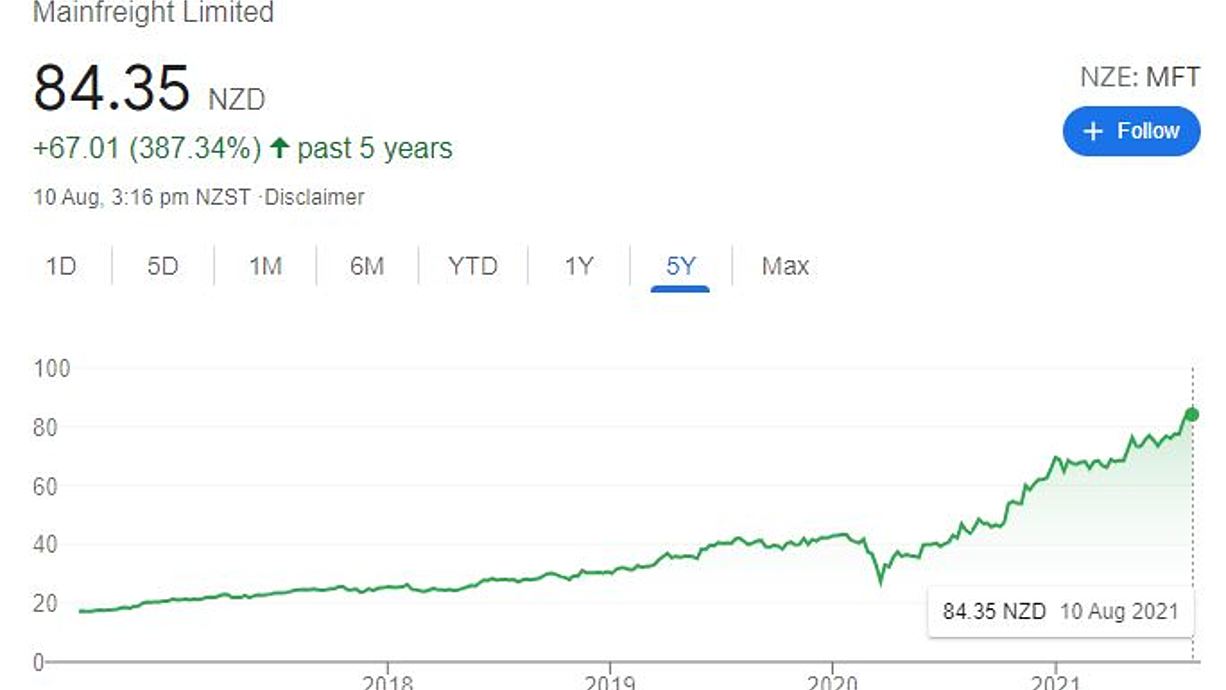 Source: Google
In the recently published Annual Report, Mainfreight provided five-year revenue targets that imply strong growth in the years ahead. This is matched with significant capital investment plans that typically deliver high returns through the offering of additional services, increasing network intensification (efficiencies) and the removal of third-party providers. The company's historical return on capital is strong at 22% (ROCE).
Our average purchase price of Mainfreight is approximately $40 a share, well below its current price of around $85. Much of those gains have been generated in the last 12 months, illustrating the importance of patience when investing. Mainfreight has been expanding and improving the quality of its business over time. We like businesses that can combine both, as they typically result in higher earnings and a higher valuation multiple applied to those earnings. When these are combined, investment returns can be very large.
It can take time for markets to appreciate these factors which is an opportunity for longer-term investors. 
With much of the day-to-day focus of markets and media on the next earnings result, companies that are building great businesses over time can be overlooked. 
When it does become appreciated, stock prices can move quickly. It's typically unpredictable when this will occur so we are happy to invest early with the confidence that returns will come and likely be large at some point. Our portfolio has a balance of companies that are benefitting from these large returns now (such as Mainfreight), some that will likely benefit medium-term and others longer-term. 
Harvesting returns from current winners that become over-valued, allows us to fund new "seeds to plant" that will bear fruit in time. The cycle goes on, delivering consistent long-term returns

Building wealth together
Prime Value Asset Management is a multi-award winning, boutique Australian investment manager with an impressive history of building wealth with investors since 1998. To find out more about the Prime Value Emerging Opportunities Fund click here or the 'CONTACT' button below.
---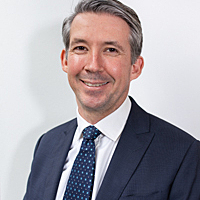 Portfolio Manager
Prime Value
Richard is Portfolio Manager of the Emerging Opportunities Fund at Prime Value Asset Management. He has over 18 years experience covering Australian small cap equities which is the fund's key focus. In addition to his Australian investment...
Expertise