High-yield quality at an all-time high
---
As fixed-income investors deal with the sticker shock of globally low interest rates, it makes sense to consider changes in the quality mix when choosing where to invest. The quality mix of US high-yield is at an all-time high, forward GDP projections are rising, and we expect sub-2% default rates in both 2021 and 2022. This combination paints a bullish picture for high yield credit risk, and we think it provides support for investing in the asset class at today's yields.

It is important to consider how we have arrived at an all-time high in terms of credit-rating quality mix and default expectations. Three drivers have played central roles: 
Record "fallen angel" volume during 2020, 
A lack of leveraging issuance prior to the COVID crisis, and 
Broad-based access to capital markets, which is providing ample liquidity to issuers.
Fallen angels (names downgraded from investment grade) have historically been terrific opportunities for high-yield investors, and this cycle is no exception. 
During 2020, fallen angels outperformed the U.S. High Yield index by about 9% (+15.02% vs. +6.07%). These names provided the high yield market with a higher mix of large-scale businesses, often without near-term maturity problems, and with an economic recovery, there is the potential that some return to investment-grade ratings in the quarters ahead.
The high yield market has also benefited in recent years from reduced levels in two key drivers of ratings downgrades and default triggers: leveraging M&A and closed capital markets. 
The share of new issuance driven by refinancings versus leveraging LBOs (Leveraged Buyouts) remains near historical highs. In the past three years, refinancings made up nearly two-thirds of new issuance, compared to close to half in years prior. There is no doubt that this helped cap defaults and downgrades over the past year. 
While we expect an increase in leveraging LBOs for 2021, this does not change our default outlook as it can take several years for defaults to develop.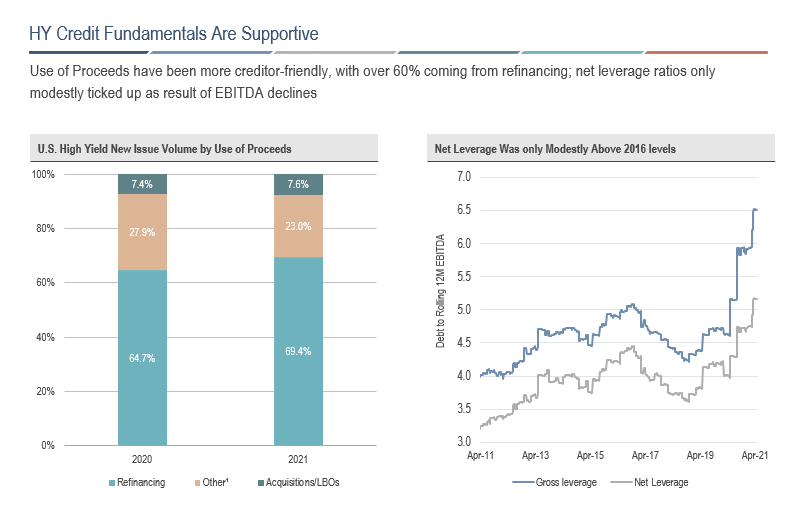 Source: Bank of America. Data as of April 30, 2021. U.S. High Yield Index represented by the ICE BofA U.S. High Yield Index. Right Chart as of April 30, 2021. 
High yield new issuance set a record during 2020, as companies sought to bolster liquidity. For business models that were considered only temporarily disrupted, issuers could access capital and extend maturities. This liquidity kept defaults lower than prior recessions and should allow time to de-lever as the global economy reopens.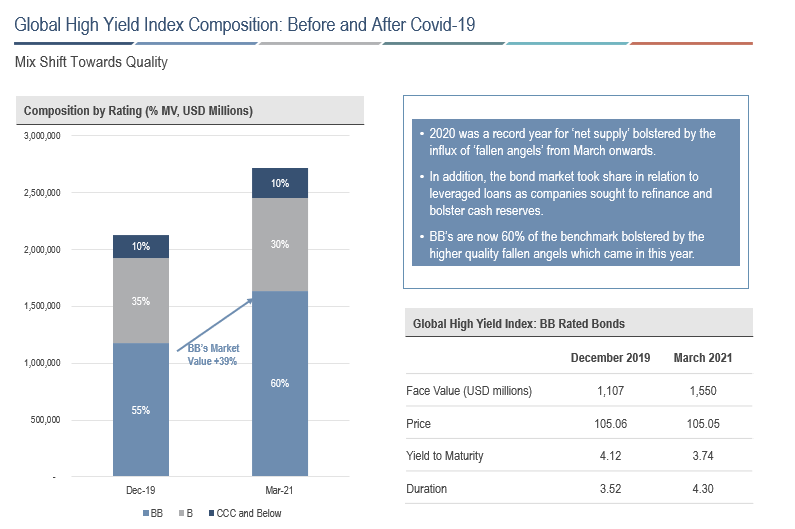 Source: Bank of America and Neuberger Berman. Data as of March 31, 2021. Global High Yield Index represented by the ICE Bank of America Global High Yield Constrained Index.
Conclusion
We believe it is important to dig into the details of today's market structure when looking at yields across global fixed income. As we have outlined, we think an all-time high-quality mix and lower duration, when compared to other alternatives put the high yield market in a good position to generate income for investors.
A client-led partnership
As a private, independent, employee-owned investment manager, Neuberger Berman is structurally aligned with the long-term interests of our clients. Click 'FOLLOW' below for more of our insights.
........
This material is provided for informational purposes only and nothing herein constitutes investment, legal, accounting or tax advice. This material is general in nature and is not directed to any category of investors and should not be regarded as individualized, a recommendation, investment advice or a suggestion to engage in or refrain from any investment-related course of action. Investment decisions and the appropriateness of this material should be made based on an investor's individual objectives and circumstances and in consultation with his or her advisors. Information is obtained from sources deemed reliable, but there is no representation or warranty as to its accuracy, completeness or reliability. All information is current as of the date of this material and is subject to change without notice. The firm, its employees and advisory accounts may hold positions of any companies discussed. Any views or opinions expressed may not reflect those of the firm as a whole. Neuberger Berman products and services may not be available in all jurisdictions or to all client types. This material may include estimates, outlooks, projections and other "forward-looking statements." Due to a variety of factors, actual events or market behavior may differ significantly from any views expressed. Investing entails risks, including possible loss of principal. Investments in hedge funds an private equity are speculative and involve a higher degree of risk than more traditional investments. Investments in hedge funds and private equity are intended for sophisticated investors only. Indexes are unmanaged and are not available for direct investment. Past performance is no guarantee of future results. This material is being issued on a limited basis through various global subsidiaries and affiliates of Neuberger Berman Group LLC. Please visit www.nb.com/disclosure-globalcommunications for the specific entities and jurisdictional limitations and restrictions. The "Neuberger Berman" name and logo are registered service marks of Neuberger Berman Group LLC. © 2009-2021 Neuberger Berman Group LLC. All rights reserved.
---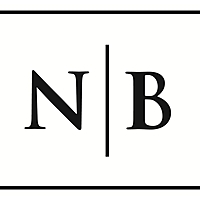 Neuberger Berman was founded in 1939 to do one thing: deliver compelling investment results for our clients over the long term. This remains our singular purpose today, driven by a culture rooted in deep fundamental research, the pursuit of...
Expertise